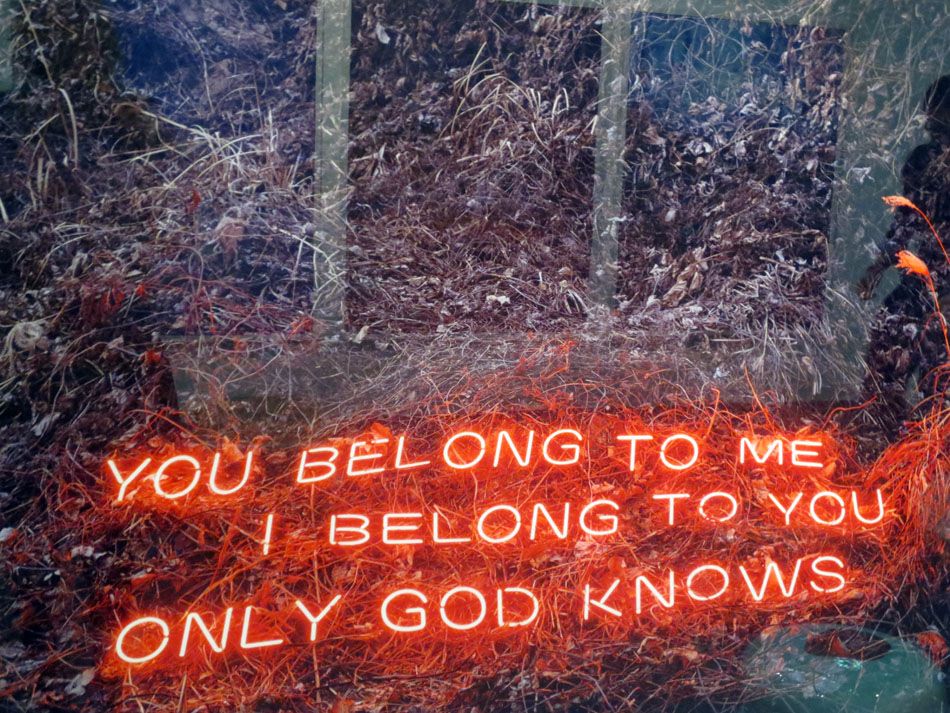 i promise to look at other people's art and not just mine

like the other booths at Volta not just my awesome booth

remember him?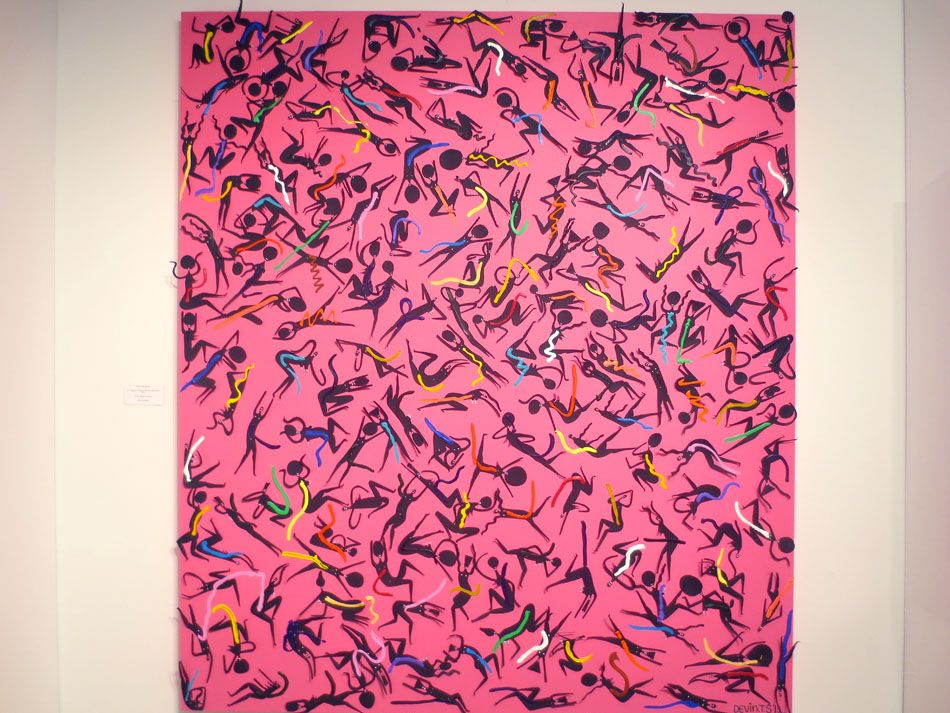 how much does this remind u of the wallpaper at Le Baron all of a sudden too?

where the walls have eyes
and the eyes have walls!

this booth really took the seriousness out of Volta for me

and at the same time who cant like it? maybe i like this shit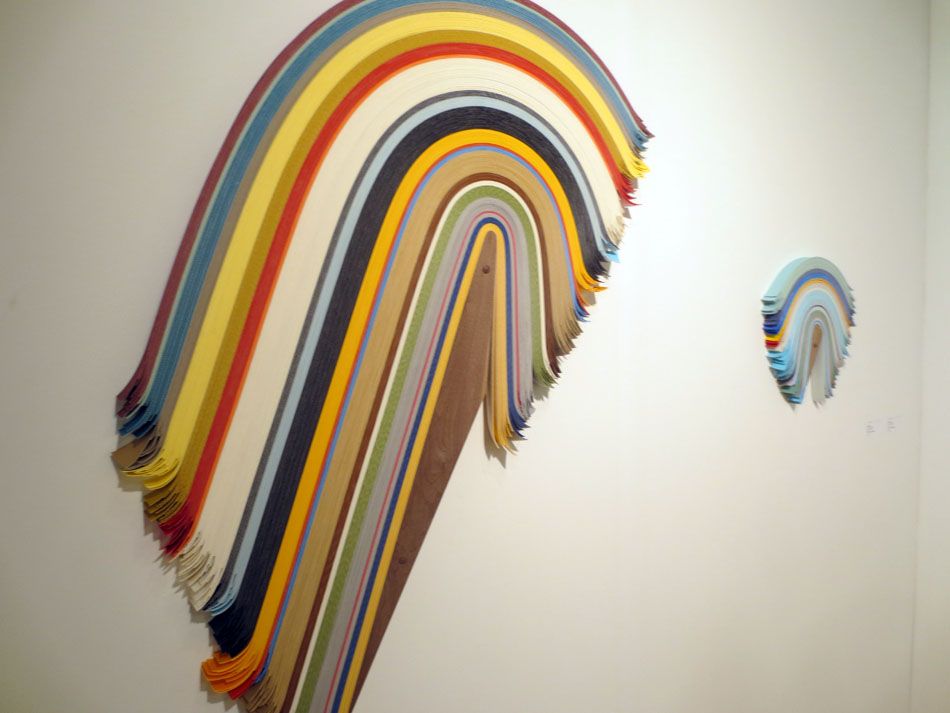 i like this shit, dont know why, think it is pretty neatoo

confused and intrigued a bit

gettin there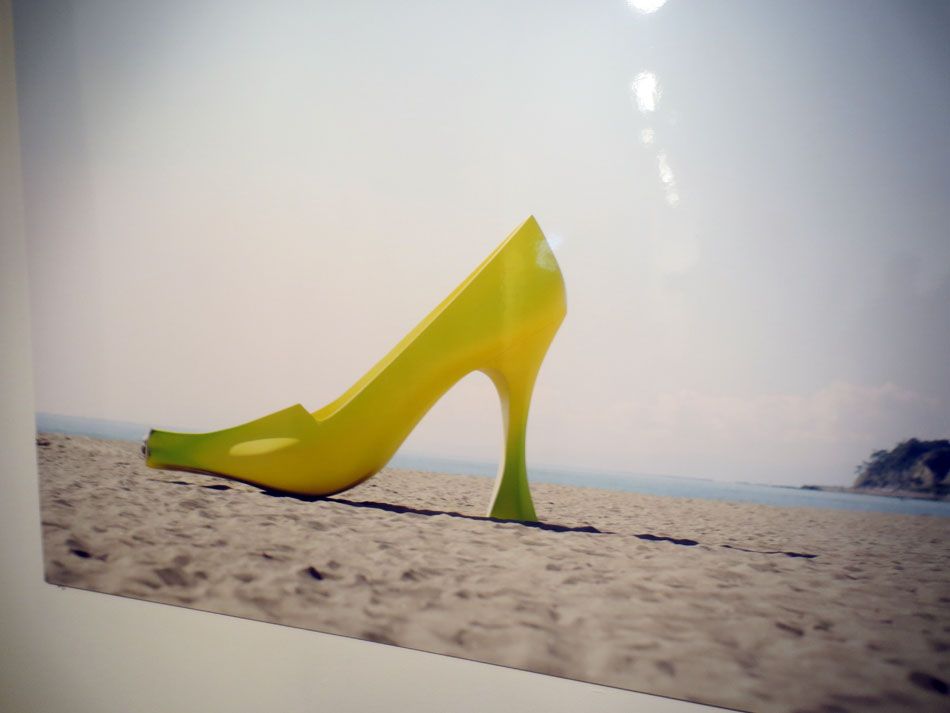 stupidly interesting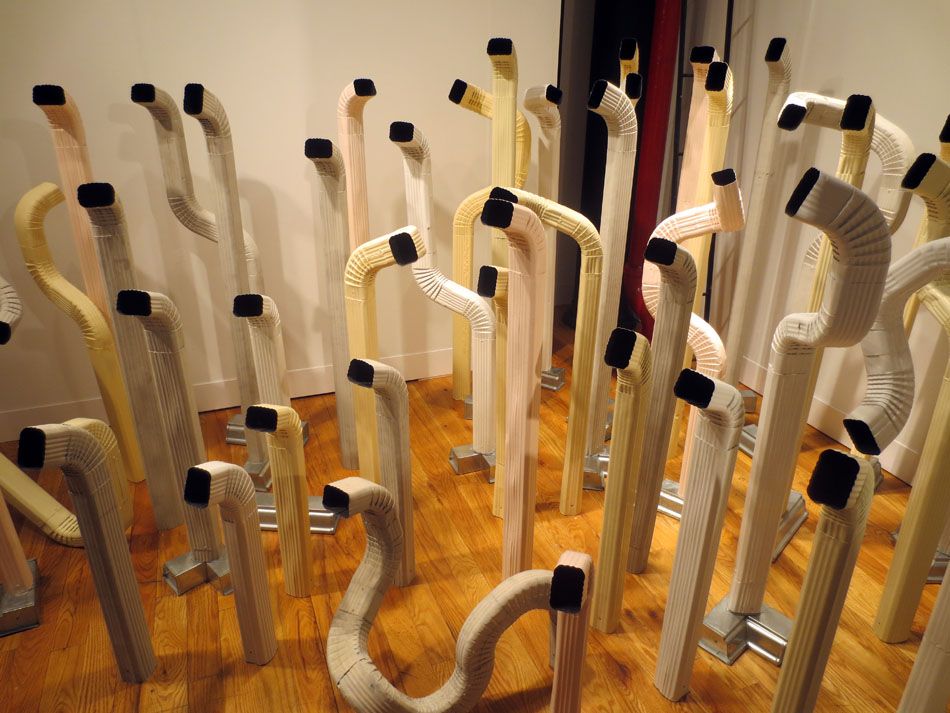 silly and evocative

ridiculous yet neato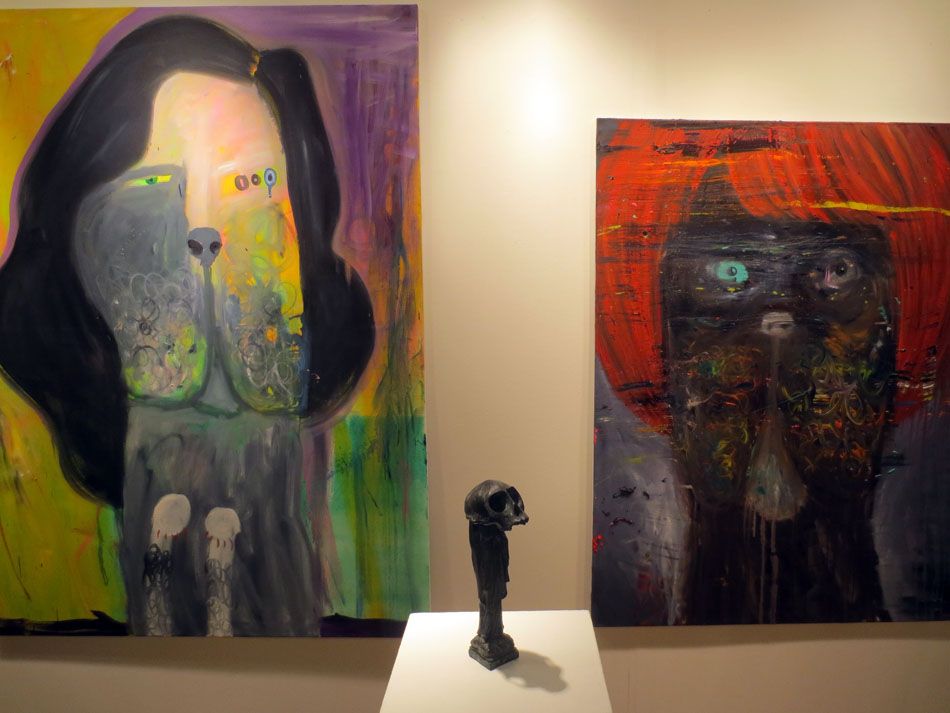 finalyl someone riippin off George Condo he is an under-ripped-off artist

shit i was with colin but i think i cropped him out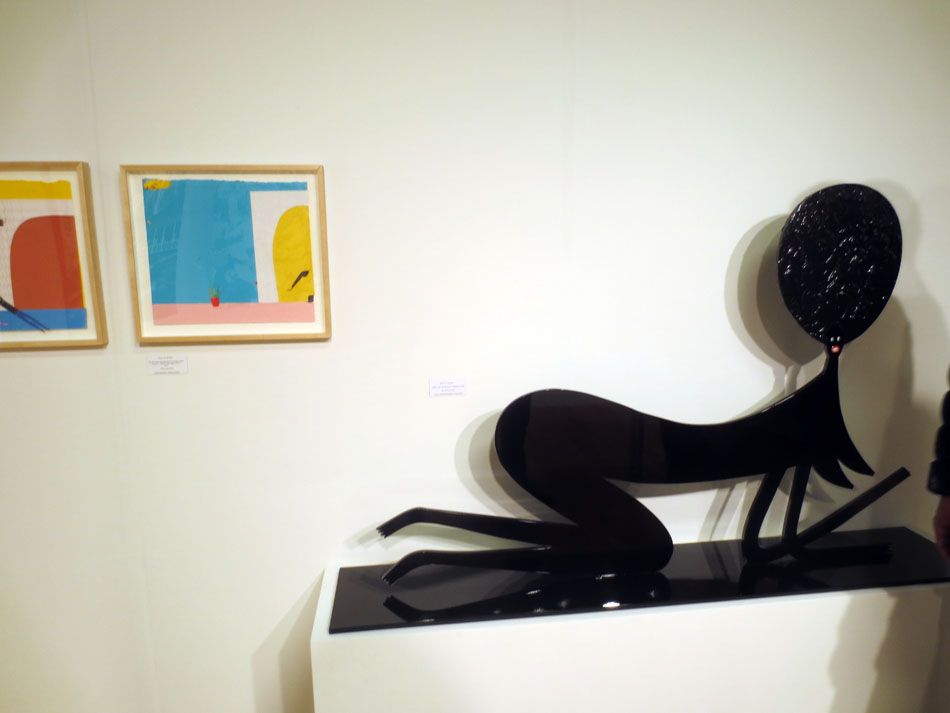 i love this piece i would love ot have this in my house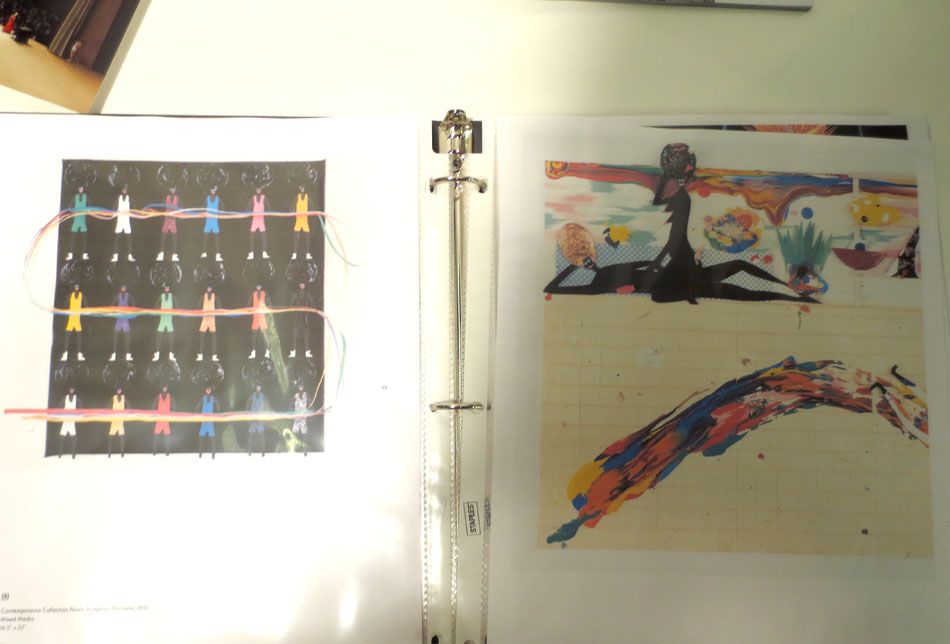 pretty excited by this artist, he is really inventive and doesnt have just one trick

this looked more like one-trick
but a good trick!

i will post all our wall labels tho since we spent so much time on them jesper and i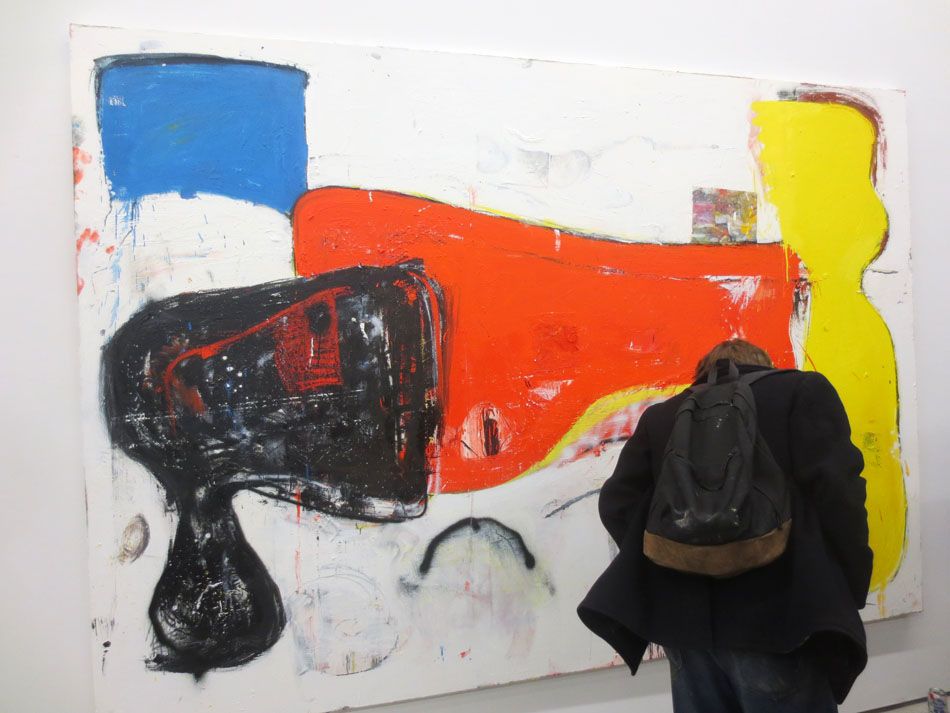 let's check out more other people art tho at the Eddie Martinez "Matador" show at Journal in wburg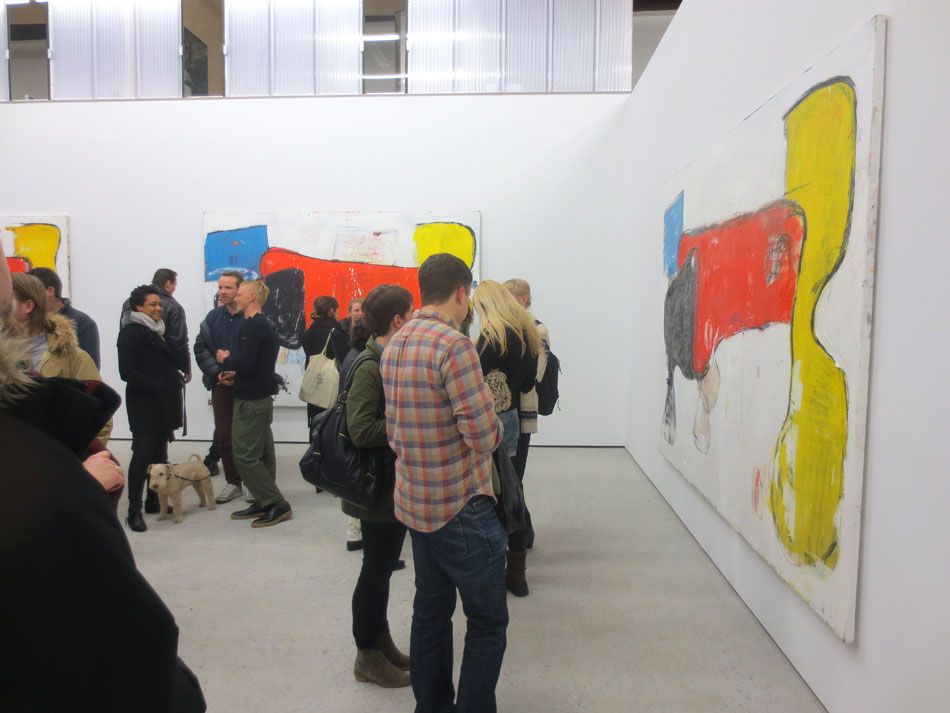 space was most confusing part to me, just dont see how, well, you know

and the cute little wood room with williams and

whatever this is and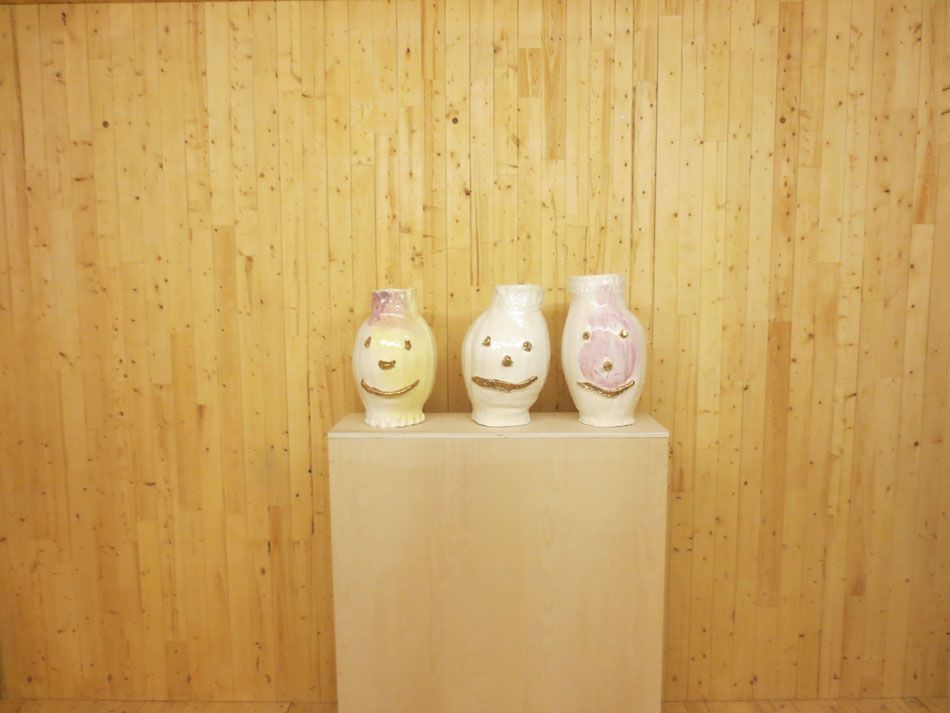 whatever this is which is adorable

peopel!

went to Peter Funch's new house and gave him some diversion bowls from Sur La Table wish i could tel that story here

wish i could tell lots of stories here that must stay sub vino

sub divo?

hahaha i should have named this post SUB DEVO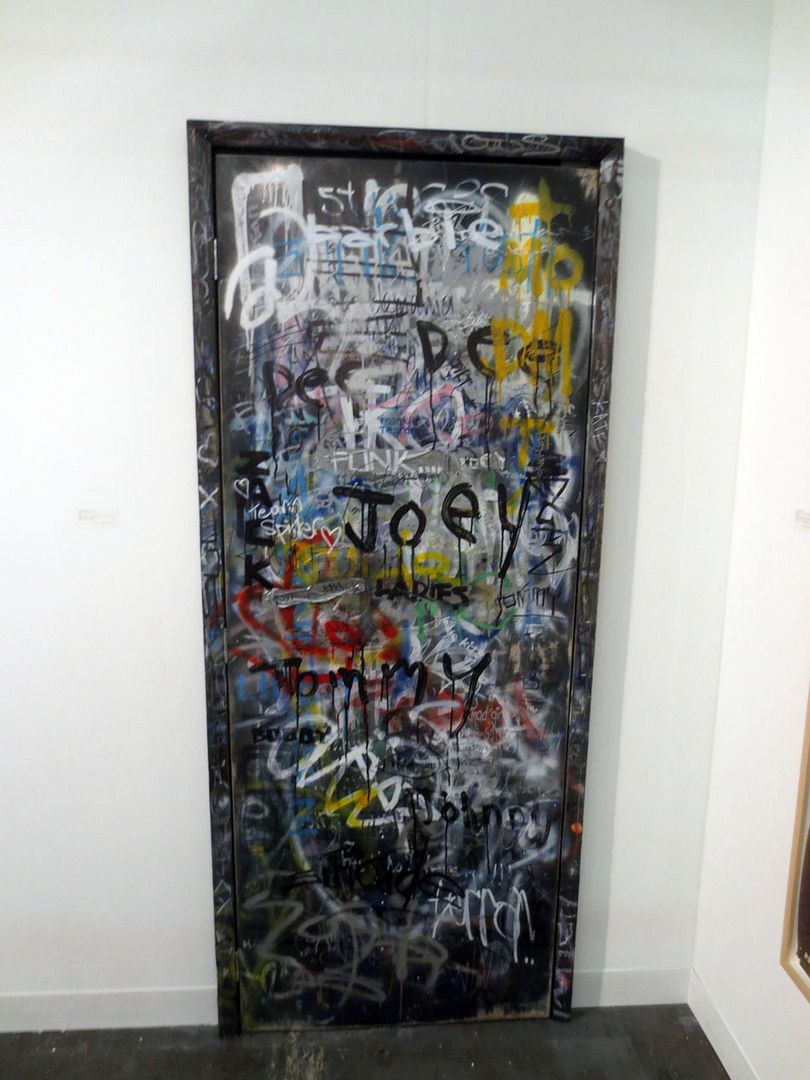 ill get wittier next time i promise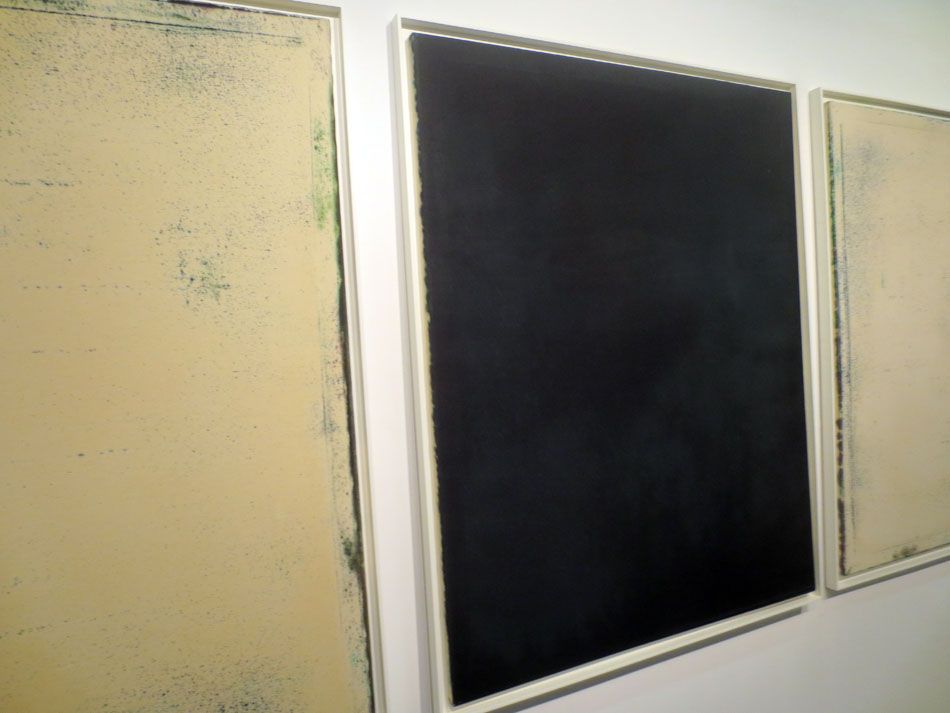 pondering a "new abstraction" show to go here in May to be honest

Kavi Gupta the best gallery in Chicago could probably help me with that

they helped me with Scott Reeder in the last one

Tony Tasset is hilarious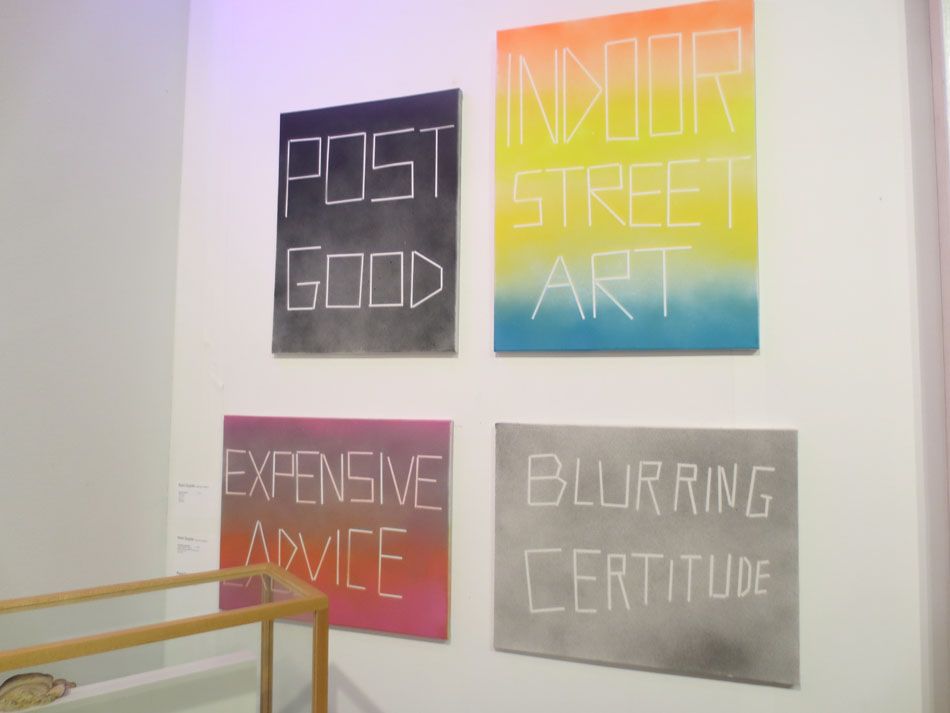 of course i read "POST GOOD" as a blog reference hahaha

this is a 70s black minimal artist who was in the first Artist Space show curated by Carl Andre and WAlter De Maria and

fuck just think how many young artists rip this shit off so hard just mine the 70s sorta overlooked people and COPY EXACTLY what they did back then

rough

this is bronze and shit, i got to touch it, it pays to be a curator you get to finger everything!!

Tal R at Bo Bjerggard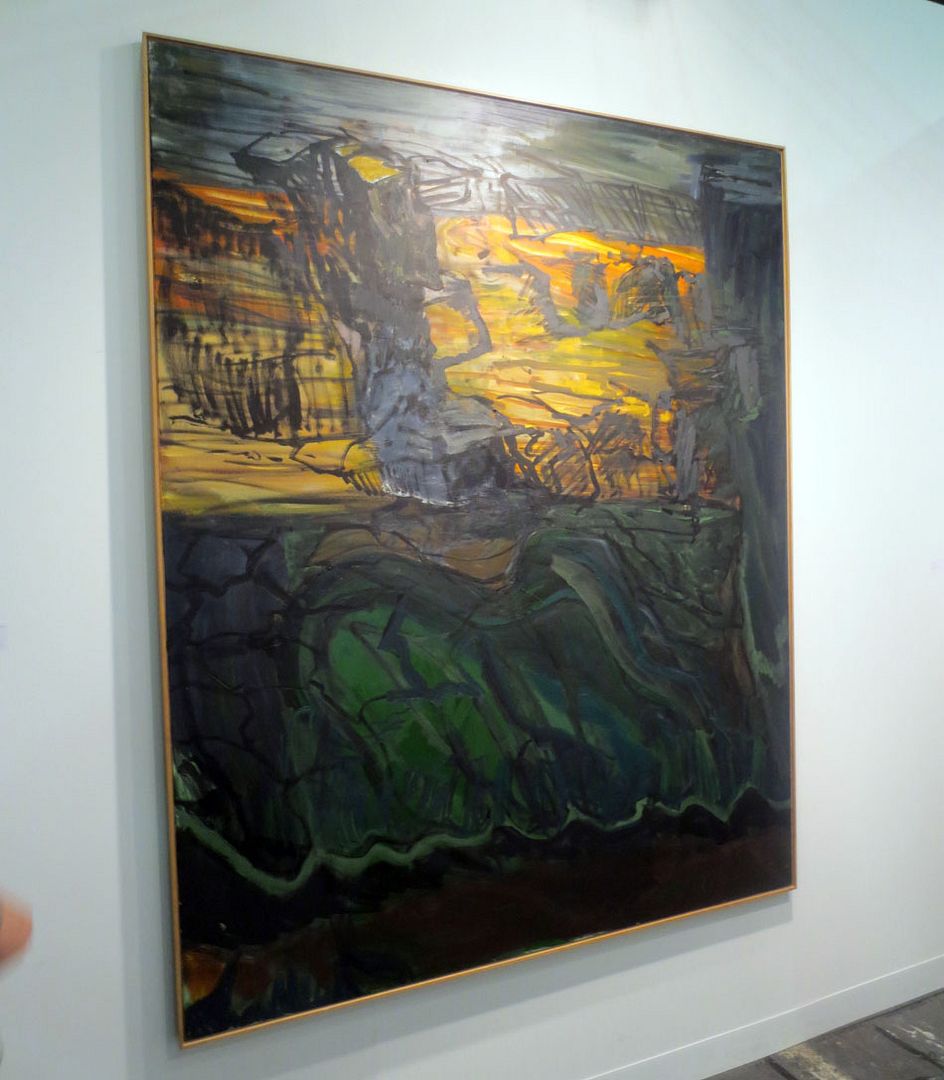 Bo Bjergard made fun of me for not knowing this "most famous painter in scandinavia" and then i made fun of him for being named Bo Bjergarrd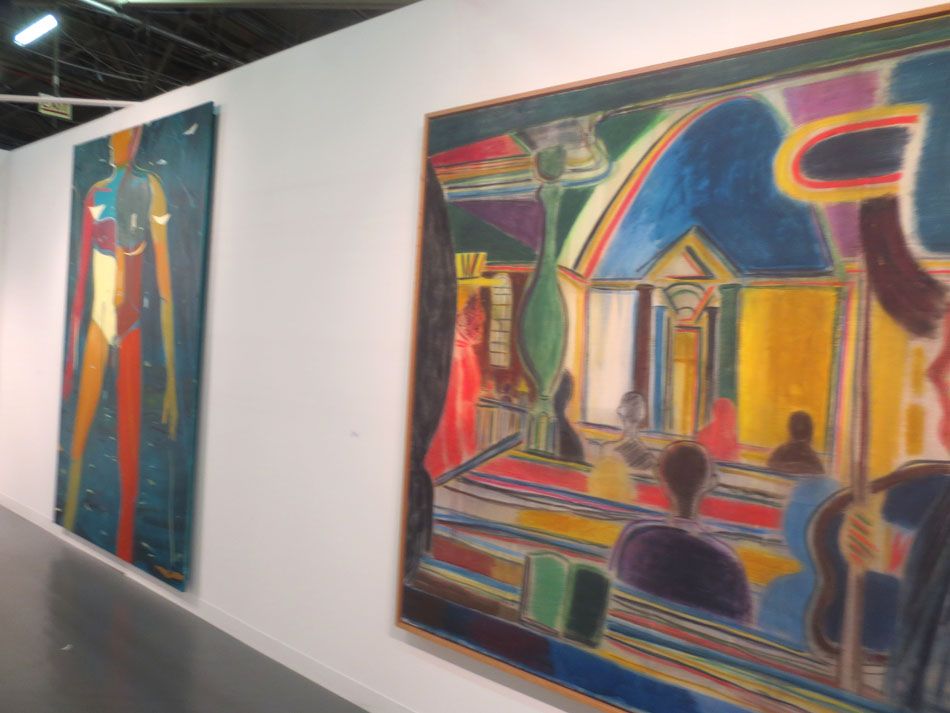 shit what a shit photo of the Tal and Jules sorry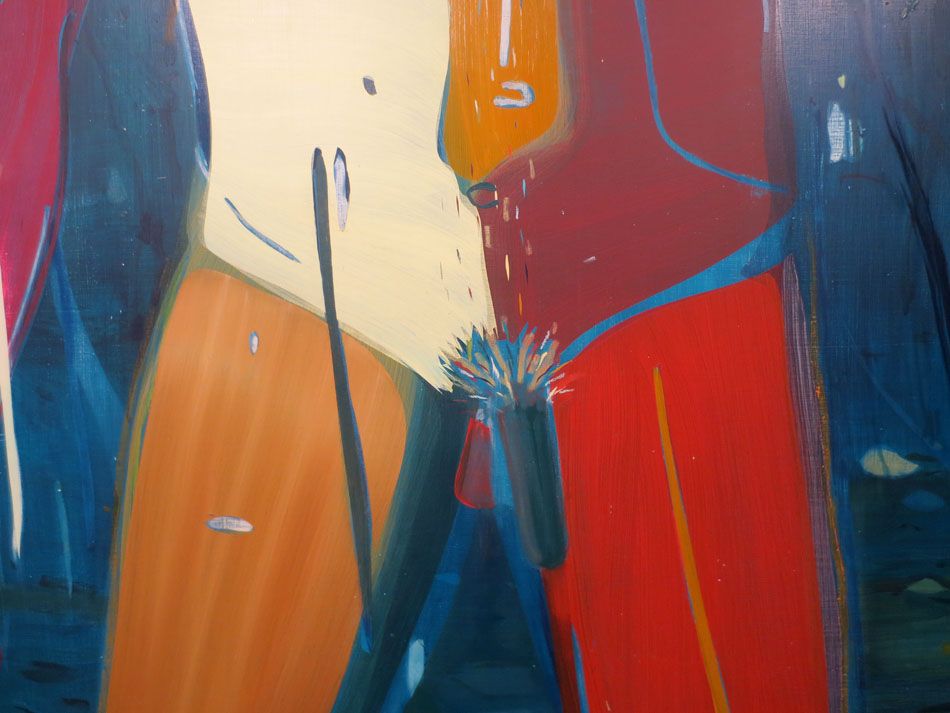 got the dick in focus for you guys at least!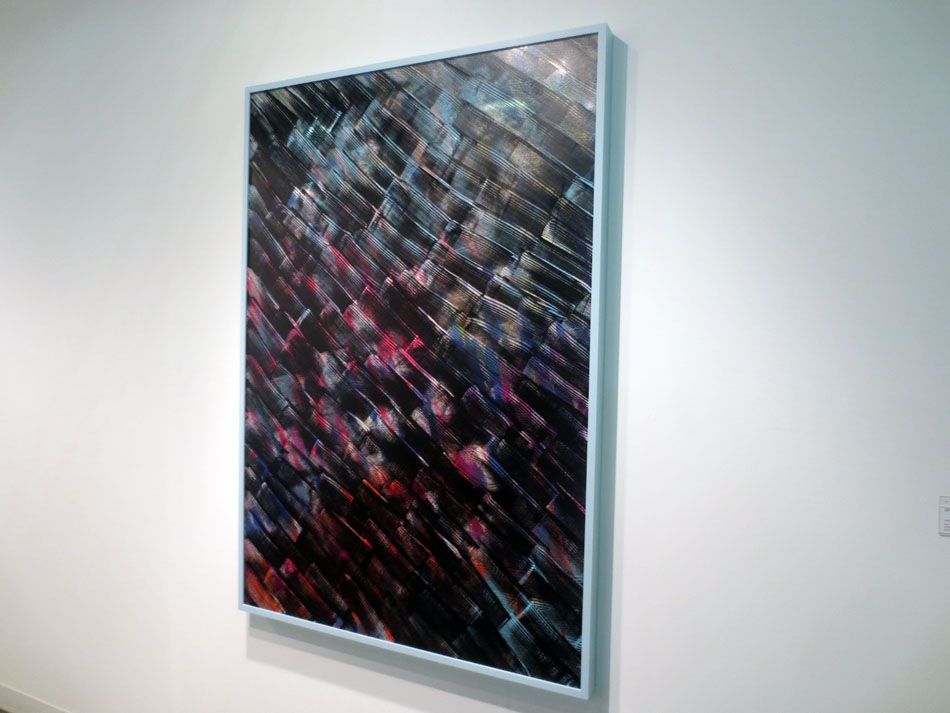 this stuff
this stuff never sticks

nick cave hope this is an old one of dude is getting hella repetitive

cecily brown monotype really beautiful

mini Pilupchyuk like form the LA fair remember?

this may is a May thin, huh?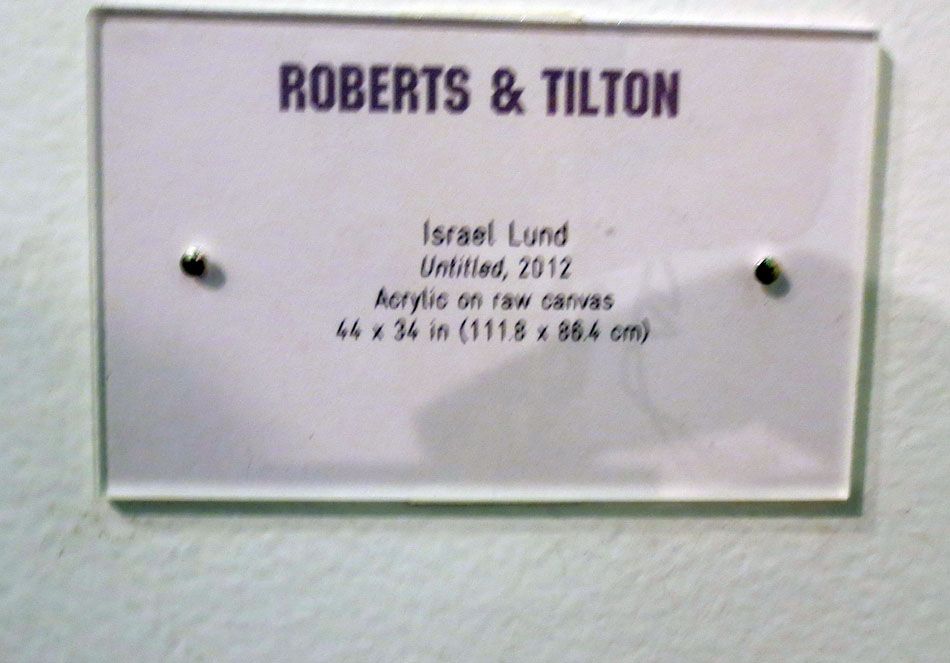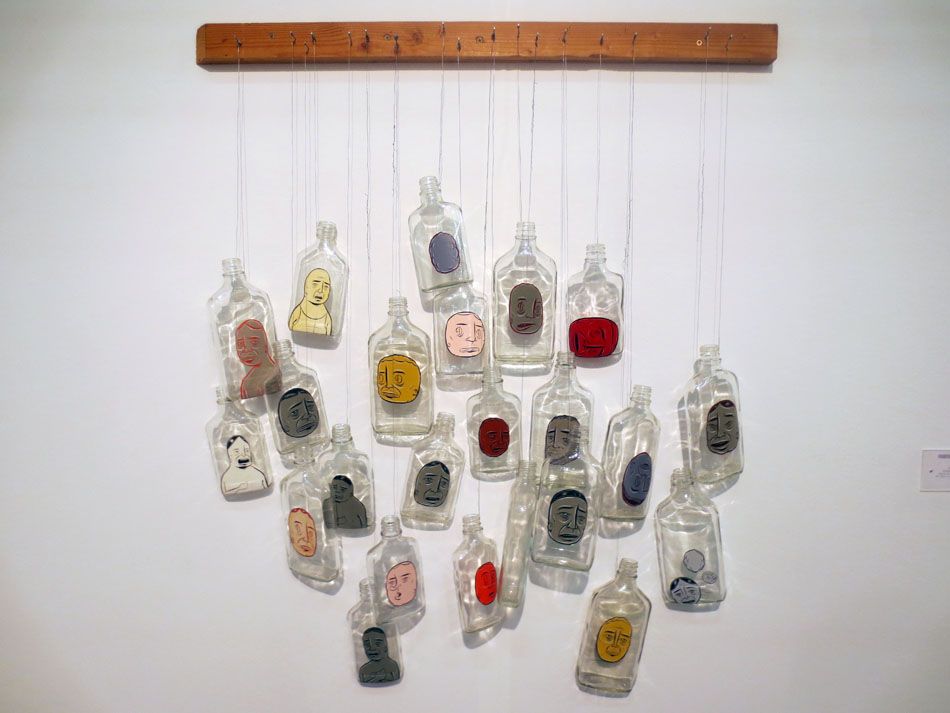 ooh!
man
and then i see things like this and am like

new abstraciton my ass

this was in LA fart fair too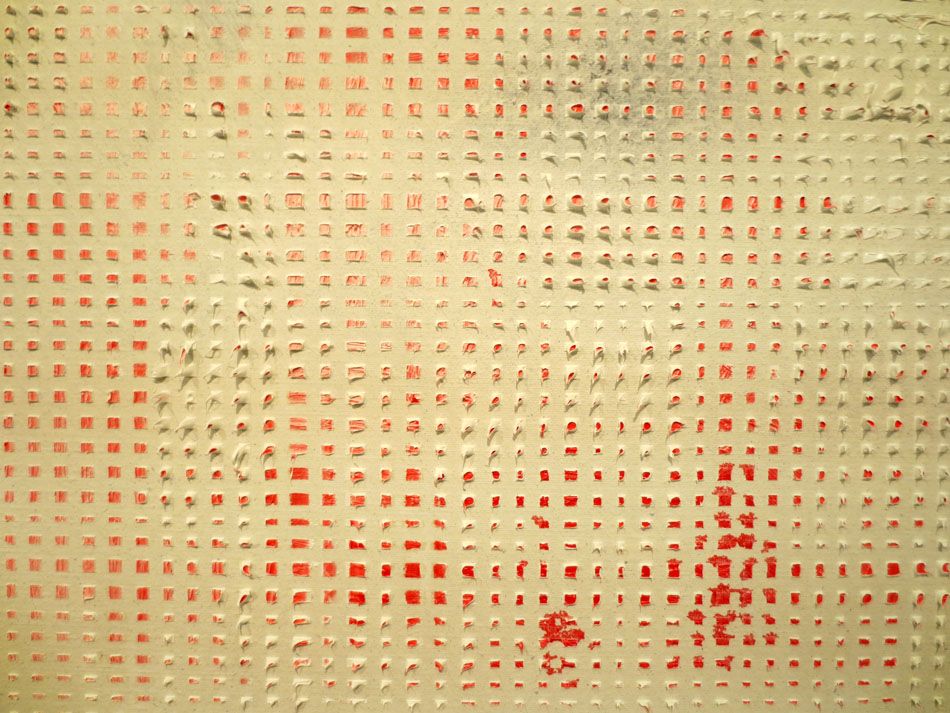 i woudl say it kinda is great but then i see other paintings even like Mark Flood last show that did the paint like this too but was actually ABOUT SOMETHING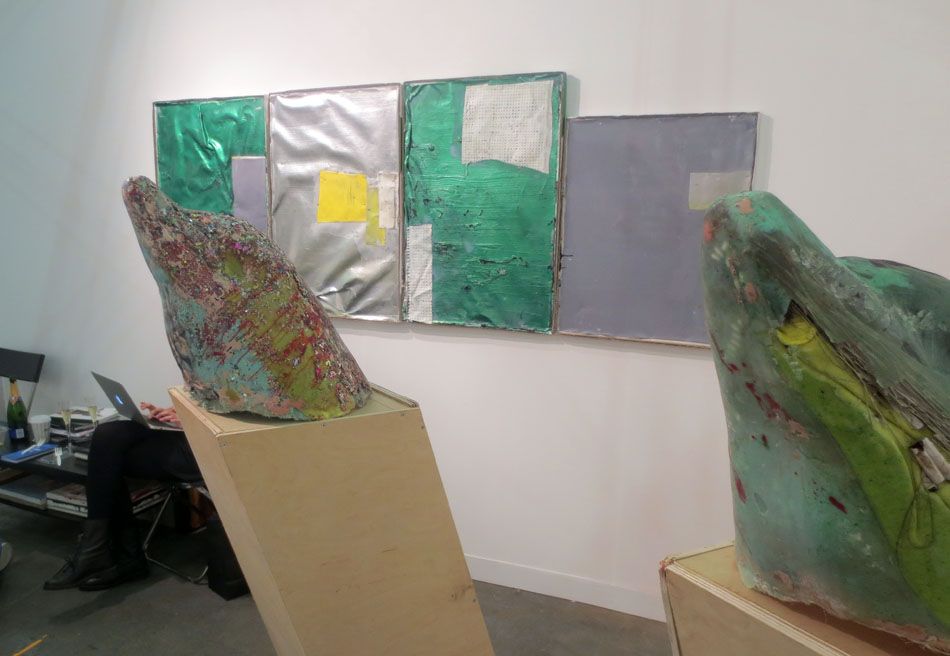 bottle knows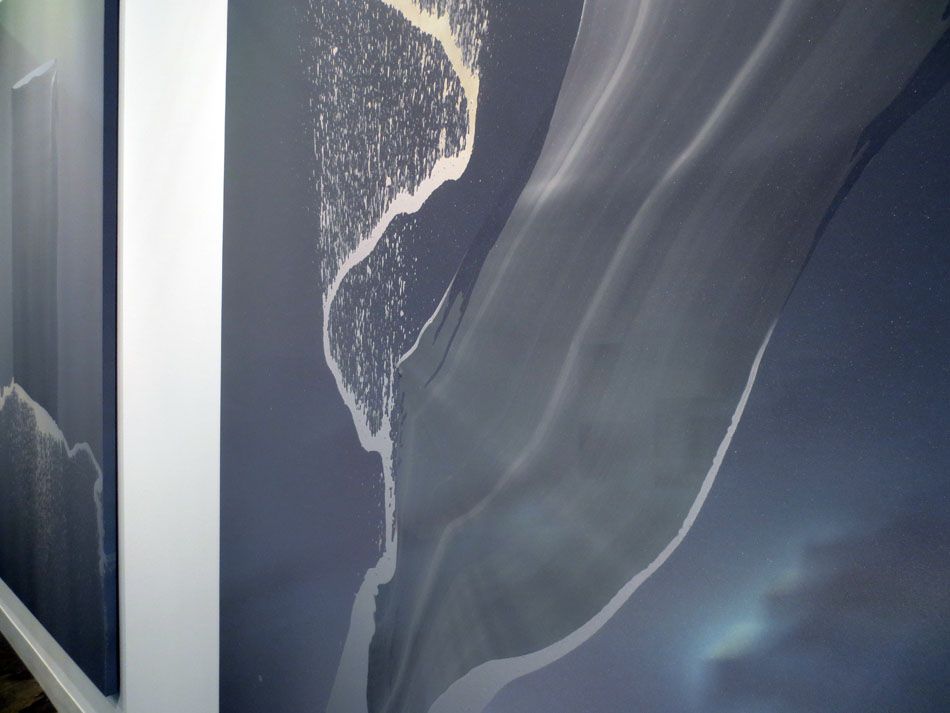 parker ito?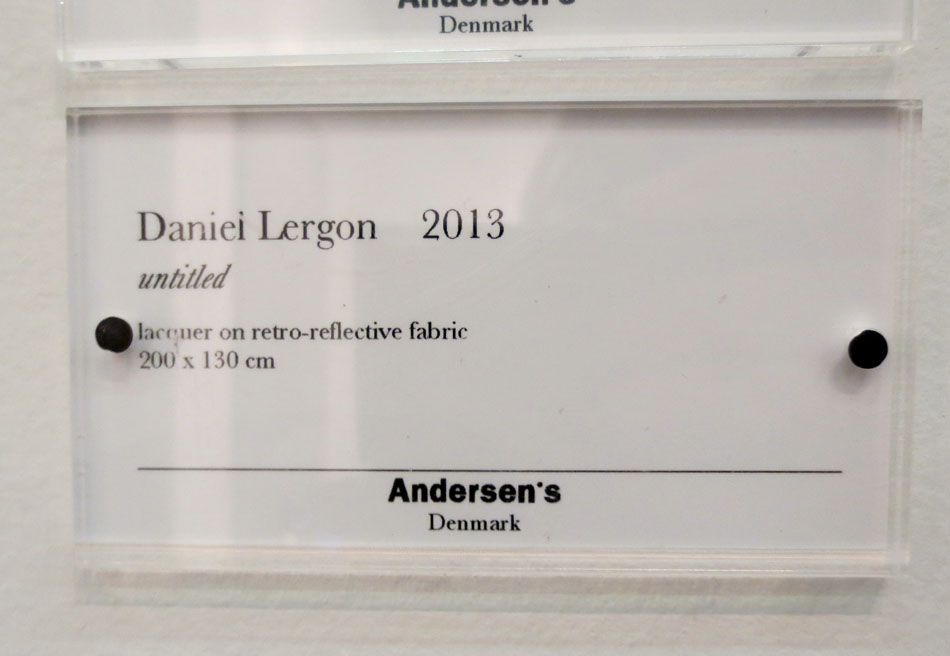 nah

looks great in the flash!
flash in the pan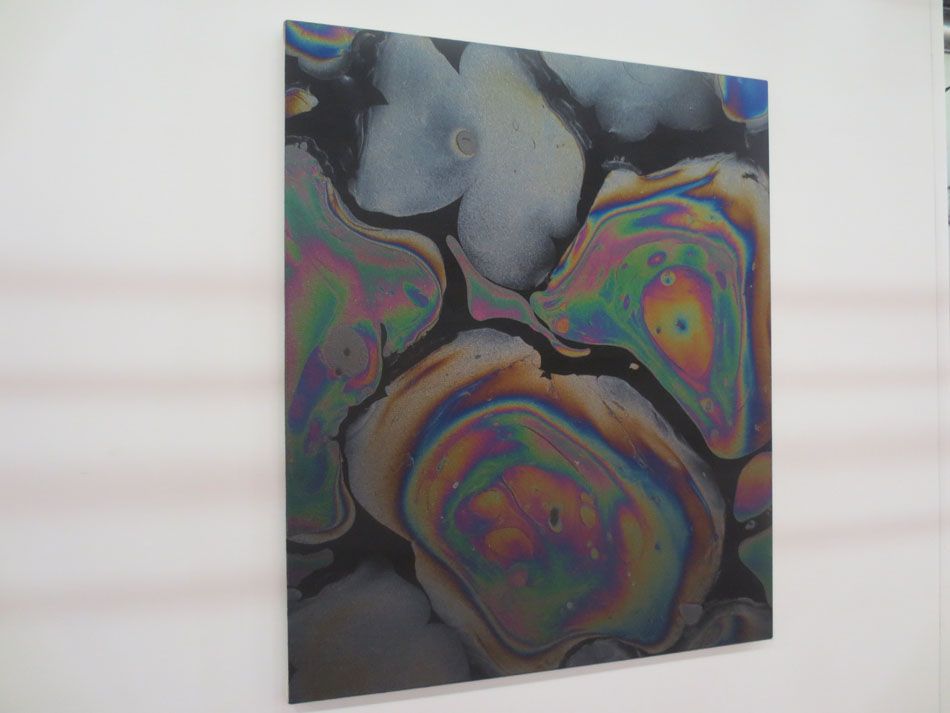 i have never made a pan flash
is that even a thing?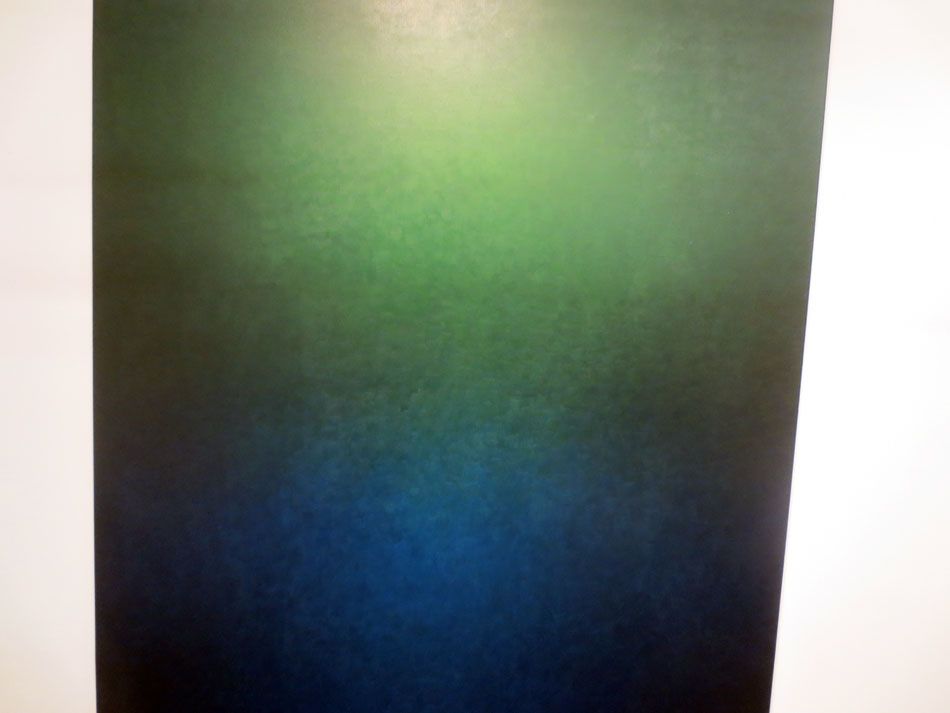 i love how whatever pixelishy this is

better than louie eisners very similar one because of the purposeful paint handling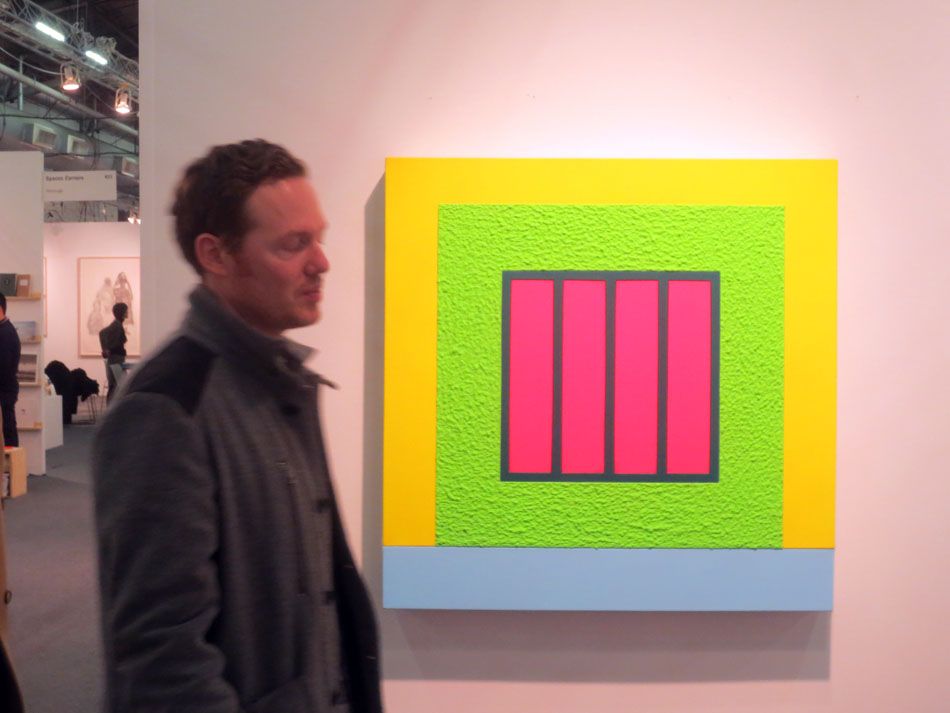 god and this is so good i am not the only one who is really blown away by things like this am i?

new one too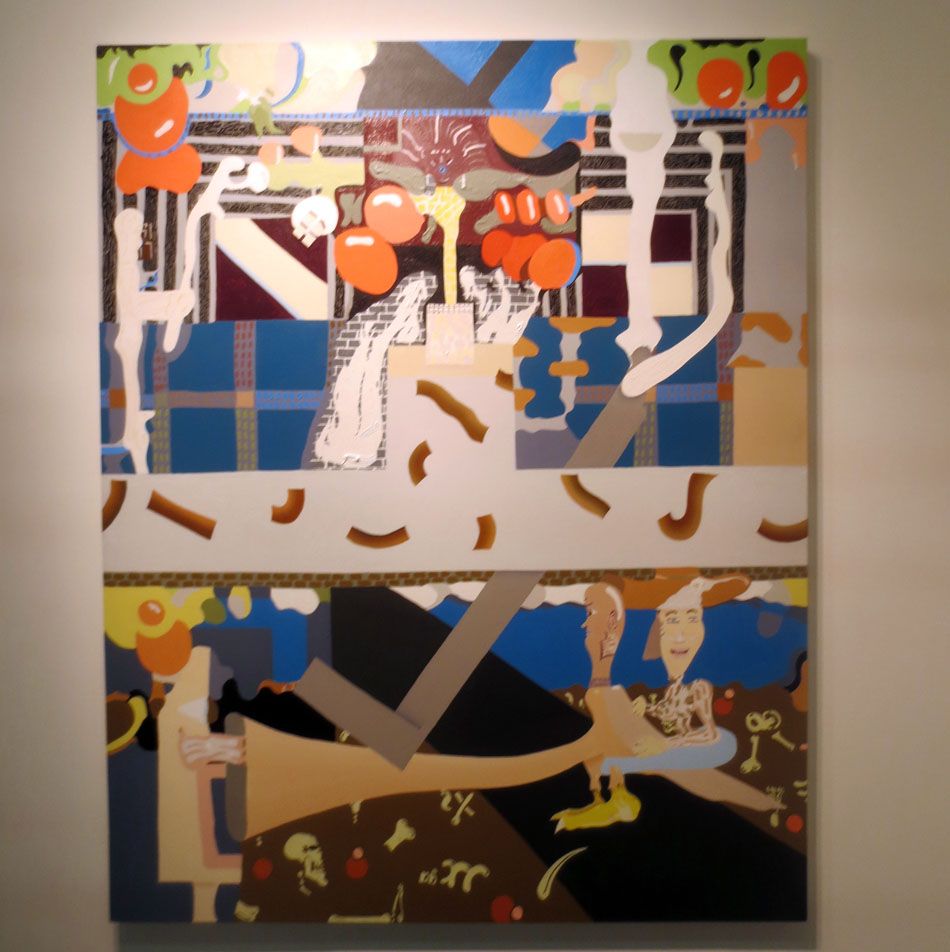 keegan mchargue

and is this

the natalie frank i know?

if so i am pretty impressed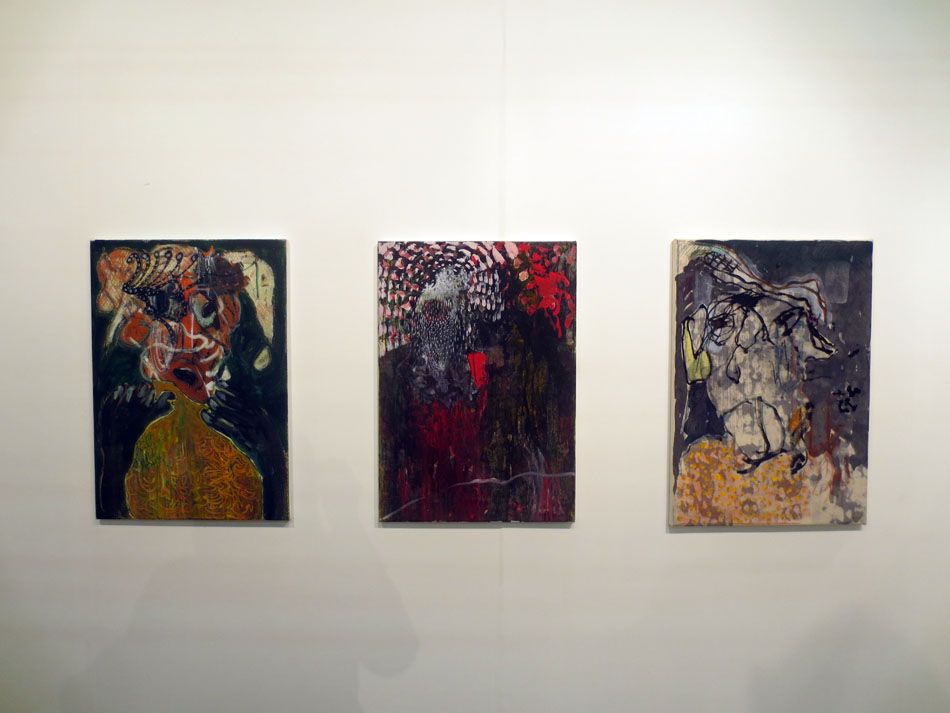 this gallery was so funny about these works
they look awesome
peter linde busk in our show too

they got all butt hurt at me over nothing

oh well!
nice seeing these in person again

EH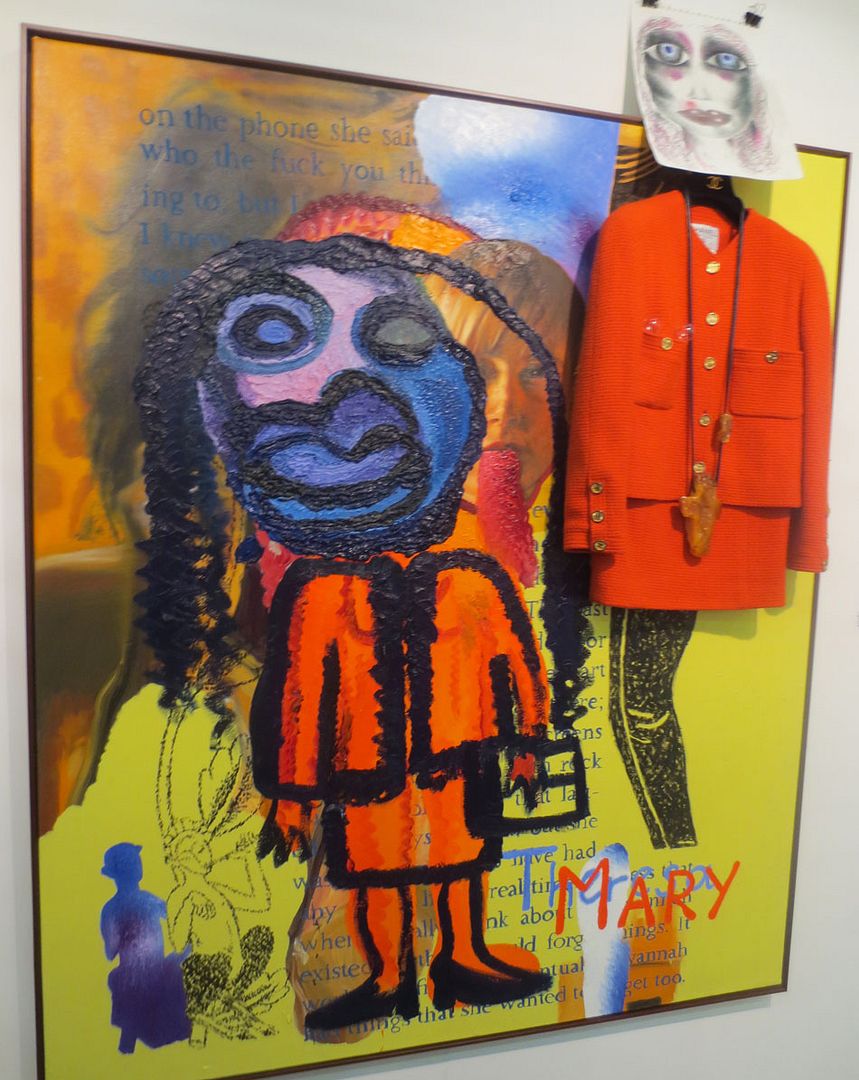 oh no and then!!!
bjarne melgaard made a whole booth about mary boone

he is a big tough fisty gay if you belive his books and then to make a show about mary

so werid to me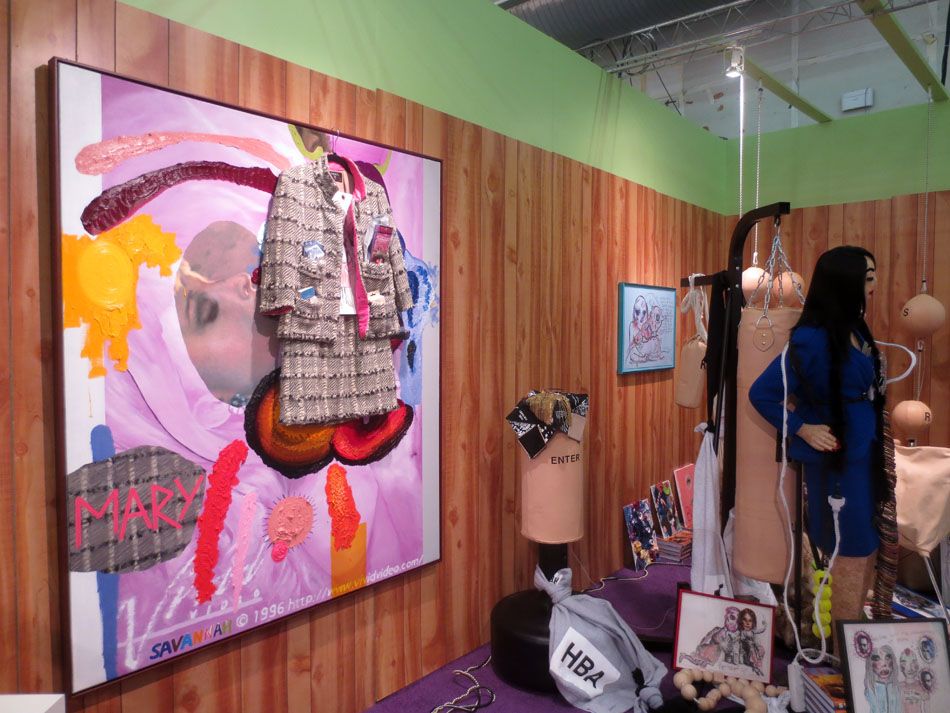 because i might be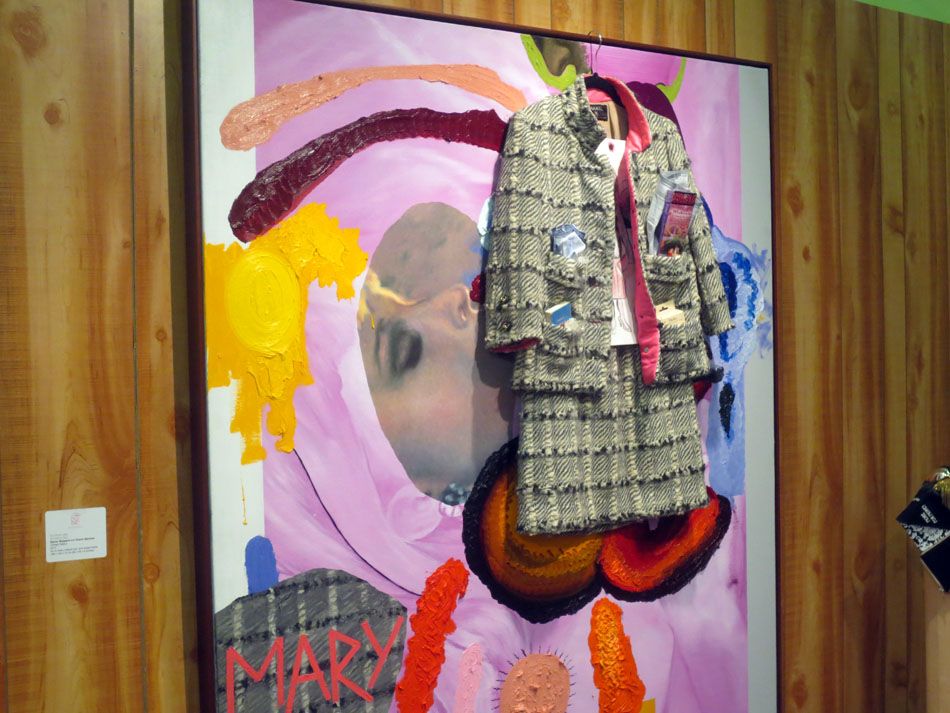 like, offended or something?
i feel funny inside i know that much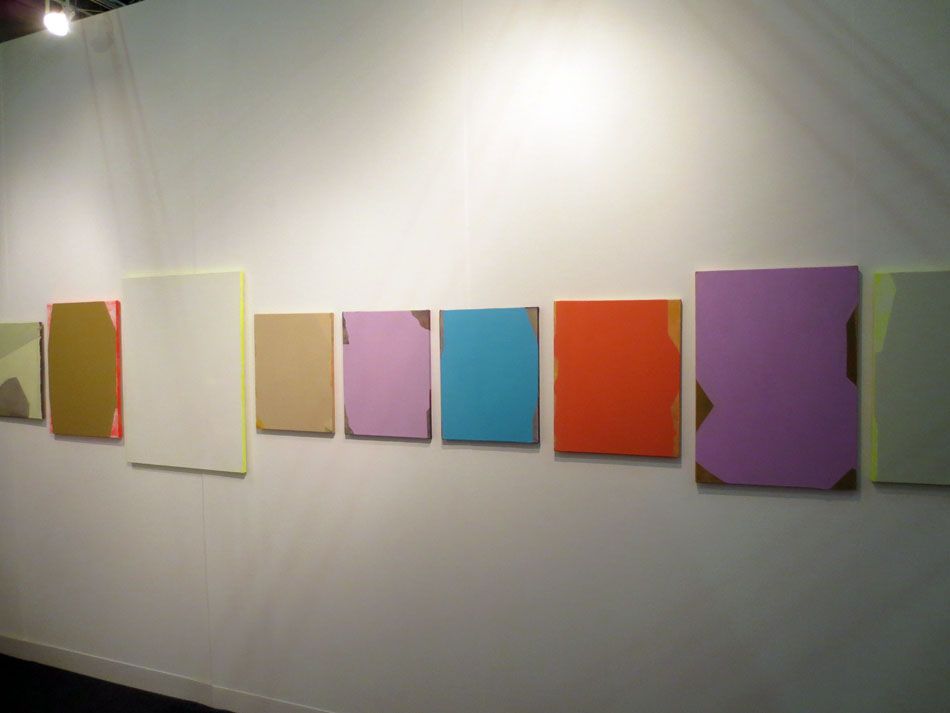 BLA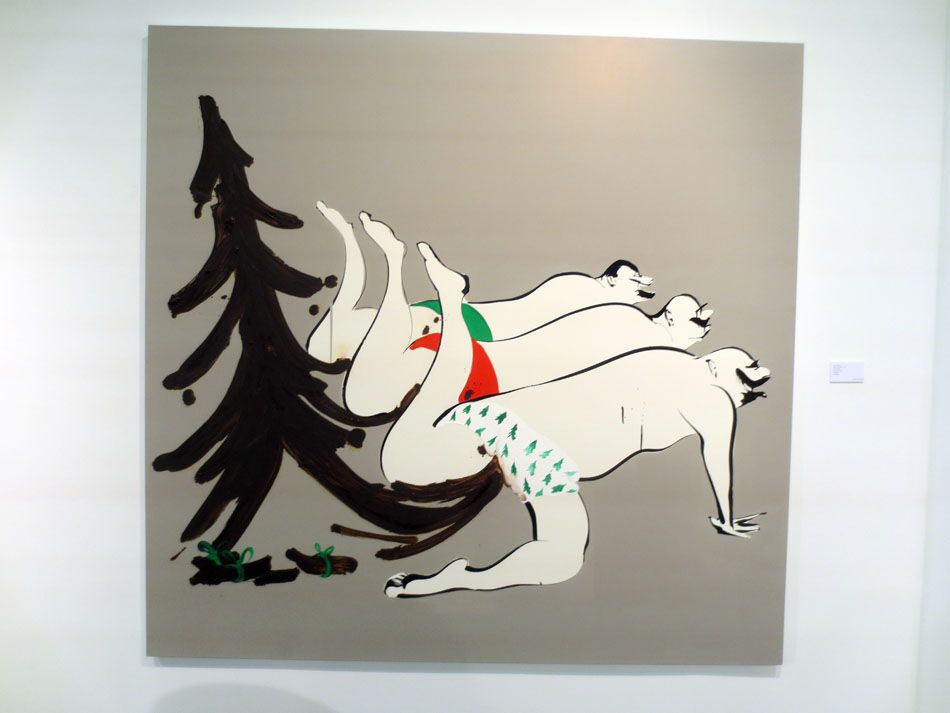 remember this painting by Iranian LA artist Tala MAdani/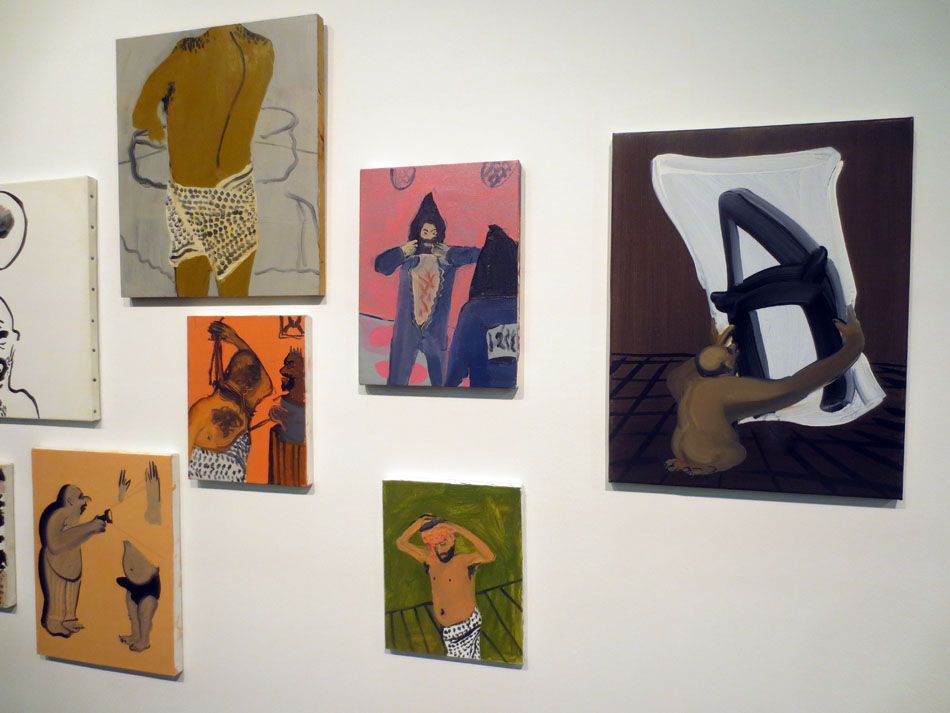 i had really wanted her in Chicken or Beef and was so disappointed

man i woud lhave loved to have hung this guy

oh well!
you have to show artists who WANT to be in your shows not twist their arms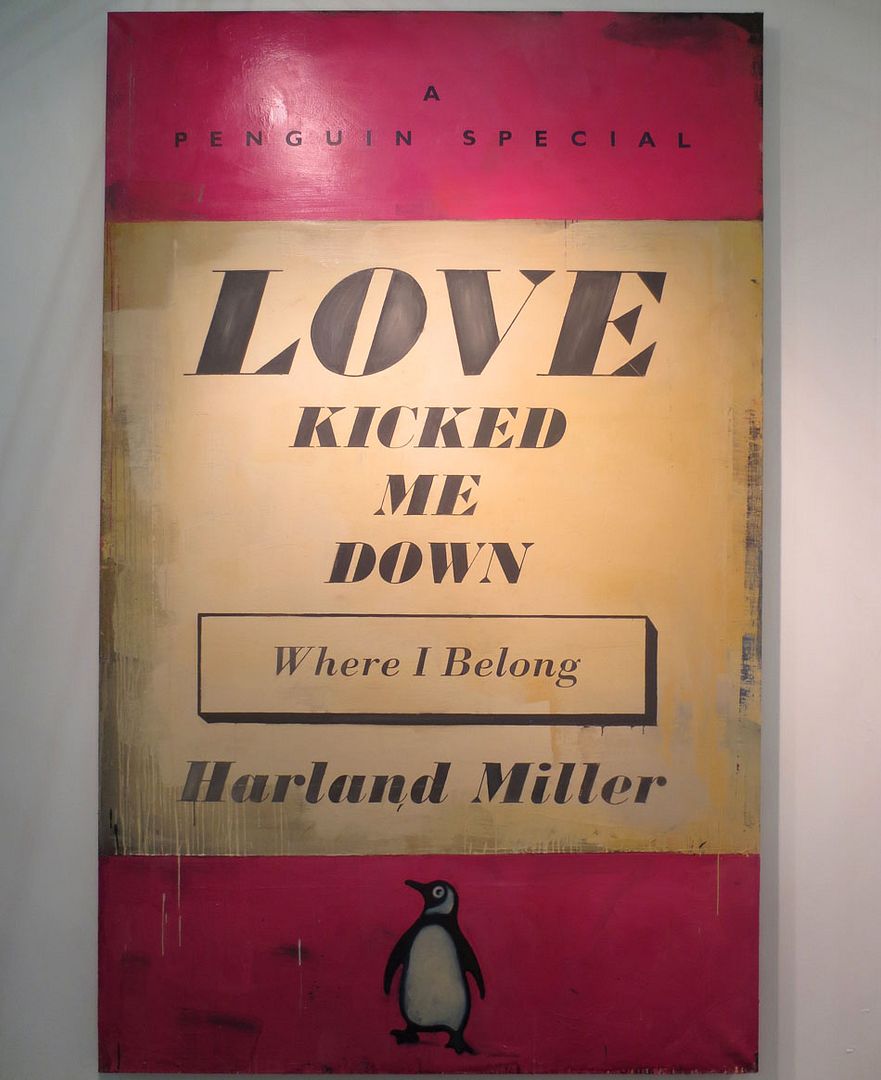 this can go in Jesper's book show maybe

this is what Wangeshi Mutu is up to now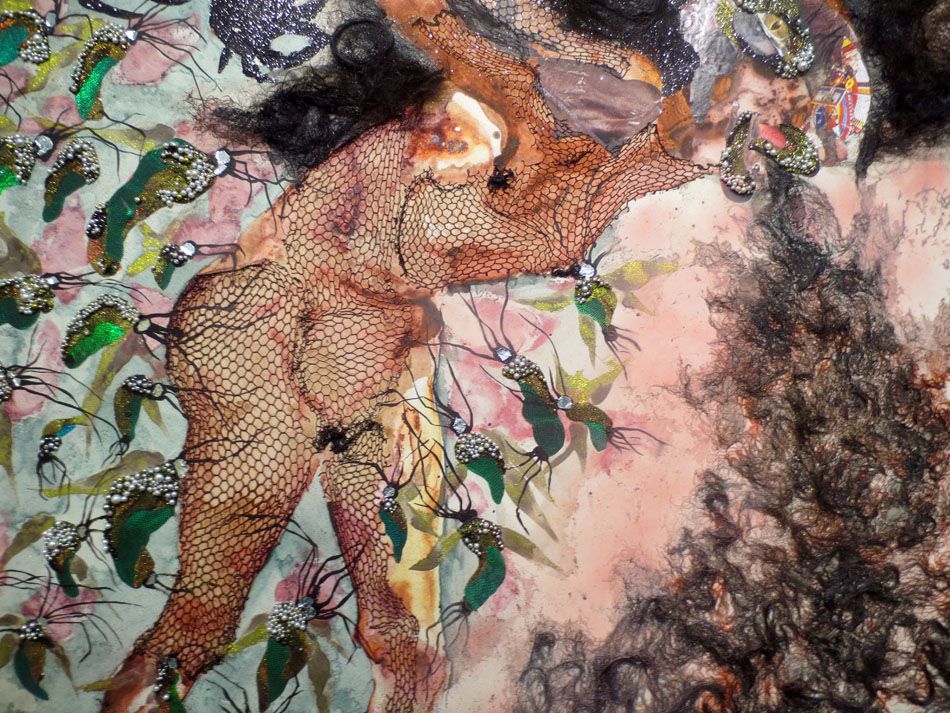 not sure its any better than her first deitch thing with Chris Perez so long ago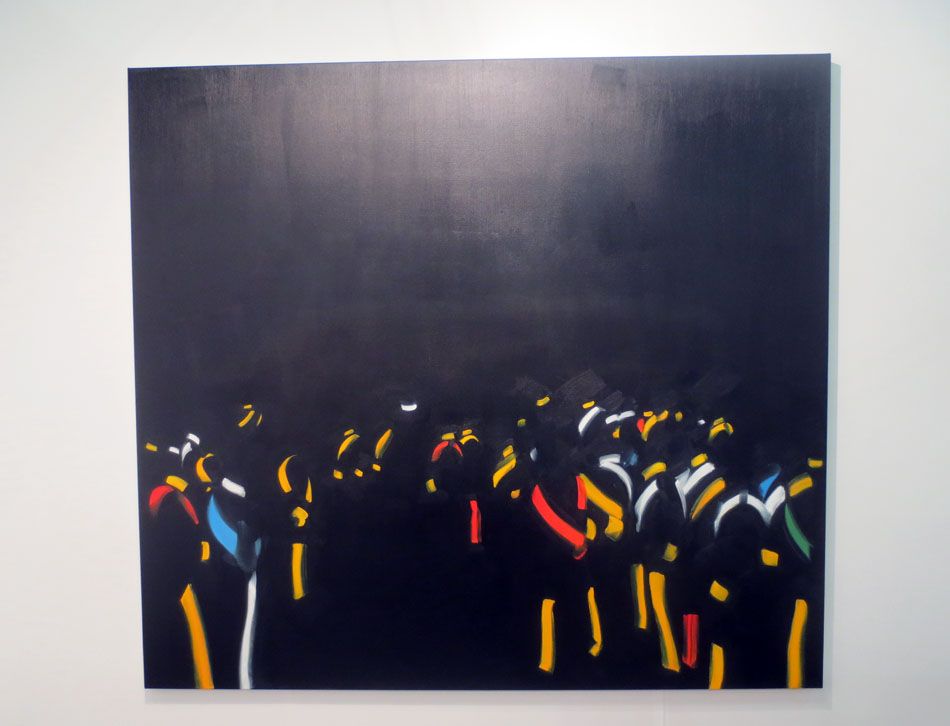 this i took a photo of for my own reasons and dont condone it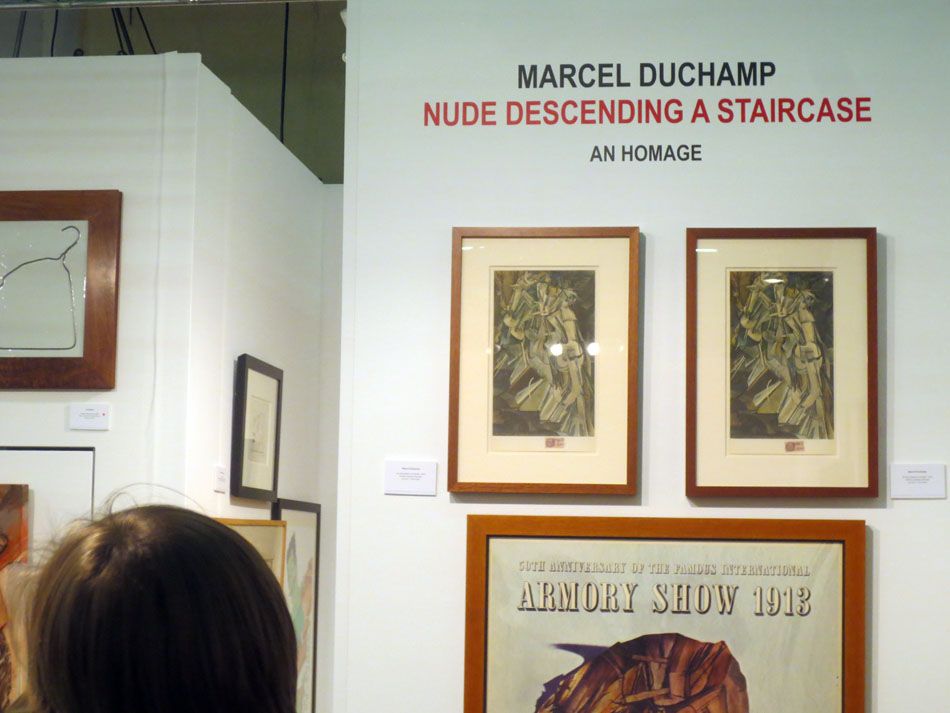 this is why Jeffrey used to do the armory even tho he didnt like it there

this is WAY TOO BUSY why did she put all that shit at the bottom what a bad move

this Jesper liked but hmmm

he sees a connection between JH and BK and Street Art that I dont want to see

crap

guilty pleasures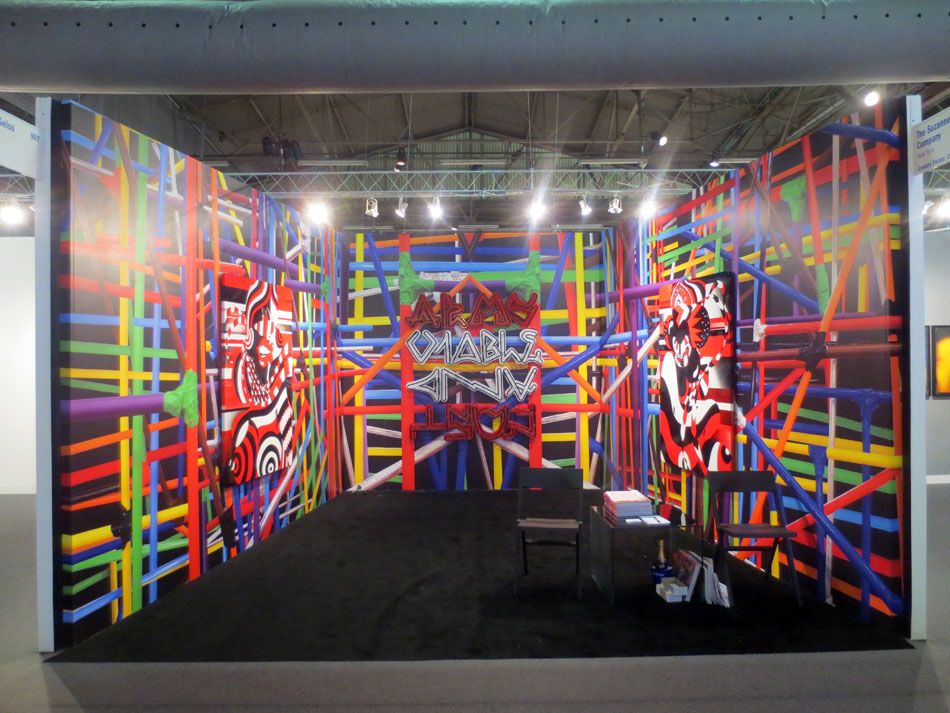 Suzanne's booth!

not sure what i think
but that is a good thing!

im sure i dont like this for example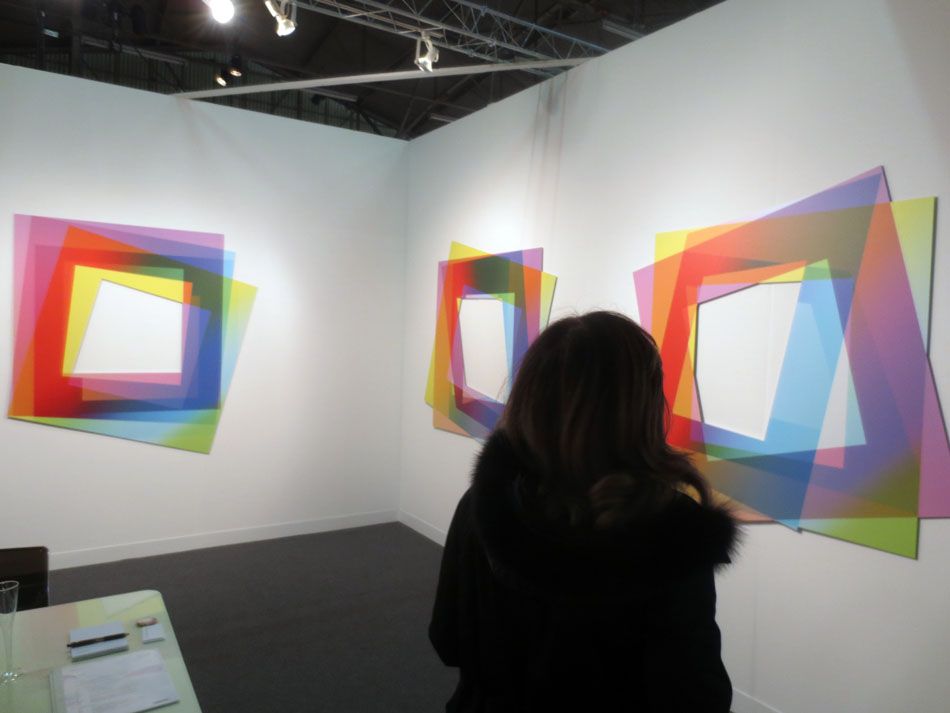 im sure i dont like these too much even tho i like this artist, i dont know why i dont like os much

hmmm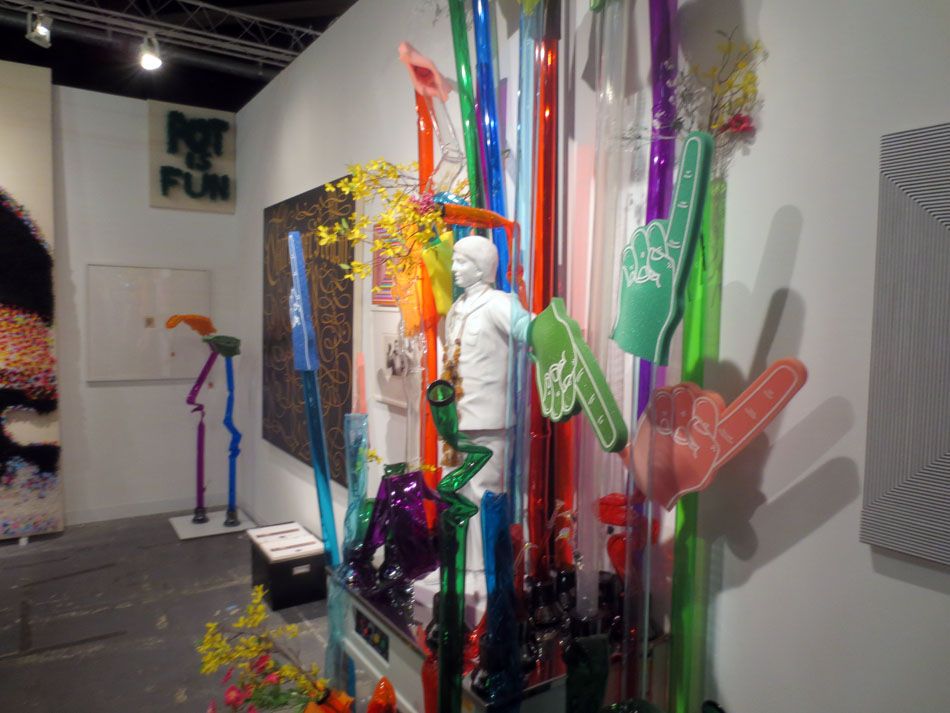 this i didnt have a chance to think about because the artist was there and introduced to me and clouded my brain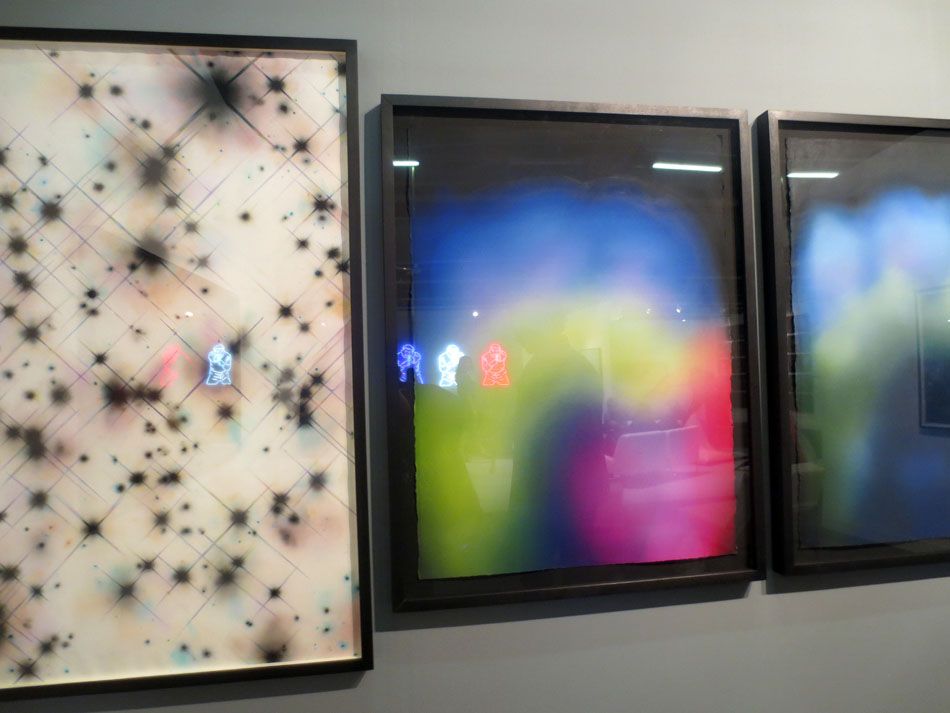 kinda liked these works on paper i guess

ah whatever!

artforum dinner was fun

and saw this cool Andrew Kuo in a shop walking home

great art is everywhere and i am glad the fairs are takin down their tents today!