there is a song called that
spencer sweeney introduced it into our consciousness last night at kembra's show
but we are getting ahead of ourselves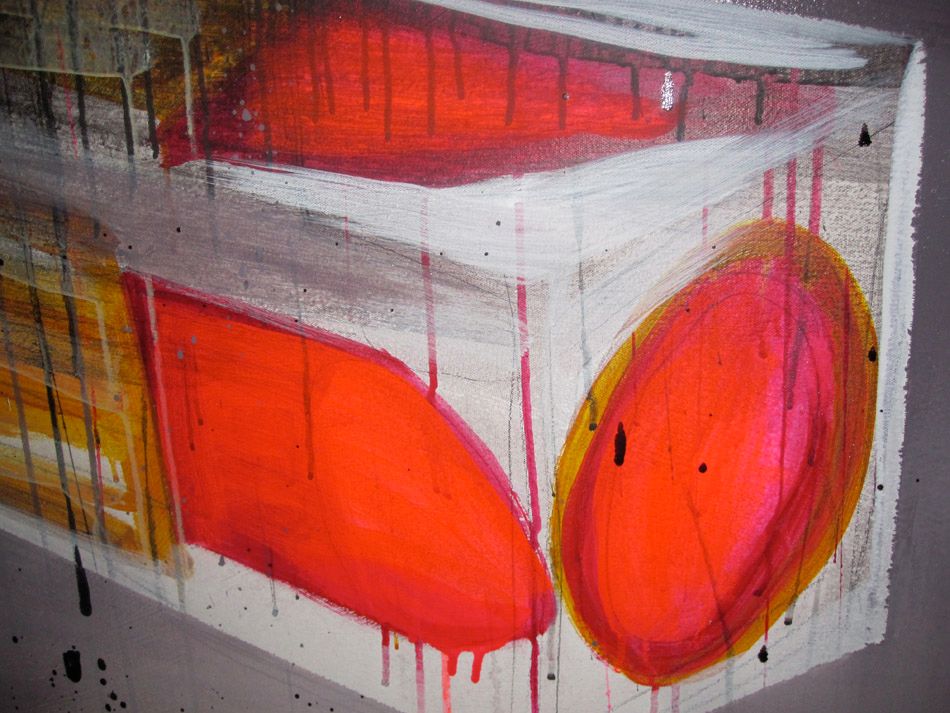 rafael like what was it now a month ago? when i said how excited someone was about something said "did his lipstick come out?" and THAT sick little number now pops into my head all the time
this is rosson's lipstick coming out in her new New Museum painting
the "shep" fairey on bedford had EAT A DICK written across it huge and this nice little addition in the margins
i love the idea that the public will rally to diss street art. i love that the public will revolt about how bad and corny street art is and destroy it
people!
take to the streets and deface bad street art
punch them in the dick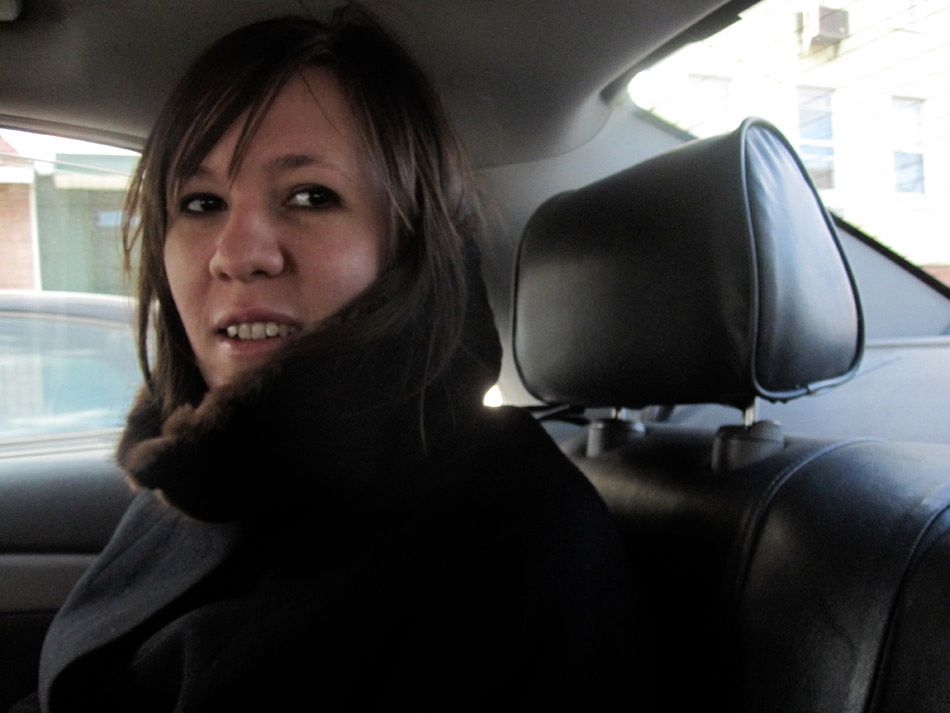 i apologize that this post is going to be really raunchy and already is mostly about dicks
the only wholesome thing i did recently was play the new Mario with Ben and Christina.
it is fucking unbelievably funny. the multi player action. you can pick eachother up and push eachother off cliffs and when you have yoshi you can even eat the other player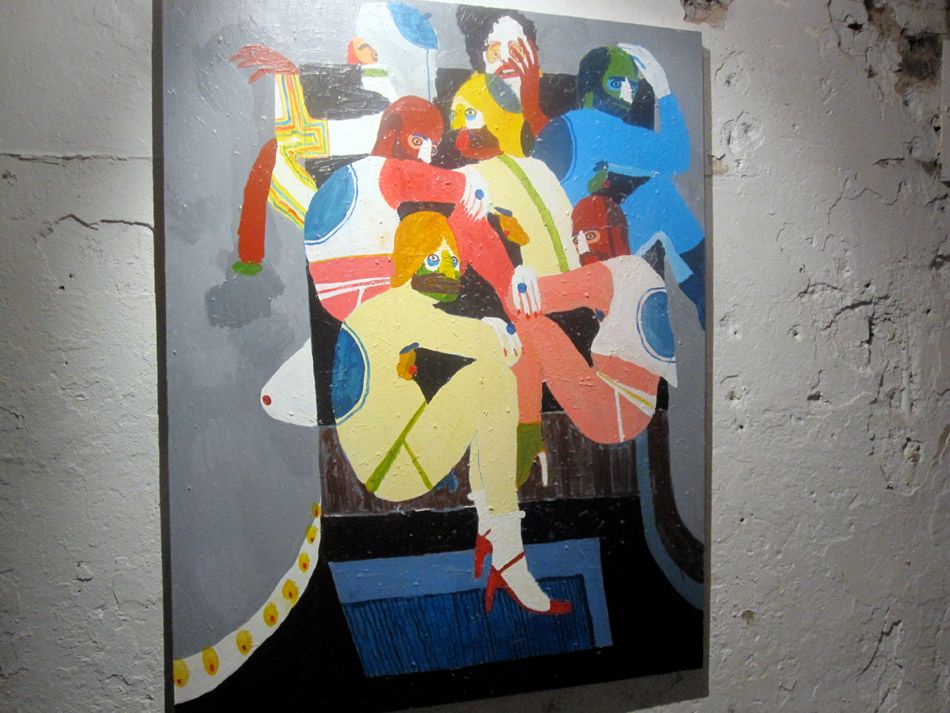 i guess this is "wholesome" i went to a little opening on clinton and e bway called something weird like merkin mcfuddles or something horrible but there were a couple cool paintings. this one was the best
space was more than humourously raw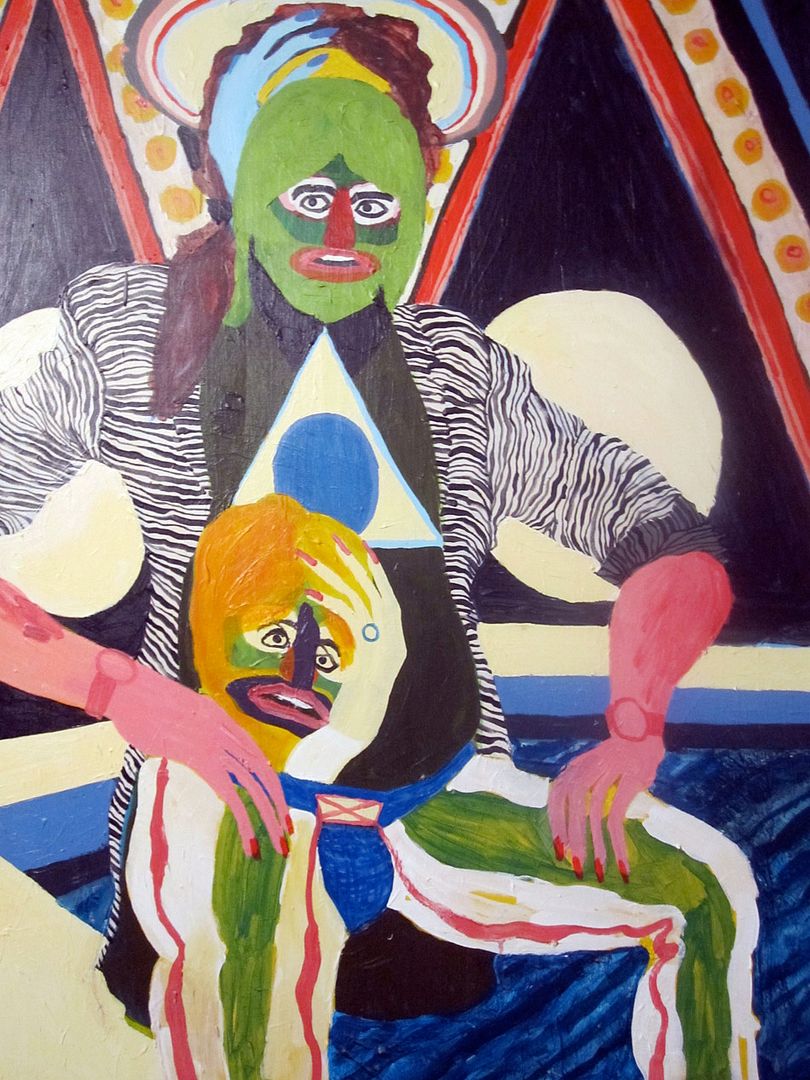 punch him in the dick
punch him in his waist face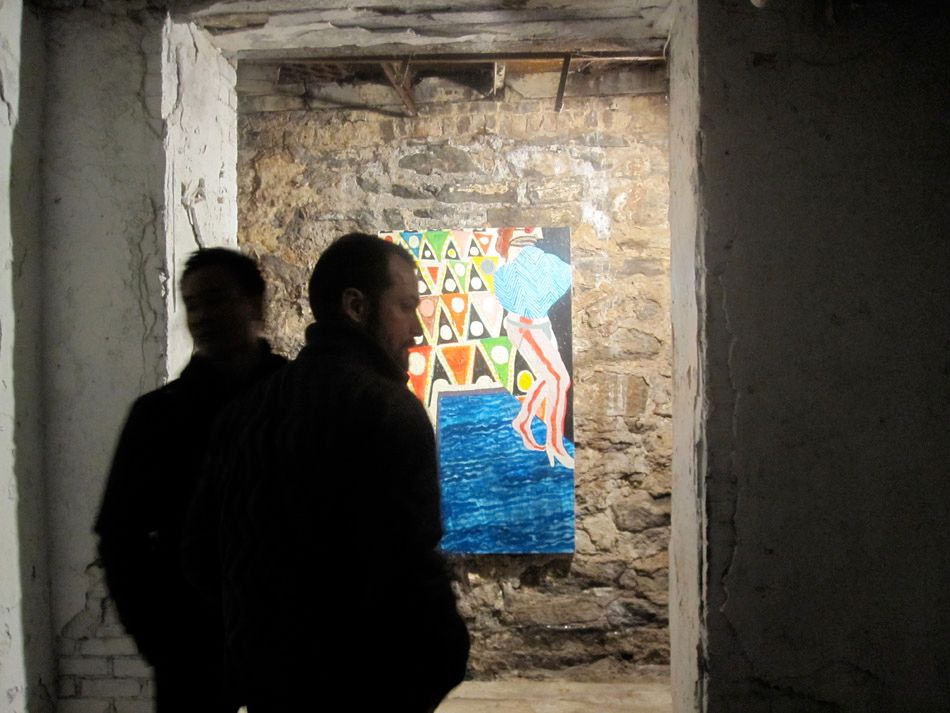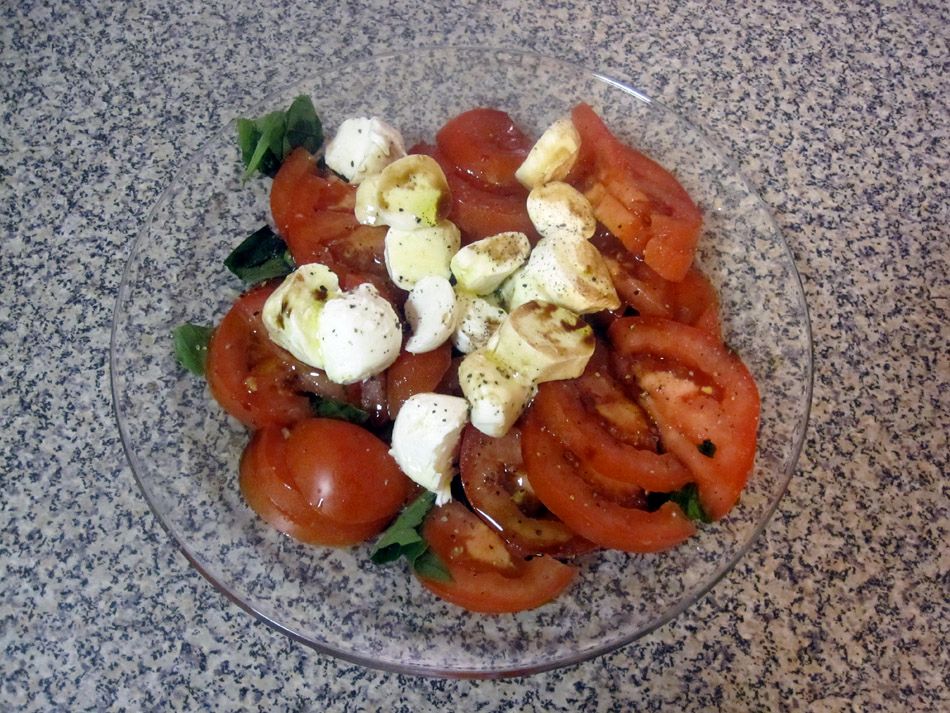 i got so much Fresh Direct that i have to stay home all weekend and eat my way free i think
maybe i will have a dinner party
if i do you will be the first to know!
this is rafael and i at Gemma and two chicks on their buttberrys one of whom i know her name is shit what is her name? that is why i didn't say hi
rafael is one of the first people i told my deitch plan to so i could start drumming up support. if i can drum up enough support from my network, then we can do something really magical june 1, its real!!!!
i accidentally walked by while patrick was on a scissor lift painting a mural one Ave A and was so jarred that i had to go to the park and stare at the sky for an hour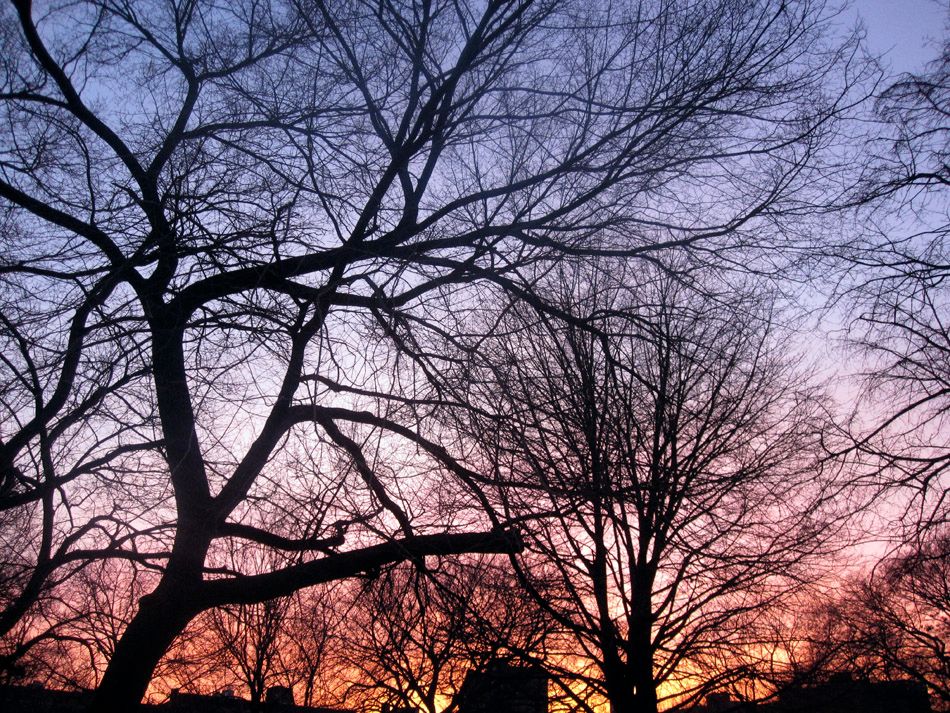 i was rewarded with this though!
i dont know if you guys know THE FUGS but there was a benefit last night for one of the dudes and we got to play Slum Goddess the best song. here is a link to it oh shit!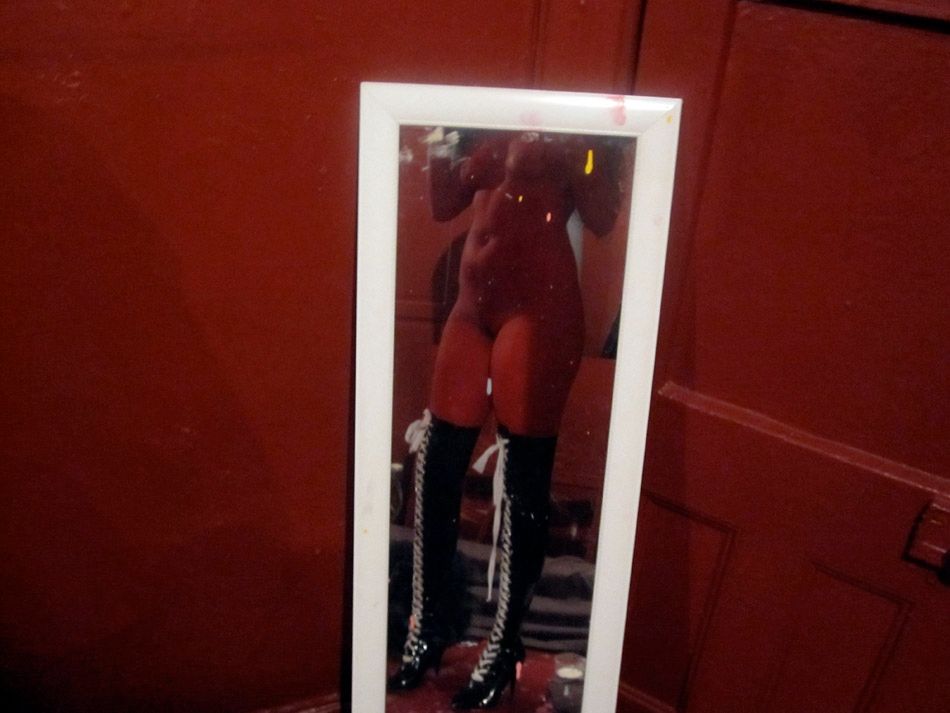 lets see if photobucket can tell what these are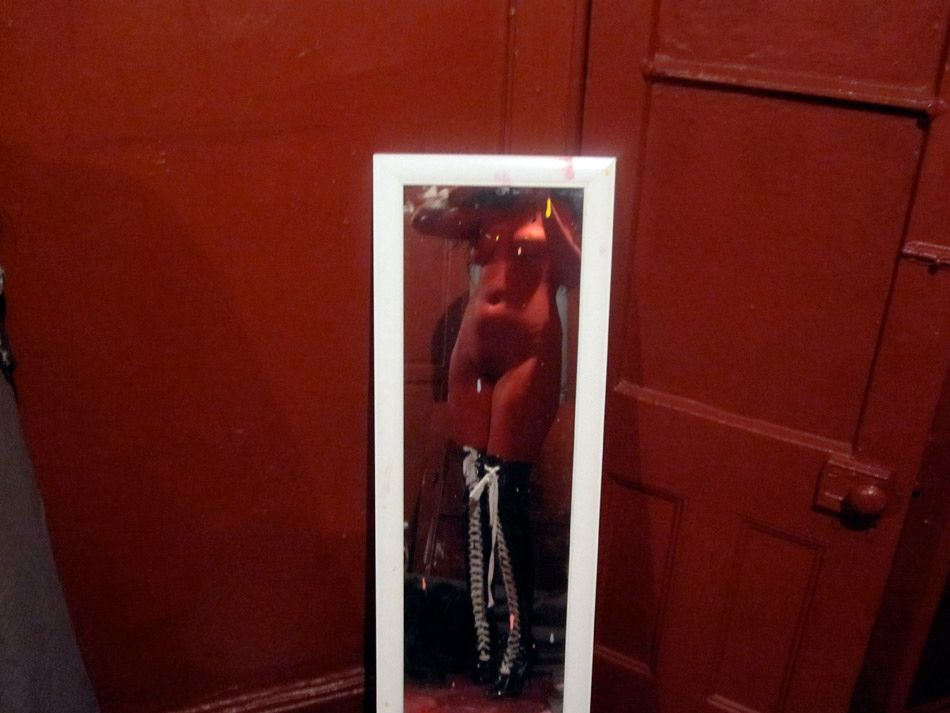 oh no again!!!
this outfit kills me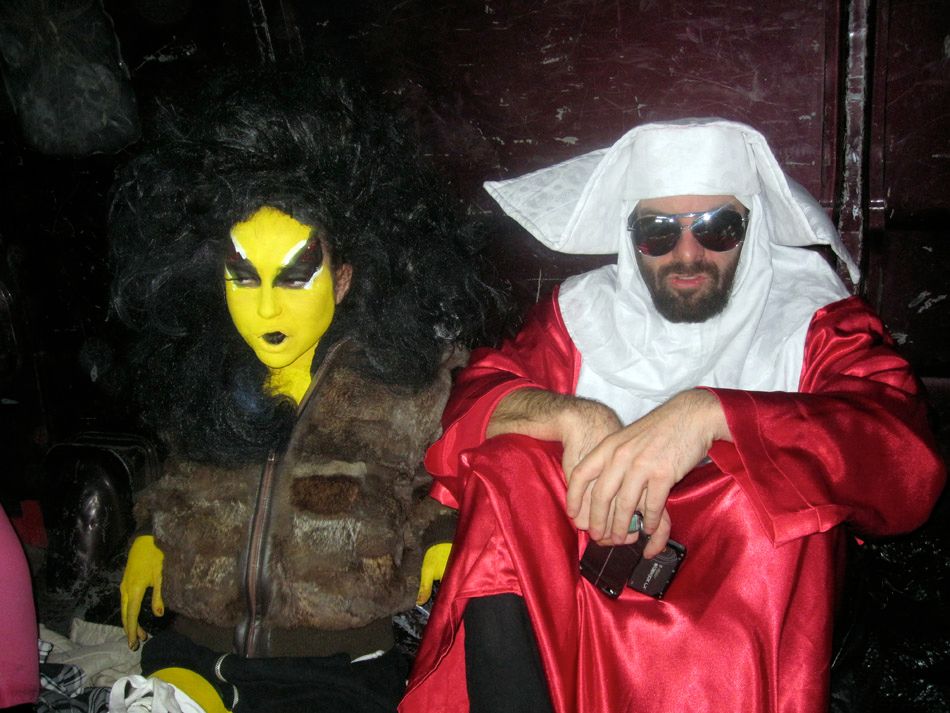 glamourous
kembra never seems to tell me she is going full nudity until it is too late for me to back out
i know she knows she does this to me!!!!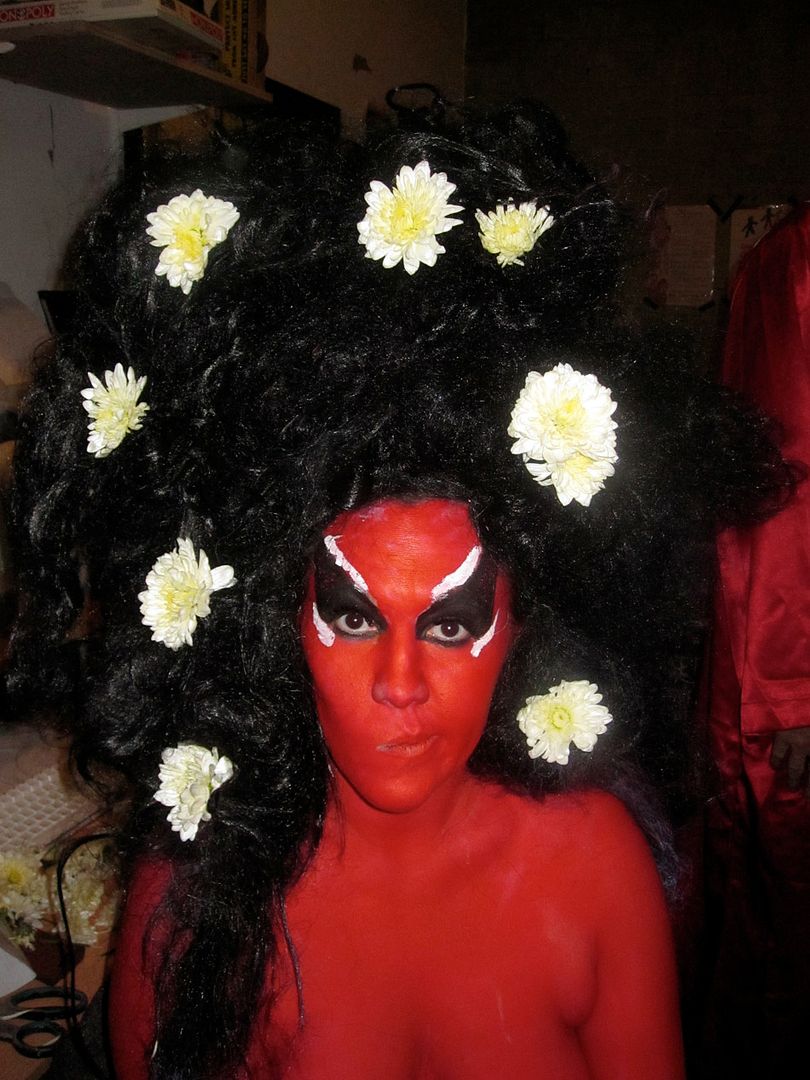 look how pretty the flowers are though
we got there and philip glass was playing something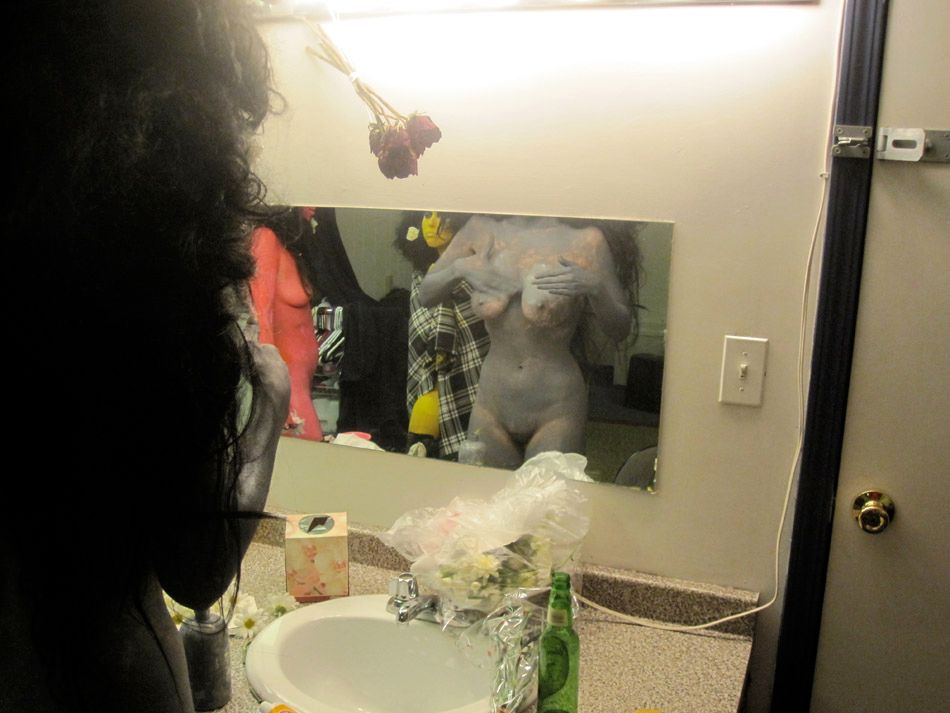 we decided if we forgot the words we would just sing "bijoux's tits, bijoux's tits"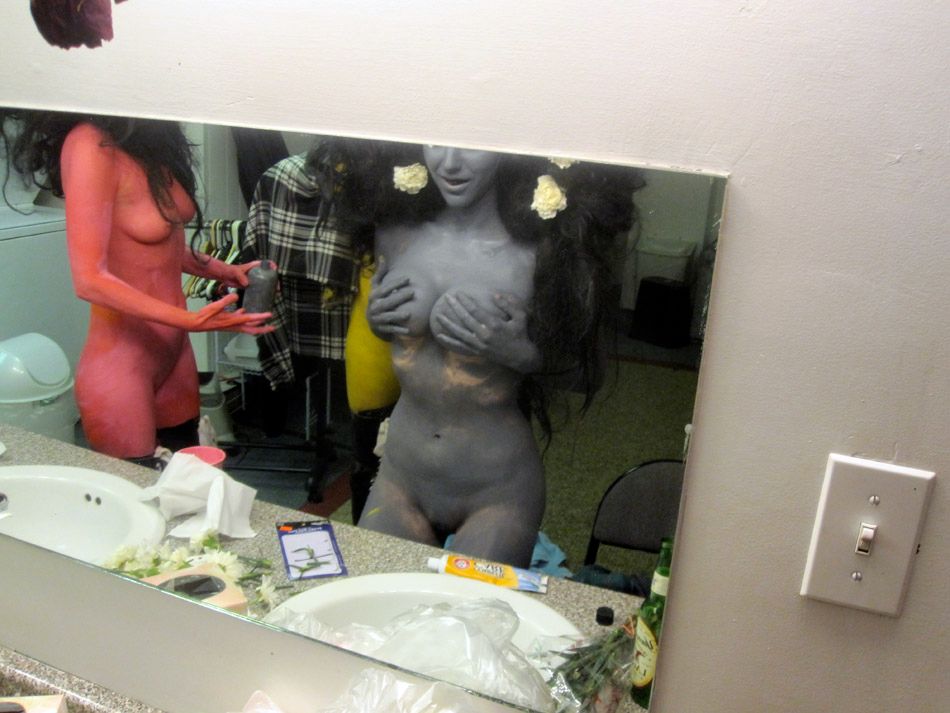 mesmerizing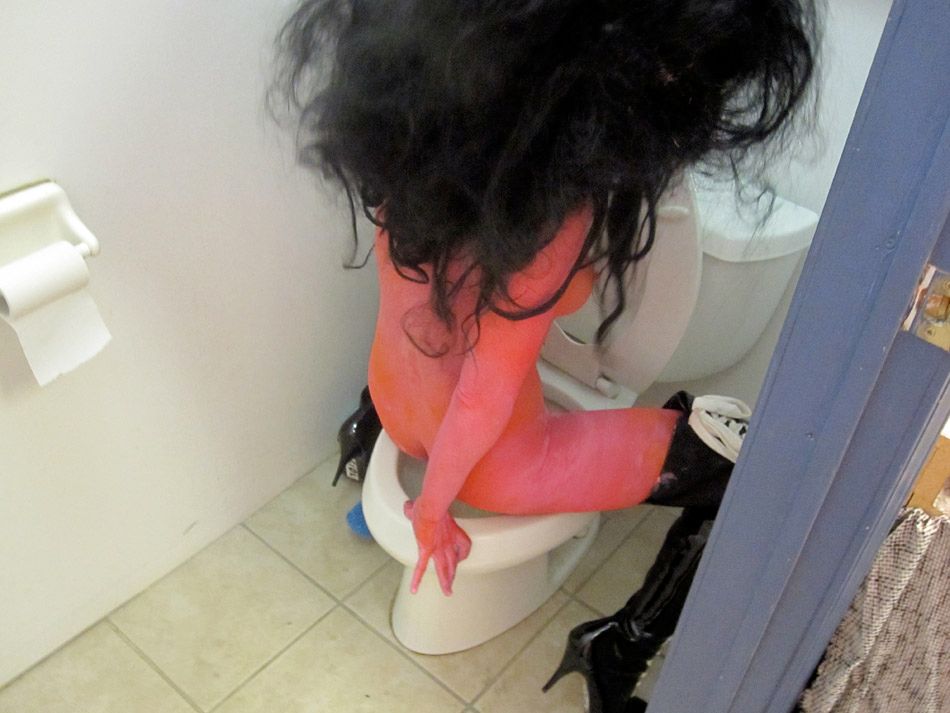 kembra trying to pee
the show went great!
not pictured
wig removal
jailbait
you have to picture spencer playing "punch him in the dick" on his phone to us over and over to really get the full picture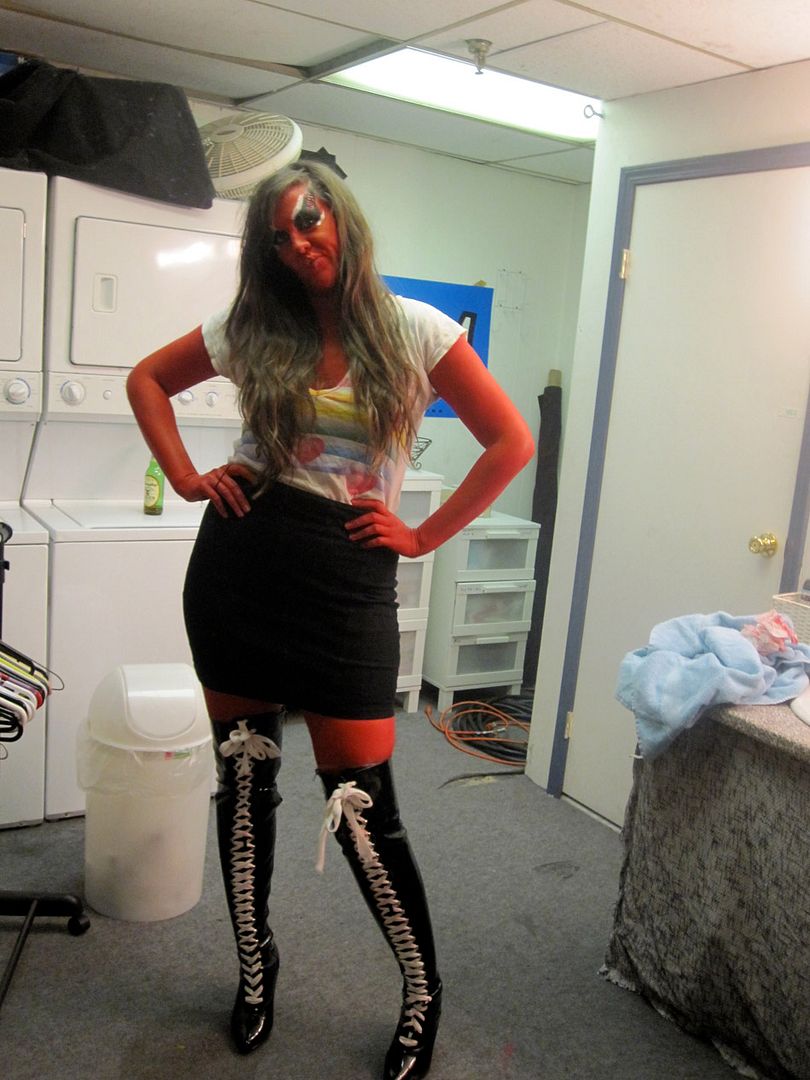 JR and Spencer and i went out like this
we terrorized max fish, santos, it was hilarious
oh and don't i have a glowing hangover to prove it!
here are the lyrics
i just cant believe it!!!!!
..
Punch 'em in the dick
(What)
Punch 'em in the dick
(What)
Fuckers talk shit
I'ma punch 'em in the dick
(Bow!)
Punch 'em in the diiiiick
Punch 'em in the diiiiick
Motherfuckers talk shit
I'ma punch 'em in the dick

Yo look at that chump
See the way that he struts
Don't kick him in the rump
Go nuts on his nuts
Just pop a squat
Start lettin' off the shots
Like knock knock knock
Just coldcocked his cock
Yo, to all the cock-knockers
Nut-crackers
Ball-breakers
Peter-beaters
Keep on boxing your baby makers
With a sock to the jock
Better make that a double
Just a couple of rounds of knuckles
Beneath the buckle and he'll buckle
If you're in trouble
Give him some urine trouble
Hand him his balls
And tell him better learn to juggle
Turn his pebbles into rubble
Make him wonder what might've been
Make it so the South will never rise again

Now every man claims to be the toughest and the meanest
Watch your crocks, because soon the losers will be your weenus
And the winners in all the gladiator arenas
Are always the ones that go straight for the penis

So punch 'em in the dick
(What)
Punch 'em in the dick
(What)
motherfucker talk shit
I'ma punch 'em in the dick
(B'low!)
Punch 'em in the diiiiick
Punch 'em in the diiiiick
motherfucker talk shit
I'ma punch 'em in the dick

Punch 'em in the dick
(What)
Punch 'em in the dick
(What)
motherfucker talk shit
I'ma punch 'em in the dick
(Bow!)
Punch 'em in the diiiiick
Punch 'em in the diiiiick
You motherfuckers talk shit
I'ma punch 'em in the dick

I'll give your willy a welt
Like you ain't never felt
Soon as I'm knelt
I'ma pelt you below the belt
Like Bang!
Bust em' in the wang
Like it ain't no thang
Now you really can't hang

But you ain't gotta be a dude
Shit, I'll dick-punch a chick
Because I don't discriminate
When I punch em' in the dick
Whether Suzie Homemaker or a floozy home-wrecker
I'ma deck'er in the pecker, mother-fecker

It could be your mama
Better be no drama
You could be the Dalai llama
I'ma still put it on ya
With a right, left, right, left
Yo dick punched
Then you say Goddam, my shit's crunched
Scrotum? I damn near killed 'em
I capped him in (?) the boner, man
Forget about children
You ain't got enough kung-fu to bust some ninja shit
Fuck Sun-Tzu, you want to learn the Art of Won

Punch 'em in the dick
(What)
Punch 'em in the dick
(What)
Motherfuckers talk shit
Straight punch 'em in the dick
(B'low!)
Punch 'em in the diiiiick
Punch 'em in the diiiiick
You motherfuckers talk shit
Straight punch 'em in the dick

Punch 'em in the dick
(What)
Punch 'em in the dick
(What)
Motherfuckers talk shit
Straight punch 'em in the dick
(B'ow!)
Punch 'em in the diiiiick
Punch 'em in the diiiiick
You motherfuckers talk shit
Punch 'em in the dick

We
Got
A brand new dance
Called punch his ass right in the dick

We
Got
A brand new dance
Called punch his ass right in the dick

Any of you snotty kids be talkin' shit
I'ma drop a fist on your naughty bits
I got punches a'plentiful
You bet your rear-end it'll sting
When I start swingin' on your genitals
Because then it'll swell up all out of proportion
Lookin' like an eggplant forced into your foreskin
Nevermind abortion
Forget vasectomy
I got your birth-control… B'low!
Nut-check, homey

I punched God in the dick
I punched Mary in the dick
I punched Jesus Christ in the dick
Yo, I punched Cheney in the dick
I punched Powell in his colon
I punched George in his Bush
I punched Condoleezza Rice in the diiiiiick

Punch 'em in the dick
(What)
Punch 'em in the dick
(What)
Motherfuckers talk shit
Straight punch 'em in the dick
(B'low!)
Punch 'em in the diiiiick
Punch 'em in the diiiiick
You motherfuckers talk shit
What, I'ma punch 'em in the dick
Blaaah!

Punch 'em in the dick
(Ungh)
Punch 'em in the dick
(Ungh)
Motherfuckers talk shit
Straight punch 'em in the dick
Blaaah!

Punch 'em in the diiiiick
Punch 'em in the diiiiick
Motherfuckers talk shit
Yo, punch 'em in the dick

Gonna punch 'em in the dick
Watch me punch 'em in the dick
Love to punch 'em in the dick
Born to punch 'em in the dick
Forever punch 'em in the dick
Sucker punch 'em in the dick
Fruit punch 'em in the dick
Hawaiian punch 'em in the motherfuckin' diiiick