jamaican me crazy!
the moon and the shirtless sweaty soccer men

kathy and aurel drank as many top shelf grapefruit margaritas at barrio chino as they could afford
they had not hung out without a crushing stressball on both of them in months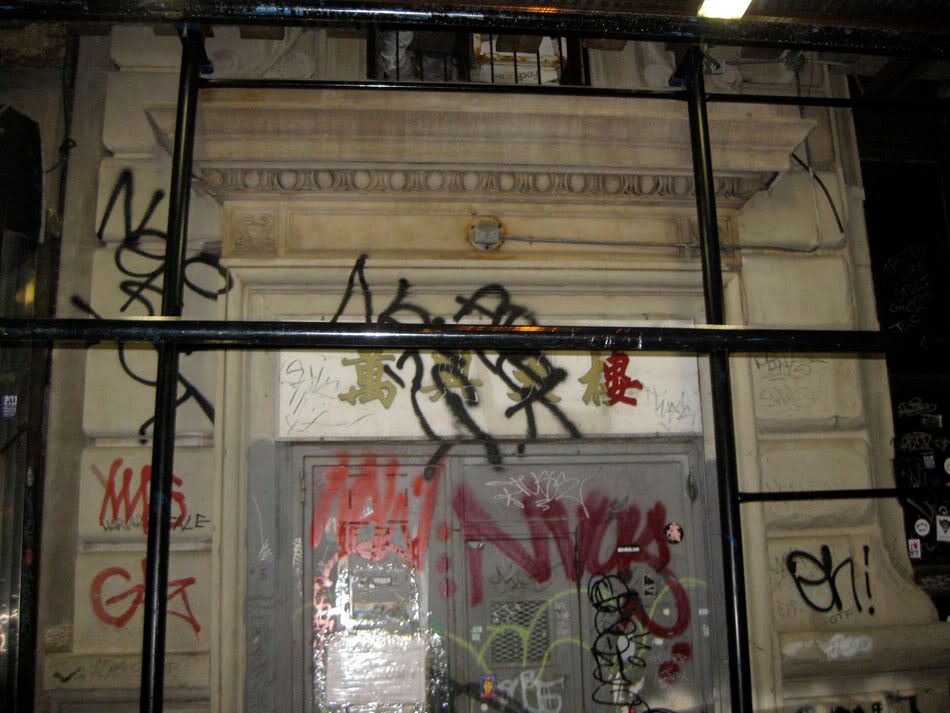 then a-ron stopped them on the street outside and made them come hang out with some french girls he picked up (at his colette show just now?) at sweet paradise

but the cute bartender wasnt there and then my dumb boyfriend showed up
just kidding
he was in broooklyn with a dead phone watching TV Baby i don't quite know how he found me
following the margarita trail?

i have this lamp in green

pretty wasted at this point
neckface was there we were drawing some pretty weird pictionary most of the night i remember
whatever whatever "insert party photos here"

this morning: what is this enticing delight that arrived for me?
besides tanya

it's the ganzfeld!
made by dan nadel
this is the skinny:
$35.00 — normally $40.00
+ CART
Edition of 1000
Art directed and co-edited by Ben Jones
Available only online
This is the final issue of The Ganzfeld. We got excited and just skipped 6 and went straight to 7. For this one we've really stacked the deck. Ben Jones art directed and co-edited the whole thing, even providing covers. Inside the 288 page, full color book is new work by: Brian Gibson, Lauren Weinstein, Taylor McKimens, Andrew Jeffrey Wright, Jessica Ciocci, Chris Ware, Mat Brinkman & Joe Grillo (24 pages of collaborative drawings), Erin Rosenthal, Keith McCulloch, Peter Blegvad, Joe Buzzell, Jon Vermilyea, C.F., Eddie Martinez, Chuck Webster, Mike Reddy and many more. There are features on Marc Smeets, Joanne Greenbaum, Heinz Edelmann and Pshaw. And there are comics by Ben Jones throughout. It's a brick. A monument. A terror.
If that weren't enough it comes packaged with 4 more items only available as part of the package:
-Problem Solvers, the DVD, by Paper Rad. EXCLUSIVE to Ganz 7
-A 12 page zine collecting the best of Kathy Grayson's blog
-A 24 page pamphlet examining the work of L.A. genius artist Bob Zoell by Norman Hathaway
-An 18×24 two-sided poster by Lauren Weinstein
That's right: All of that! I'm done! No more issues! And remember, this one is available online online and, a little later, at 5 select stores. Only 1000 will be made. Ben and I pulled out all the stops on this one! Get it!
Boneheaded Dept:
We forgot to credit two crucial contributors:
-The painting on page two is by the wonderful Ms. Amy Lockhart.
-The inside front and back covers are by the masterful Pshaw!
Apologies for the oversight.
* brian gibson,
* ben jones,
* jessica ciocci,
* eddie martinez,
* norman hathaway,
* keith mcculloch,
* pshaw,
* heinz edelmann,
* mike reddy,
* mat brinkman,
* marc smeets,
* c.f.,
* andrew jeffrey wright,
* bob zoell,
* erin rosenthal,
* kathy grayson,
* chris ware,
* taylor mckimens lauren weinsten,
* jacob ciocci,
* chuck webster,
* joe grillo,
* paper rad,
* john illig
http://www.pictureboxinc.com/product/id/362/
wanna buy it?

the first and most eye-catching component appears to be patrick's ass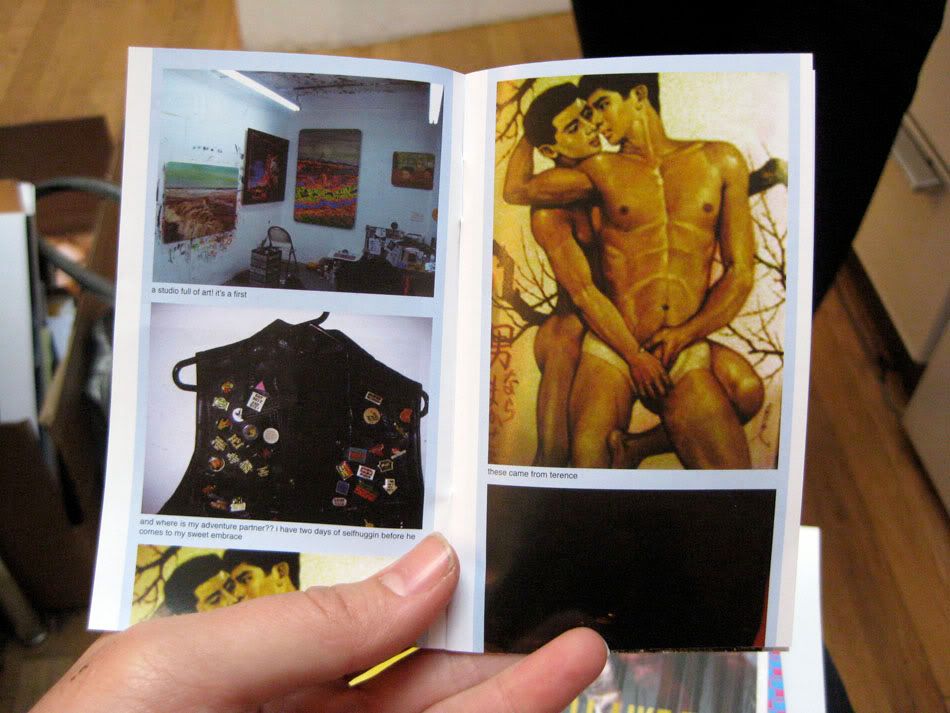 ben / dan exerpted my blog into a minizine

thank god i didnt write something mean about jeffrey on this one

andreas doesnt mind, does he andreas?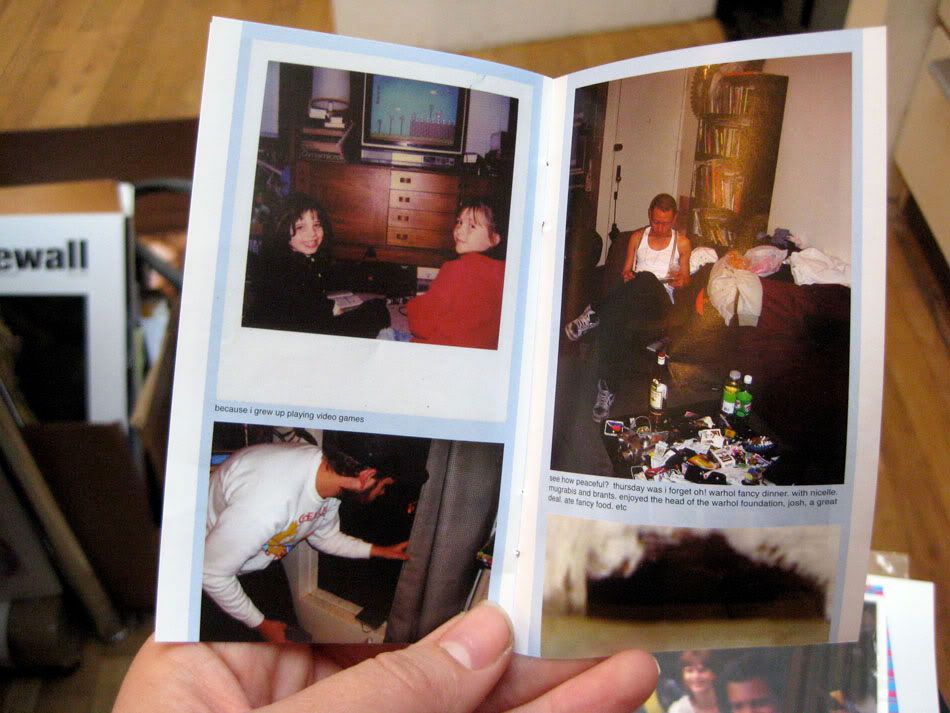 you are reading a blog about a book of my blog you are surrounded by blog everywhere you turn is a blog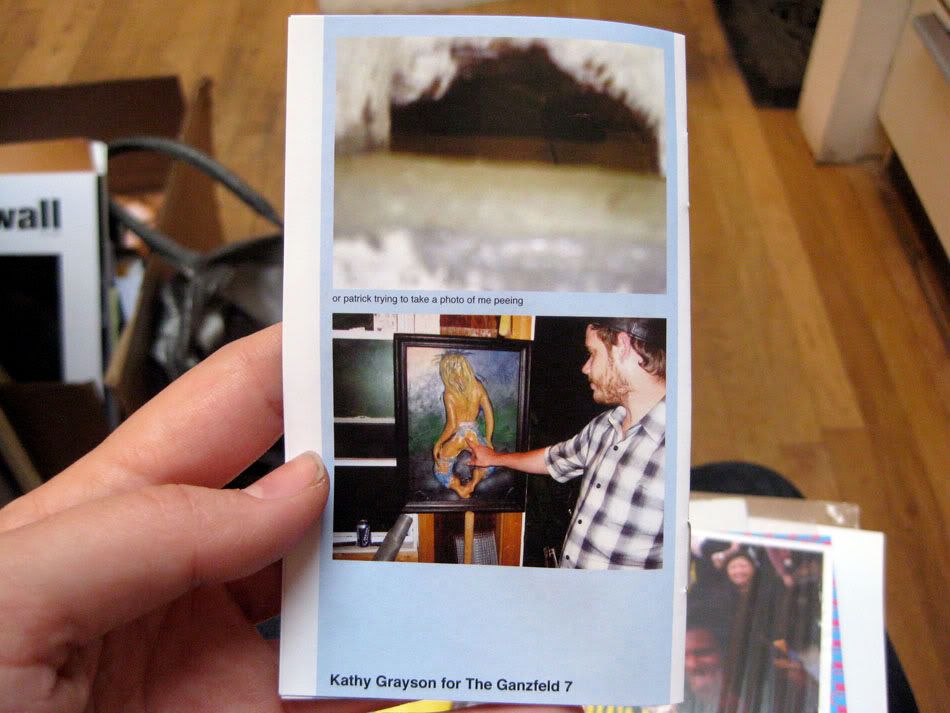 everywhere i turn is a butt!

additional enlosures include this awesome video

this thing i dont know much about even though we hosted the show at deitch

dont know what these are in such a hurry to get to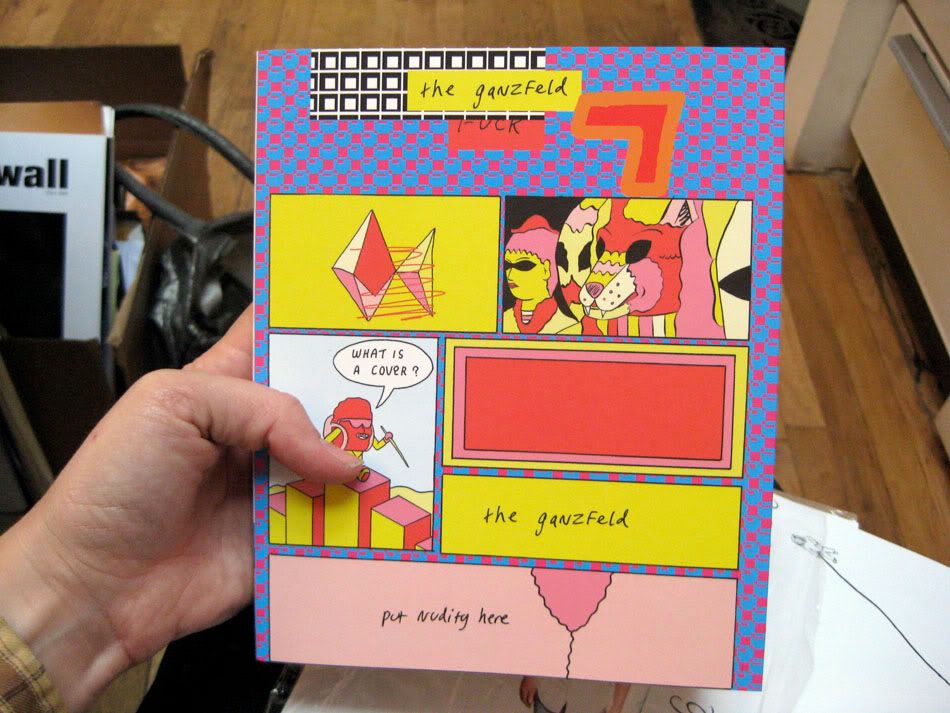 the main course

cool

look at this all

taylor

grilllo brinkman colab?

intense!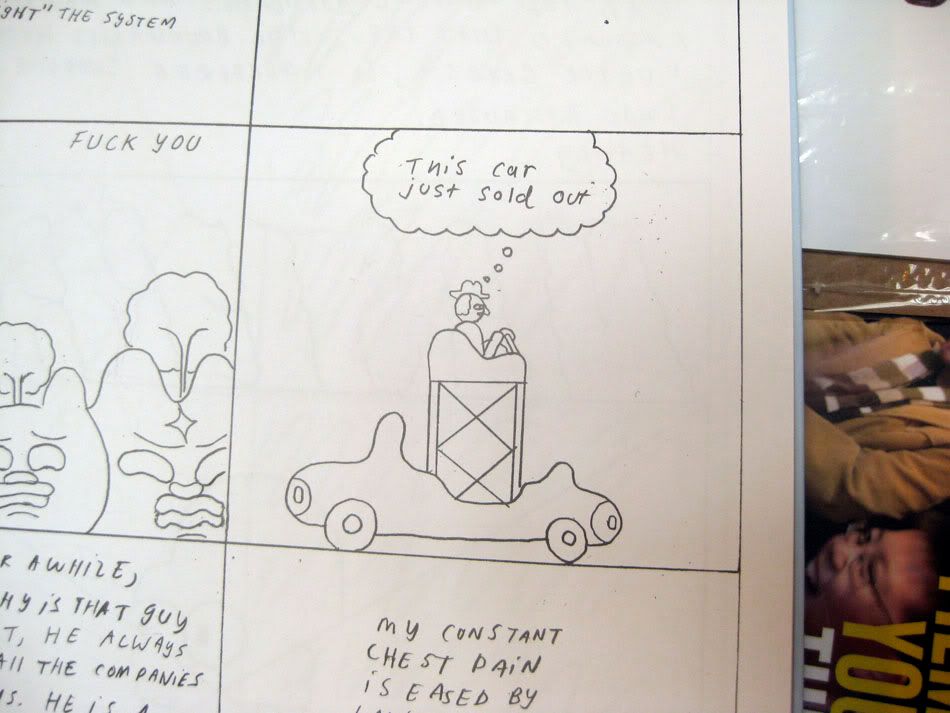 yay!
it's funny to me that one of jim's beautiful early artworks was making full coverage thick knit bodysuits. do you think that "hair suit" is the etymology of the word HIRSUTE?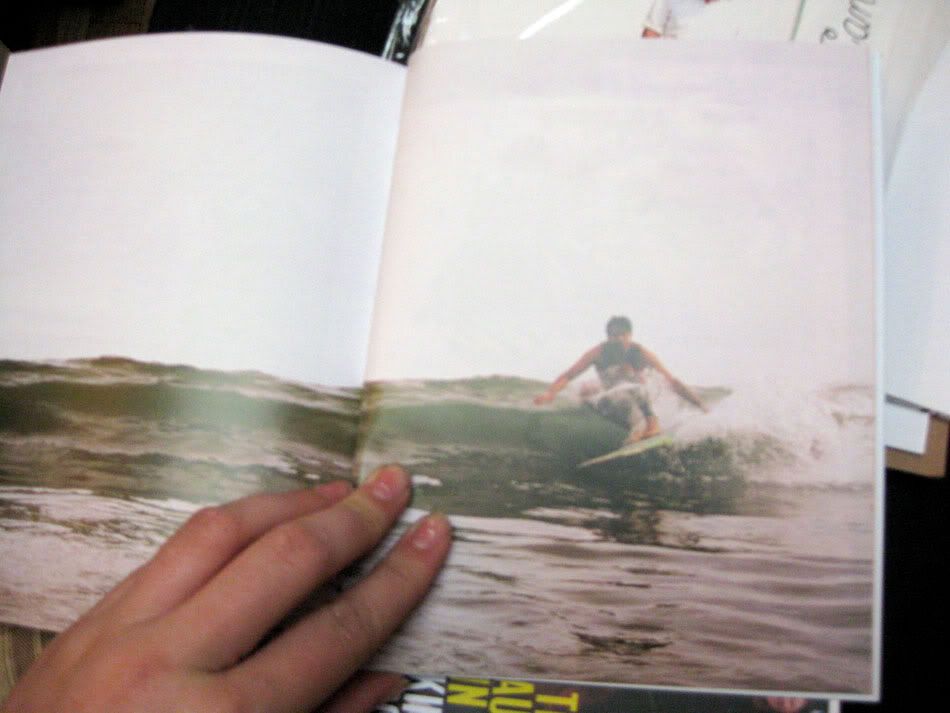 barry mcgee surfin
these are AJW photos

awesome

i forgot a few norways here they are real fast alert old news old news!

the soothing gross pizza we ate sleeking over our rugged looks from the lecture part of the day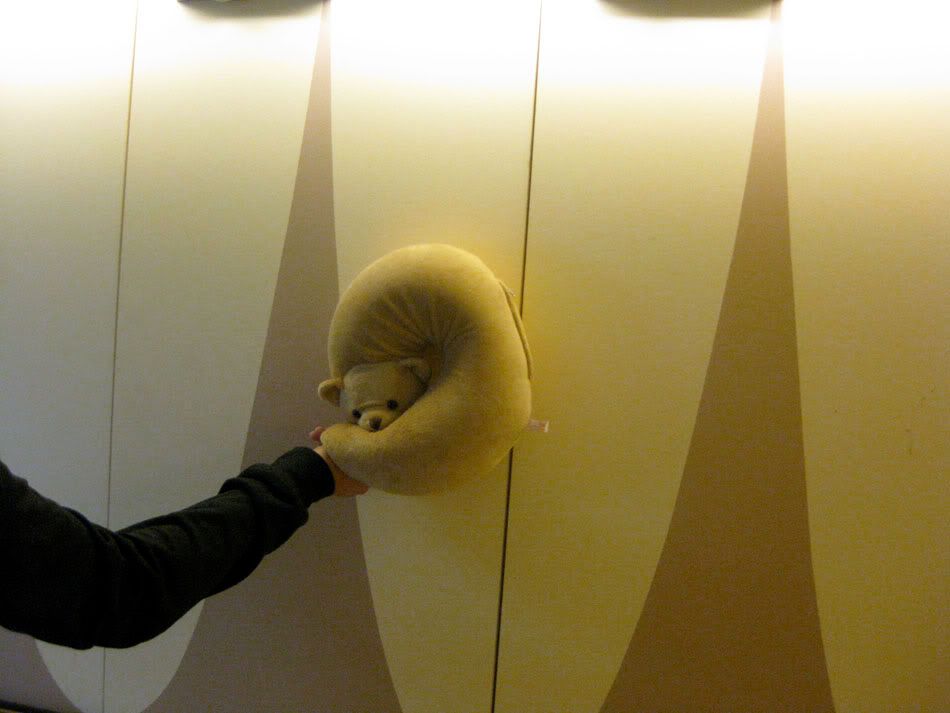 i guess it is gross to make a bear shaped like a worm
the teddy bear i grew up with and still have but that patrick put on a very tall shelf is named Potsy and as a kid i was sure that it caused Potsy unendurable pain to be petted backwards. my brother would chase me and try to pet Potsy backwards it used to drive me bonkers!!!
hopefully someday ben will capture the injustice of backwards petting in an Alfe video