I don't love anyone

an excellent song by Belle and Sebastian about nihilism

the quickest way to love the world again is to hate it and everything on it very fully

to plant yourself in opposition to all love and beauty and friendship

to fantasize about stomping cities underfoot and the cries of the families and lovers as they mush under your heel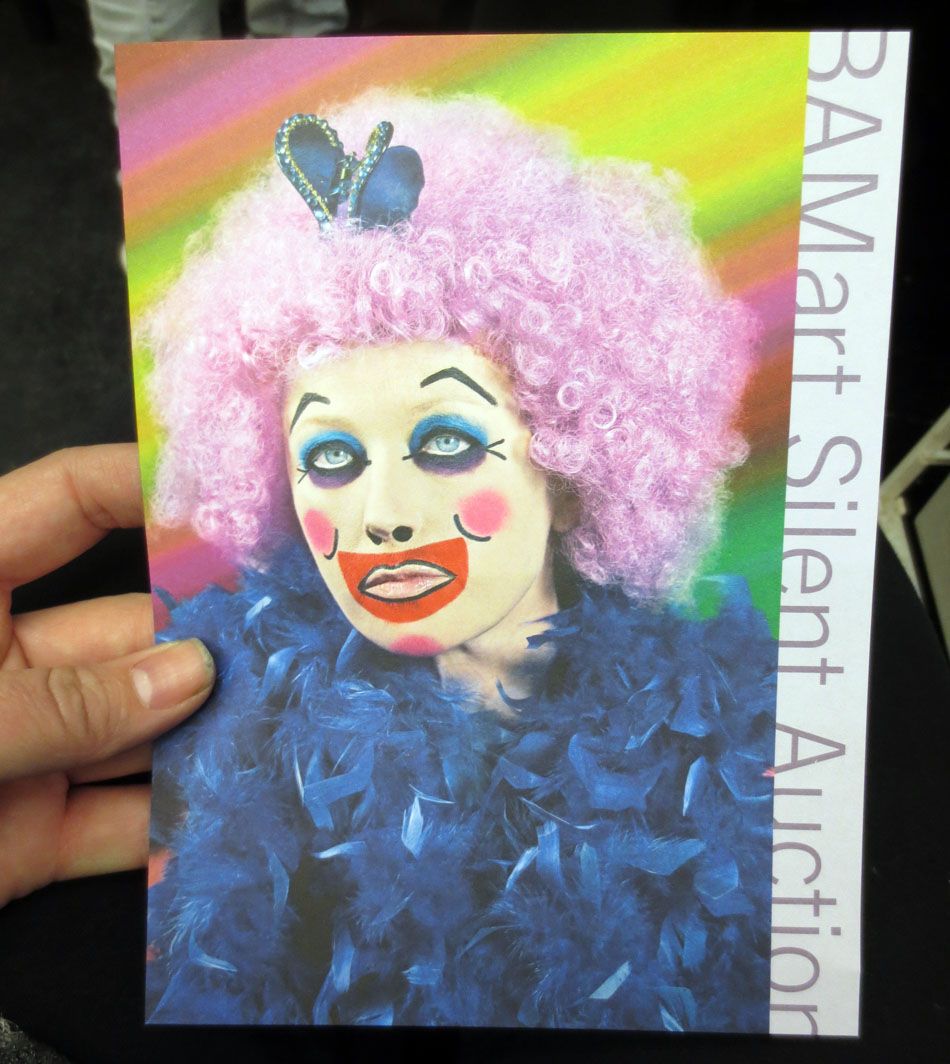 to list all the things you don't love and to savour each one until you run out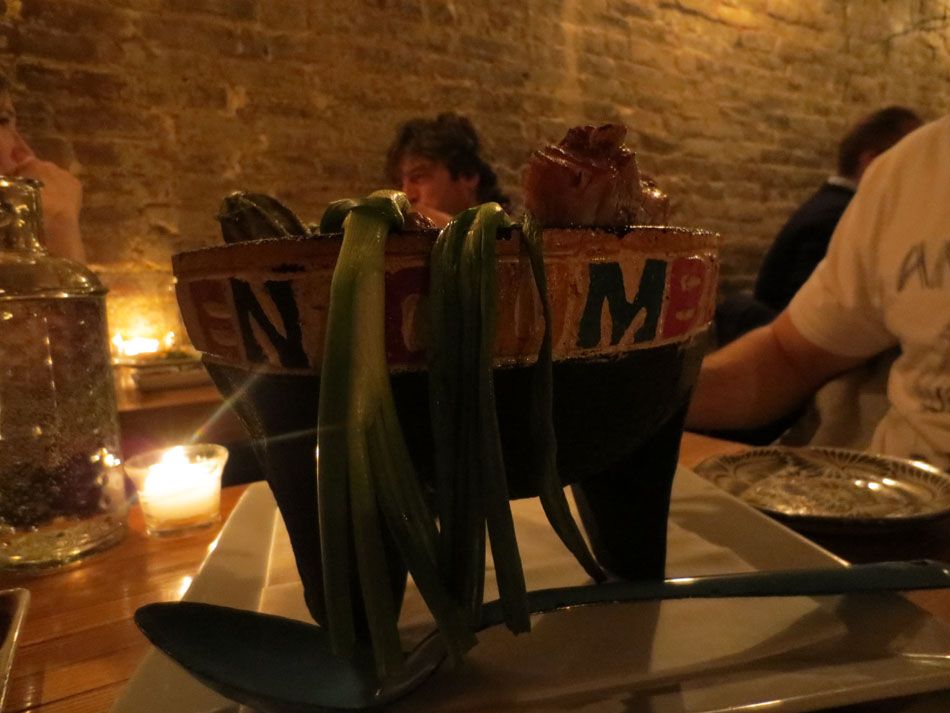 No, I don't love anyone

Yeah if there's one thing that I learned when I was still at school
It's to be alone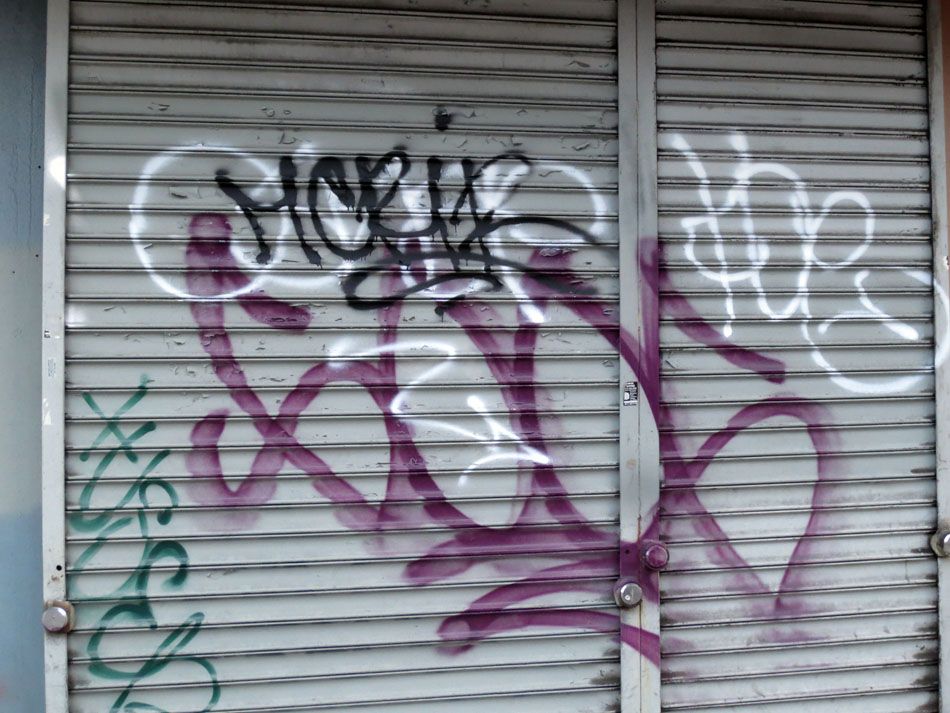 I pass them by I'm not a kid, no
I don't love anyone

I don't love anyone
You're not listening even now
You're playing with someone else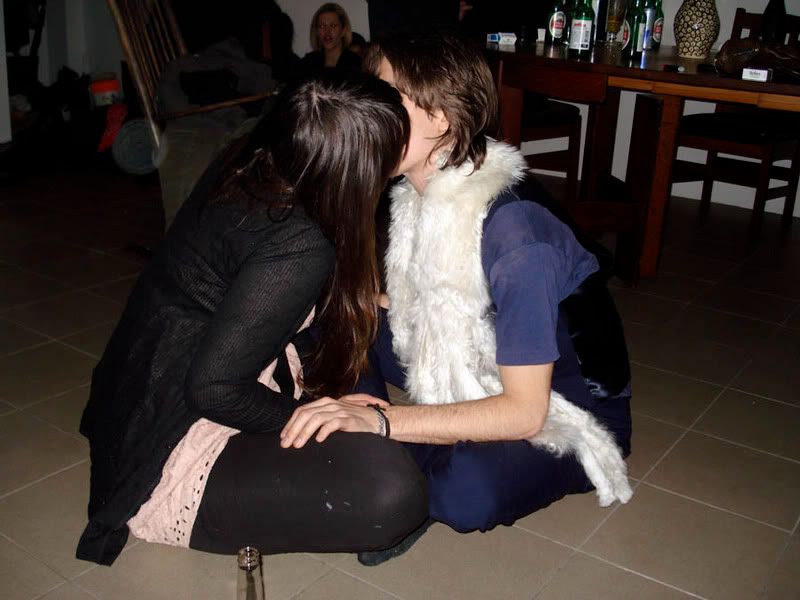 and then the things you really do love begin to creep in, at first as a small exception and then as a flood of good will and feeling towards your fellow man and woman

this is not part of "Remedies for Love" by Ovid that I am currently reading

"Remember that no man loses any other life than this which he now lives, nor lives any other than this which he now loses."
2000 years ago this guy wrote some pretty funny and accurate shit about romance and how to extinguish it

For why should any worthy youth destroy
Himself, because some worthless nymph is coy?

To me, ye injured youths, for help repair,
Who hopeless languish for some cruel fair;
I'll now unteach the art I taught before,
The hand that wounded shall your health restore.
One soil can herbs and pois'nous weeds disclose:
The nettle oft is neighbour to the rose.

When flames beyond their useful bounds aspire,
'Tis charity to quench the threat'ning fire.
Let me the wanton Paris take in hand,
Helen shall be restor'd, and Troy shall stand.

While the soft passion plays about your heart,
Before the tickling venom turns to smart,
Break then, (for then you may,) the treach'rous dart;
Tear up the seeds of the unrooted ill
While they are weak, and you have pow'r to kill.

Consider, ere to love you give the reins,
If she's a mistress worth your future pains.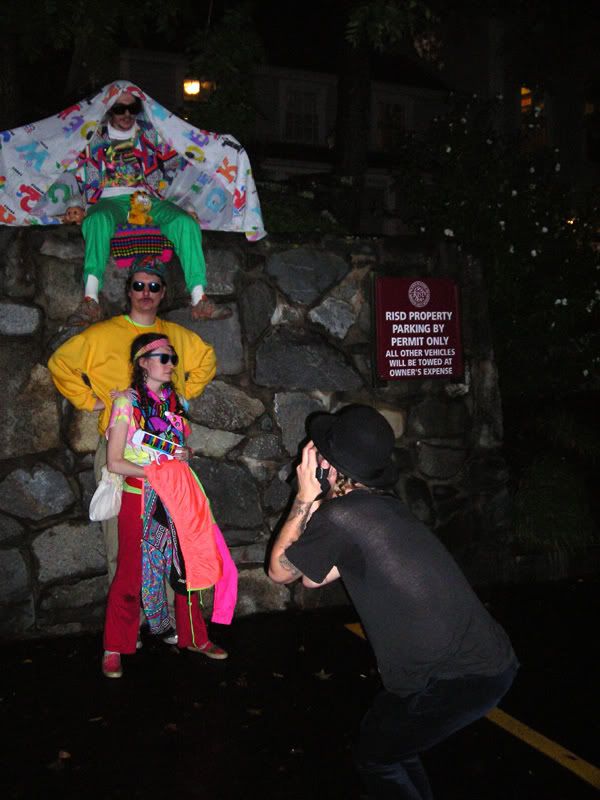 E'en truth and your own judgment you must strain,
Those blemishes you cannot find, to feign:
Call her blackmoor, if she's but lovely brown;
Monster, if plump; if slender, skeleton.
Censure her free discourse as confidence;
Her silence, want of breeding and good sense.

Discover her blind side, and put her still
Upon the task which she performs but ill;
To dance, if she has neither shape nor air;
Court her to sing, if she wants voice and ear;
If talking misbecomes her, make her talk;
If walking, then in malice make her walk.
Commend her skill when on the lute she plays,
Till vanity her want of skill betrays.
Take care, if her large breasts offend your eyes,
No dress does that deformity disguise.
Ply her with merry tales of what you will,
To keep her laughing, if her teeth be ill.

But one effectual method you may take,-
Enter her chamber ere she's well awake:
Her beauty's art, gems, gold, and rich attire,
Make up the pageant you so much admire:
In all that specious figure which you see,
The least, least part of her own self is she;
In vain for her you love, amidst such cost,
You search; the mistress in the dress is lost.
Take her disrob'd, her real self surprise,
I'll trust you then for cure, to your own eyes.

ugh badly translated couplets are torture let's try prose:

"I blush to say it, yet I will say it; when you're about the act of love with your mistress, take her in the posture that becomes her least. That will be easily accomplished. Rare is the woman who tells herself the truth. They deem themselves beautiful in every aspect. I bid you, too, fling open wide the windows of her room, and in the broad light of day, observe the blemishes of her body. "

"But when you have attained the goal of pleasure; when you are o'erwearied both in body and in spirit; when your heart is heavy; when you are wishing you had never touched a woman, and deem it will be long ere you embrace another–then note in the tablets of your brain all the defects that you observe in her, and long let your gaze linger on her imperfections."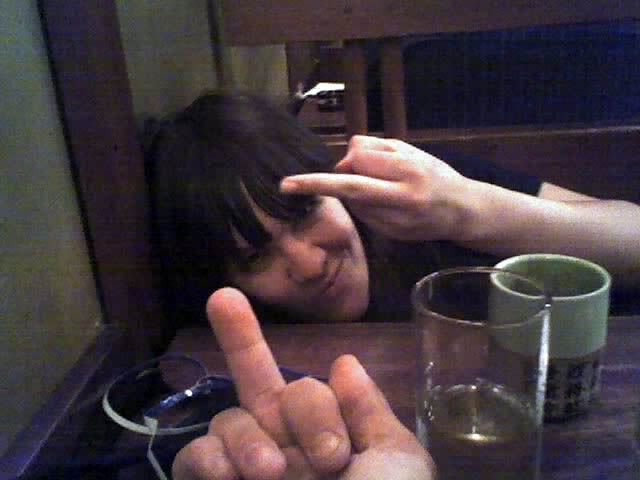 Of course there was a young man who hid in the lavaratory to watch his gril excrete. heaven forbid that i should give such advice: it might work but i feel it woudl indeed be going too far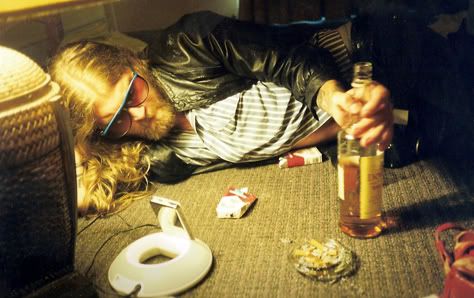 "My recommnedation is to have at least two girlfriends if you can manage more your position is even stronger. Great rivers become small ones when split into several channels, and you can put out a fire simply by separating the burning logs."

"Briefly, the way to get over any love is to replace it by another, you can quote Agamemnon as your authority for taking a second mistress and organizing that 'two-way traffic in your heart'. "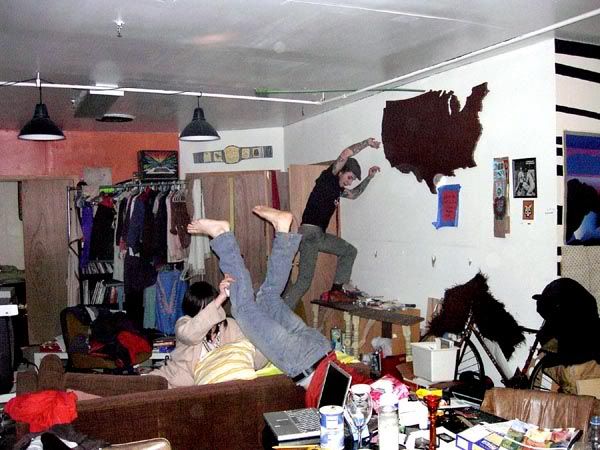 "Indeed do try to behave coldly towards the woman you love, even when you feel as though you are being roasted alive. Pretend you are cured. If you feel pain, do not let her see it, if you want to cry burst out laughing instead. Pretend to have come to your senses and you will soon find yourself living the part."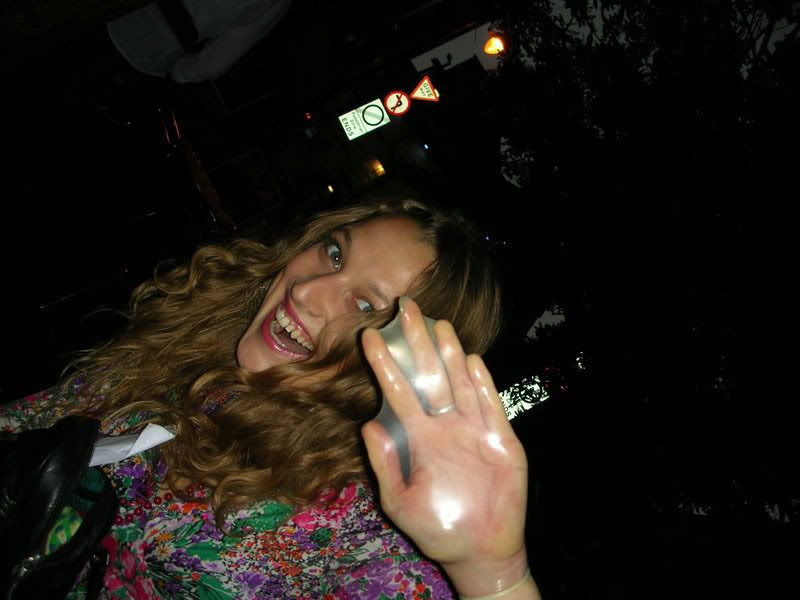 "I have often pretended to sleep at parties as an excuse for not drinking more and then really dropped off by mistake. I even remember a guy who for his own reasons faked loving this lady and then found himself actually in love with her! Which is the opposite of our goal today."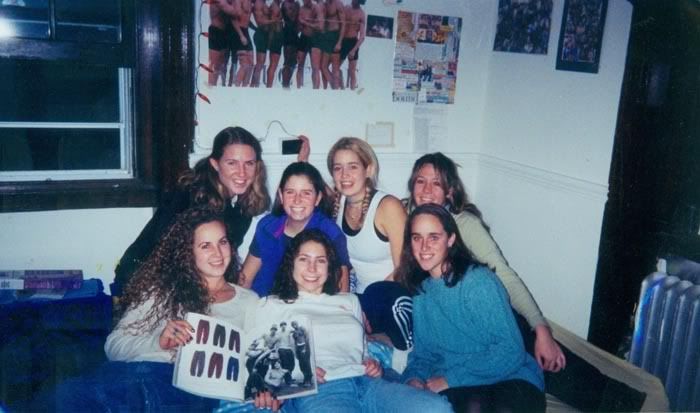 "If you arrive at the girl's house and it is locked, just accept it. Do not lie on the doorstep all night."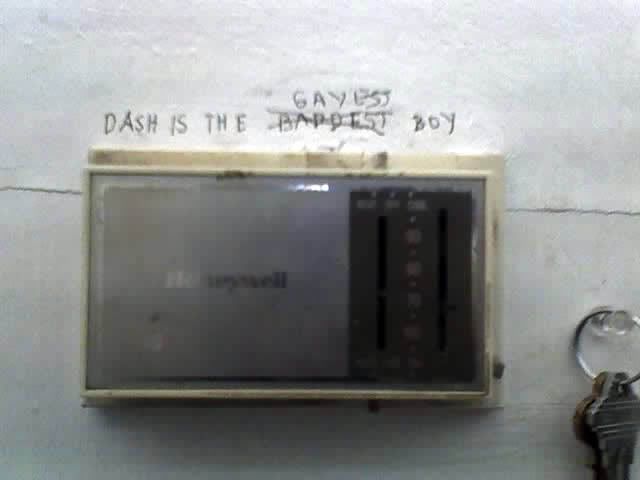 "Let us assume you are rather soft, you simply cannot get away, you are tied hand and foot, and cruel Cupid is standing on your neck. Then stop struggling and abandon yourself to the wind and waves: with a raging thirst like that, drink all the water you want. Only drink even more water than you want, drink until you are full to the teeth, with water dripping from your mouth."

"Go and sleep with the girl as often as you like, let her monopolize your time, sleep with her until you are sick of it, until your love has died of surfeit and you will never set foot in her house again."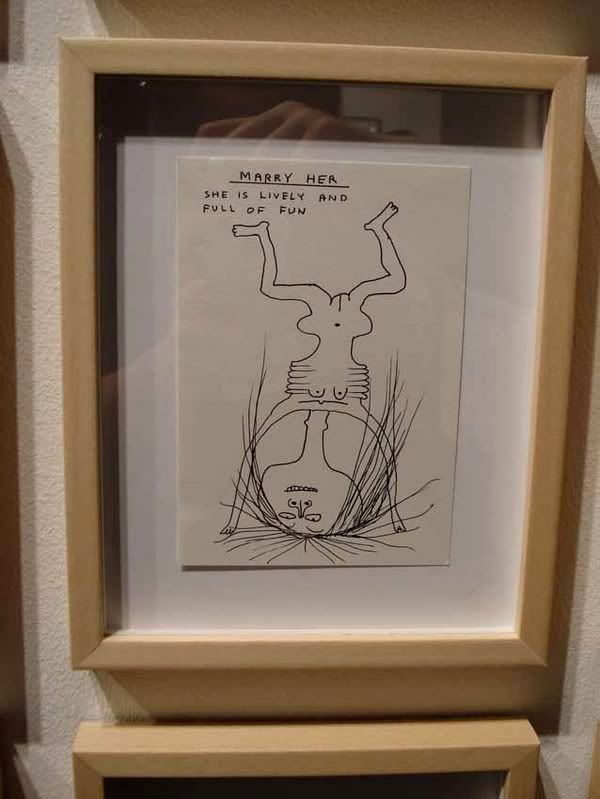 "Loneliness is bad for lovers, beware of lonely places. It is no good running away- you are safer with people around you. By yourself you will feel wreched and the girl you left behind will appear all the more vividly to you. For that reason night is even more depressing than day because you have company to relive your gloom."

"Do not keep your door locked and your face to the wall."

"Do not keep explaining why you have stopped loving her and complaining; if you keep saying 'it's over' you are virtually admitting that it is not."

"Do not sue her over the presents you have given her but let her keep them."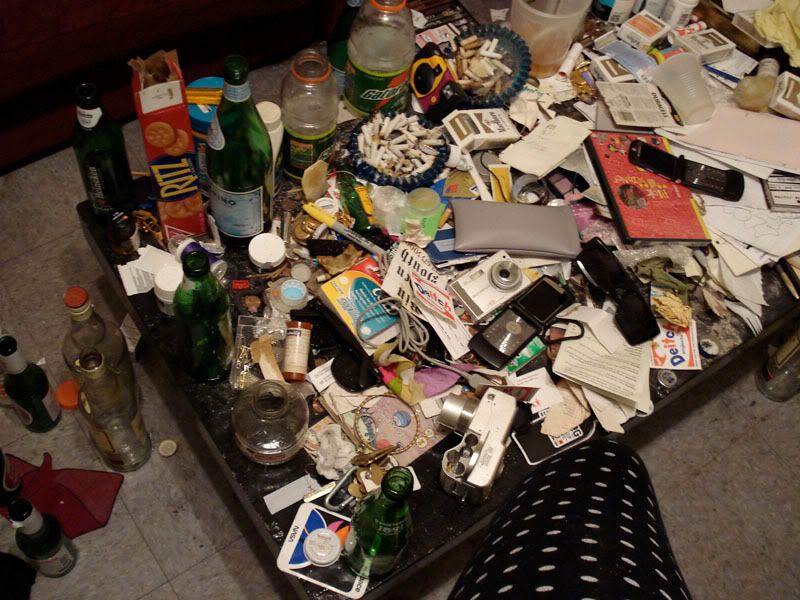 "Certain places can also be bad for you, you must avoid the ones where you have slept together, thinking 'this is the bed that we had such a wonderful time on.'"

"And never read love poetry! indeed I am censoring the very thing I am good at."

"You must also imagine that you have no rival and that she goes to bed by herself, for to know she beds another man will inflame your passions."

"Lastly, don't eat onions and do not eat arugula. You must eat only antaphrodisiacs and plenty of rue to improve your eyesight."

"Wine stimulates sexual desire unless taken in such quantities that it inhibits all sensation and you pass out. It is like wind on a bonfire, a gentle breeze burns it brighter but a gale will extinguish it."
(which has a funny resonance with the previous La Rochefoucauld quote, no?)

I havent, obviously, read the other half of the book that is "Techniques of Love" as I have no interest, but can imagine it to be the reverse: eat plenty of onions and drink in moderation!

Gonna try that out tonight.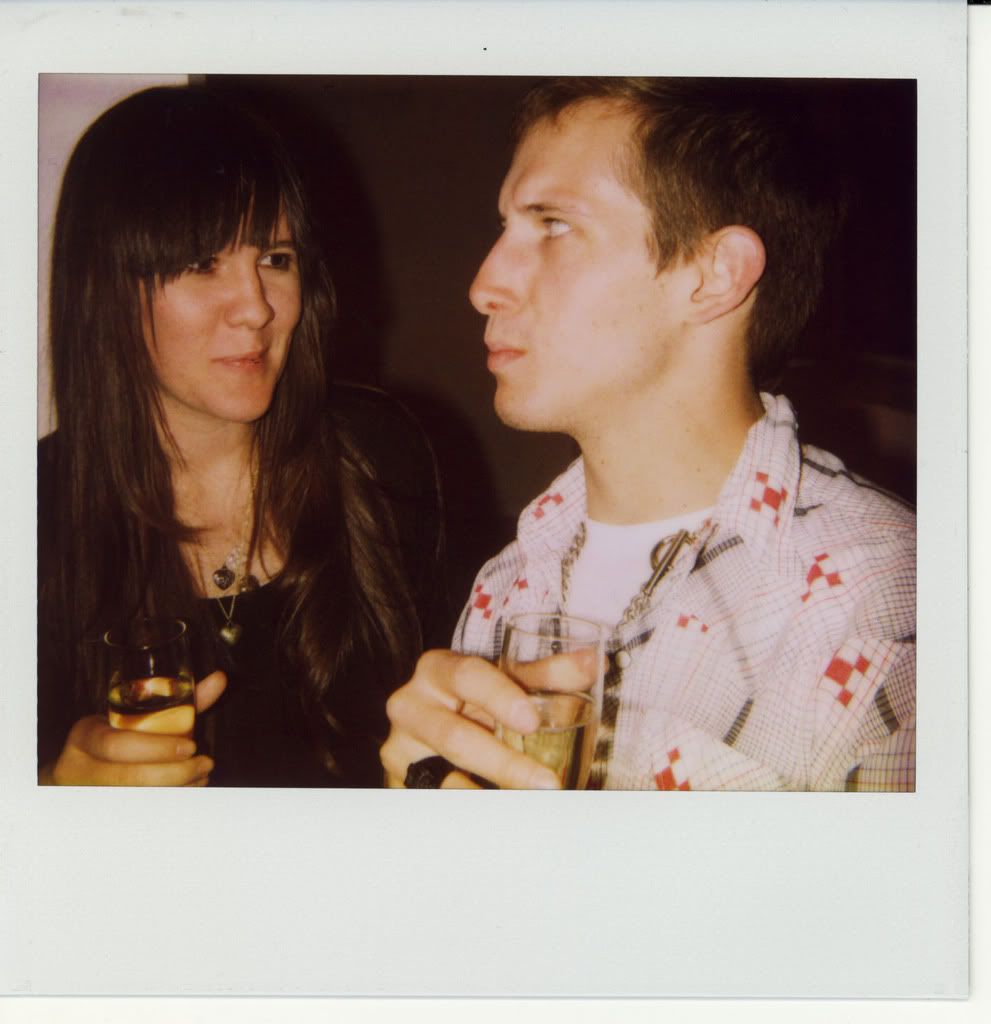 so you might have noticed that these photos do not seem so contemporary perhaps
either in their content or in their pixel width

indeed this is Kadar in what must be 2006 not the Kadar we now show at the gallery or indeed the same Kadar of course
at Good World which no longer exisits

i was forced to hunt though the overgrown bramble bushes of my Myspace blog for a photo i needed
UGH myspace is so lame it even makes it impossible for me to transfer my blog from there to here easily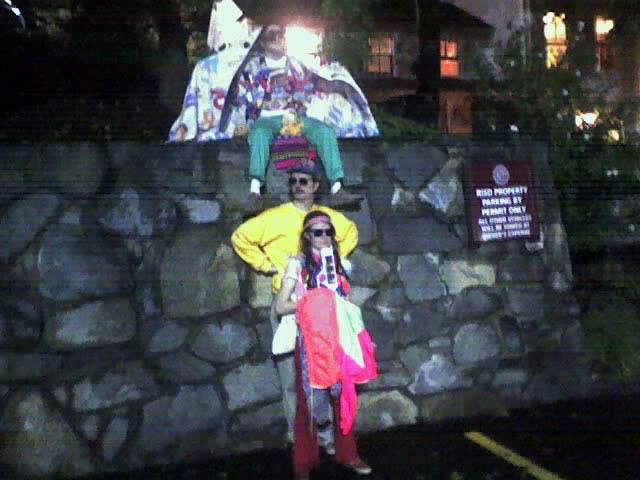 someone wanted to see the photos Dash shot of Paper Rad so I hunted

and ended up farting around and dragging some carcasses onto my desktop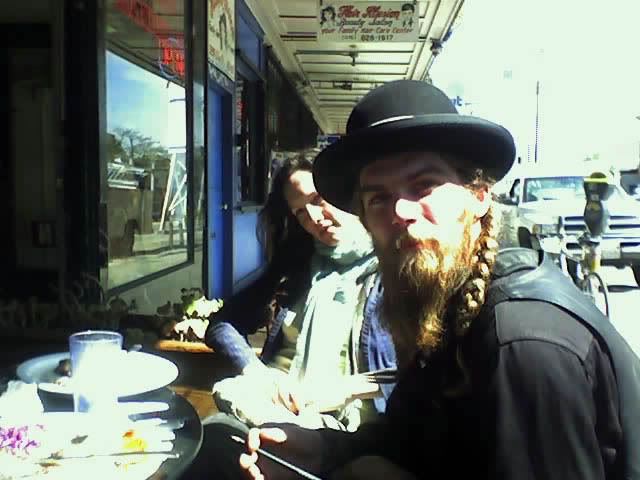 mostly the Dash ones that I coudln't help reminiscing over

or ones that just seemed to have aged well like a humorous, gay wine

I couldn't resist dragging old Ben photos without dragging old Christina photos and thinking how happy a match was made!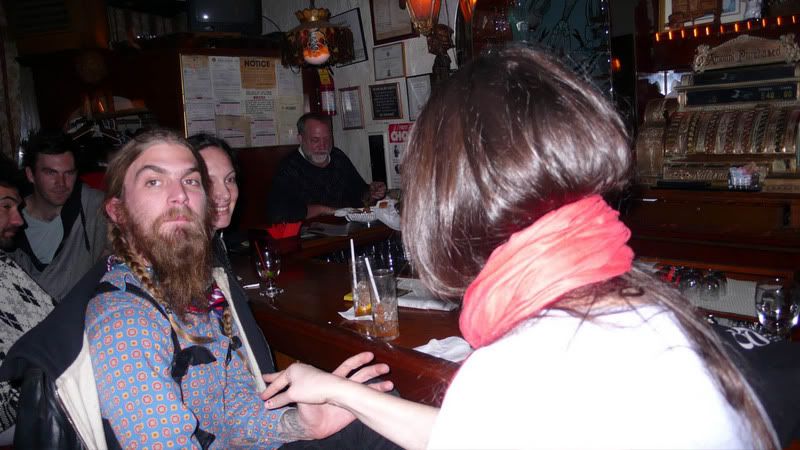 Dash kept pinching me and then making this "who me" face

"If you could be either God's worst enemy or nothing, which would you choose?"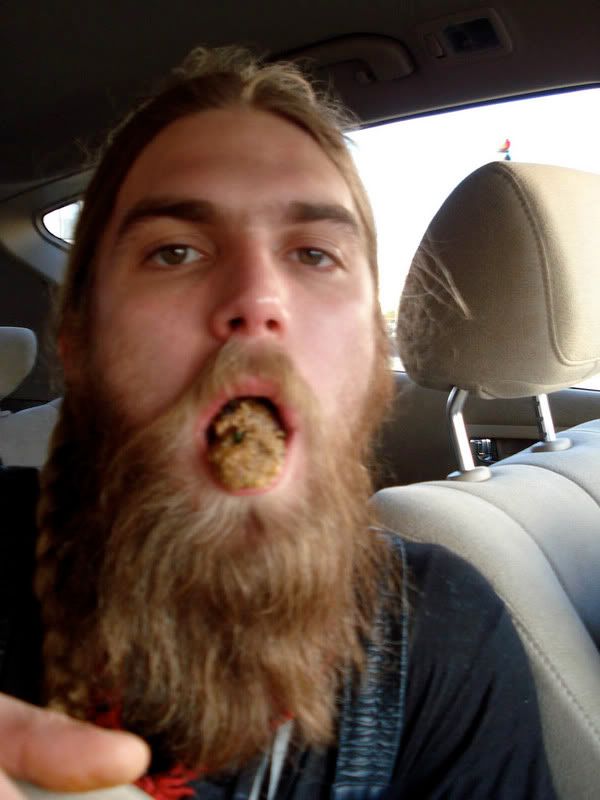 do you like see food?

of course this little "love cures" discourse is not for this guy

that cure is long achieved

"I can't go on, I'll go on."

this is funny too of course but in a foreign language

"There must be somebody there, because somebody must have said 'Nobody.'"

"Do you know what punishments I've endured for my crimes, my sins? None. I am proof of the absurdity of men's most treasured abstractions. A just universe wouldn't tolerate my existence."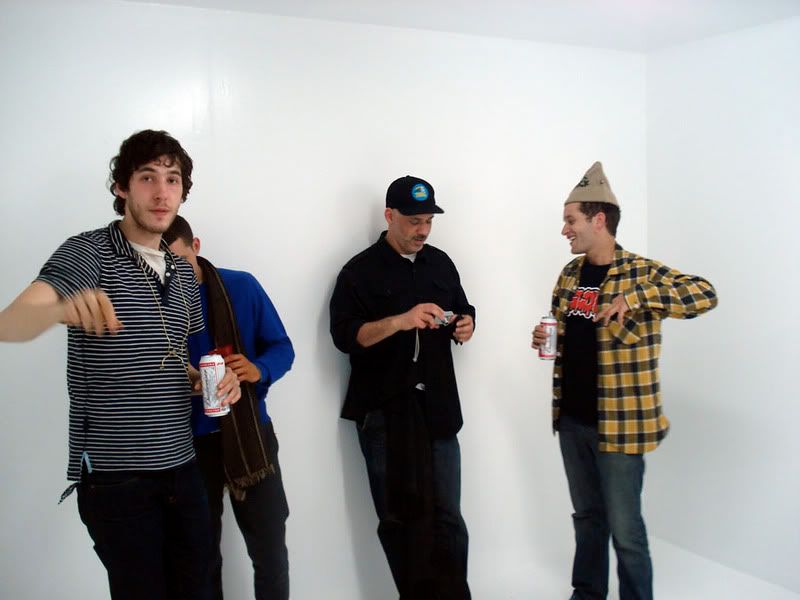 ooh let's stick an old Donald next to an

old grumpy Aurel
hahaha little did they know they would end up together!

I remember Dash and Donald lying 5am floor style and complaining to me, the only other person there, how it was so unfair that they, two strapping young men with so much to offer, had yet to find love

sigh…

some recent Dash works for sale made me go through my old studio shots as well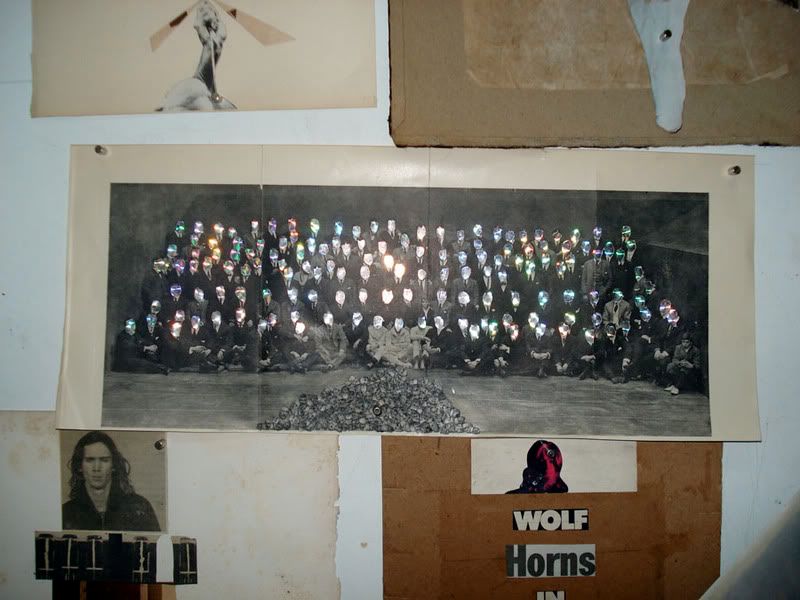 "Man was matter, that was Snowden's secret. Drop him out a window, and he'll fall. Set fire to him and he'll burn. Bury him and he'll rot, like other kinds of garbage. The spirit gone, man is garbage. That was Snowden's secret. Ripeness was all."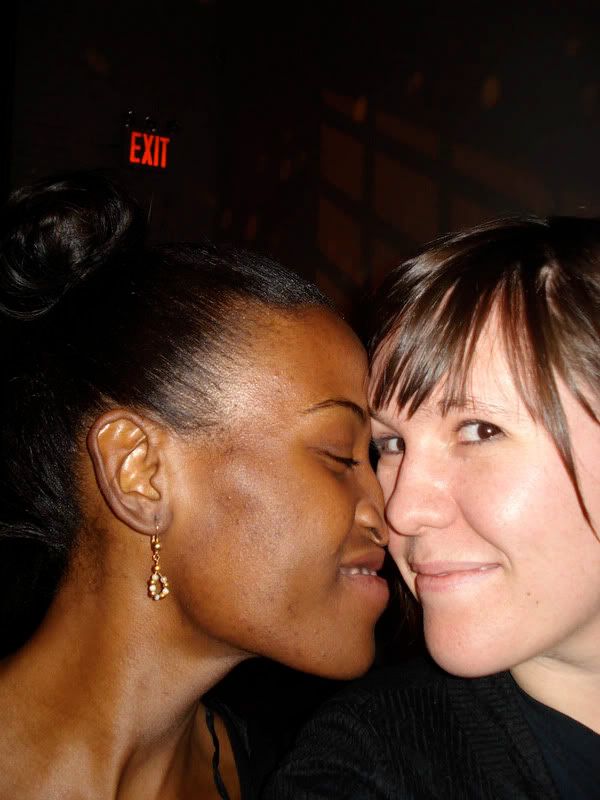 "The point is there ain't no point."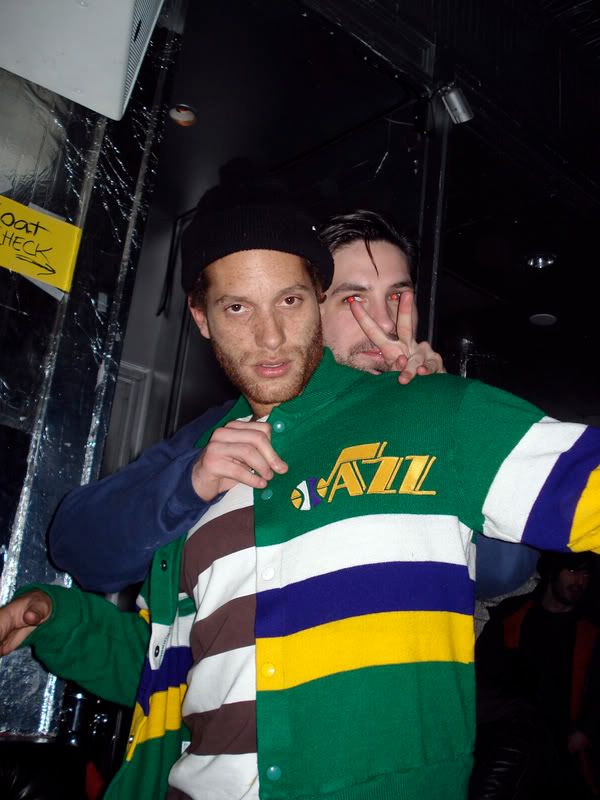 "I was drawn to all the wrong things: I liked to drink, I was lazy, I didn't have a god, politics, ideas, ideals. I was settled into nothingness; a kind of non-being, and I accepted it. I didn't make for an interesting person. I didn't want to be interesting, it was too hard. What I really wanted was only a soft, hazy space to live in, and to be left alone. On the other hand, when I got drunk I screamed, went crazy, got all out of hand. One kind of behavior didn't fit the other. I didn't care."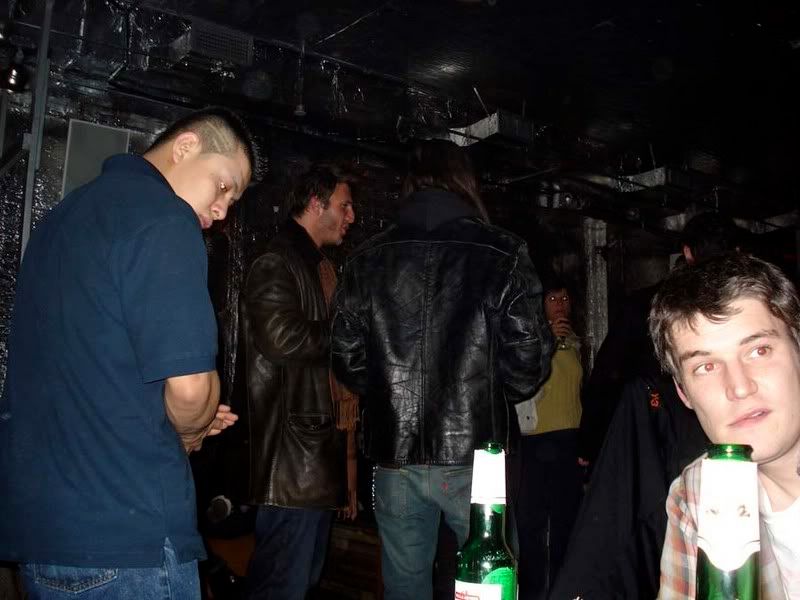 little did Nate know!
well, I'm not sure what he knew

"Disappear Here.
The syringe fills with blood.
You're a beautiful boy and that's all that matters.
Wonder if he's for sale.
People are afraid to merge. To merge."

"That's how we stay young these days: murder and suicide."

I remember going over there 2006ish to pick out one for Dakis and since my show was called PANIC ROOM at Deste Museum I picked this one for him

there were lots of other great ones I shoulda had him get all of em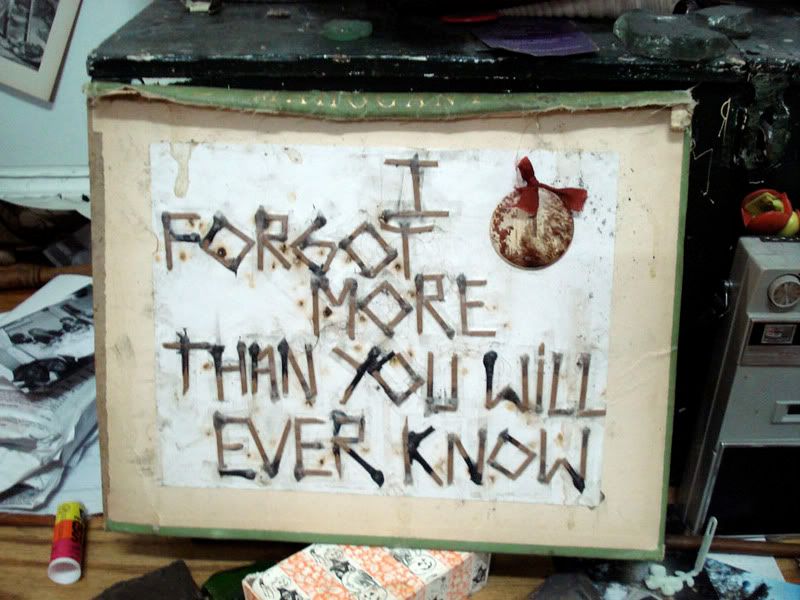 "I told myself: 'I am surrounded by unknown things.' I imagined man without ears, suspecting the existence of sound as we suspect so many hidden mysteries, man noting acoustic phenomena whose nature and provenance he cannot determine. And I grew afraid of everything around me – afraid of the air, afraid of the night. From the moment we can know almost nothing, and from the moment that everything is limitless, what remains? Does emptiness actually not exist? What does exist in this apparent emptiness?"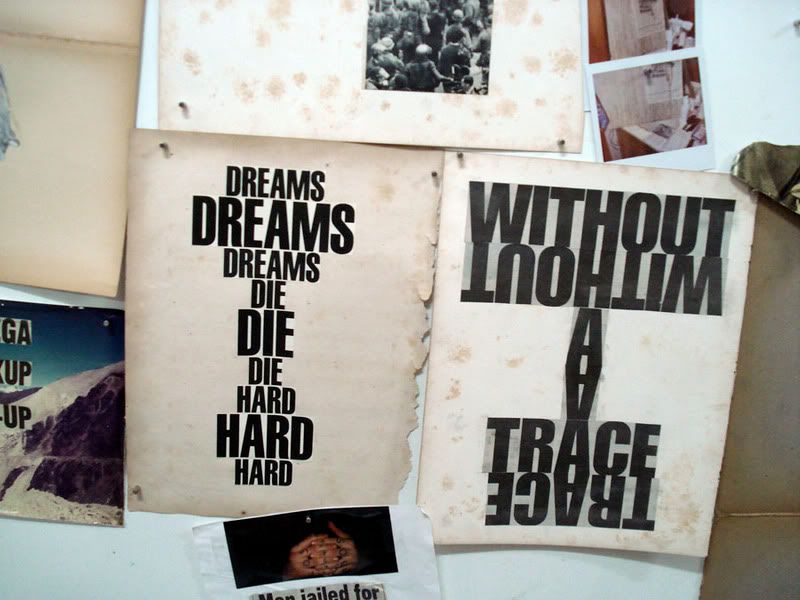 "Jeder für sich und Gott gegen alle"

"Nothing exists; even if something exists, nothing can be known about it; and even if something can be known about it, knowledge about it can't be communicated to others."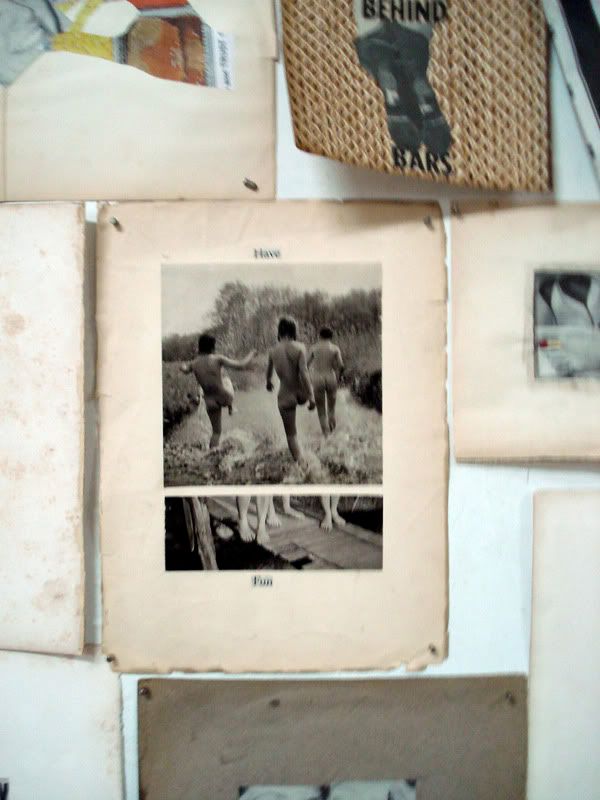 "There is no other world. Nor even this one. What, then, is there? The inner smile provoked in us by the patent nonexistence of both."

"Though nihilism has been relentlessly criticized for overemphasizing the dark side of human experience, it might be equally true that this overemphasis represents a needed counterbalance to shallow optimism and arrogant confidence in human power. Nihilism reminds us that we are not gods, and that despite all of the accomplishments and wonders of civilization, humans cannot alter the fact that they possess only a finite amount of mastery and control over their own destinies."

i never got super into or ever indeed fetishized Dashicle's collages
feels weird that people do now
feels weird to be involved in any way with their sale either
tho i suppose if i can help them go to interesting people and not the assholes out there it would be a service

his photos were much more genius and much more personal and thoughtful I always thought

"Nihilism is not only despair and negation, but above all the desire to despair and to negate."

"The negative always wins at last, but I like it none the better for that."

"All roads are blocked to a philosophy which reduces everything to the word 'no.' To 'no' there is only one answer and that is 'yes.' Nihilism has no substance. There is no such thing as nothingness, and zero does not exist. Everything is something. Nothing is nothing. Man lives more by affirmation than by bread."

"Nothing requires a greater effort of thought than arguments to justify the rule of non-thought."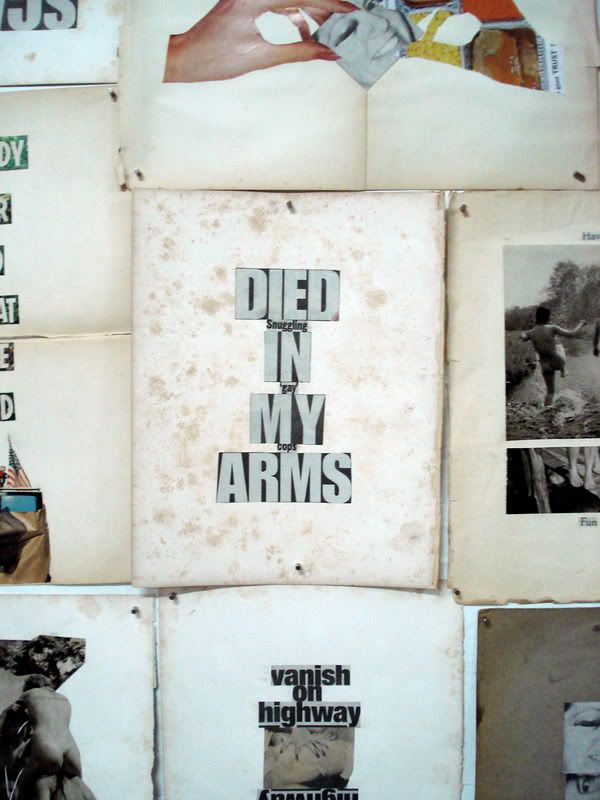 this one tho i might give masterpiece award to
really good one
just perfect

"He who fights against monsters should see to it that he does not become a monster in the process. And when you stare persistently into an abyss, the abyss also stares into you."

i have more and more and more but I should go

didn't old Ovid say something about keeping busy and not dwelling in idleness and reverie etc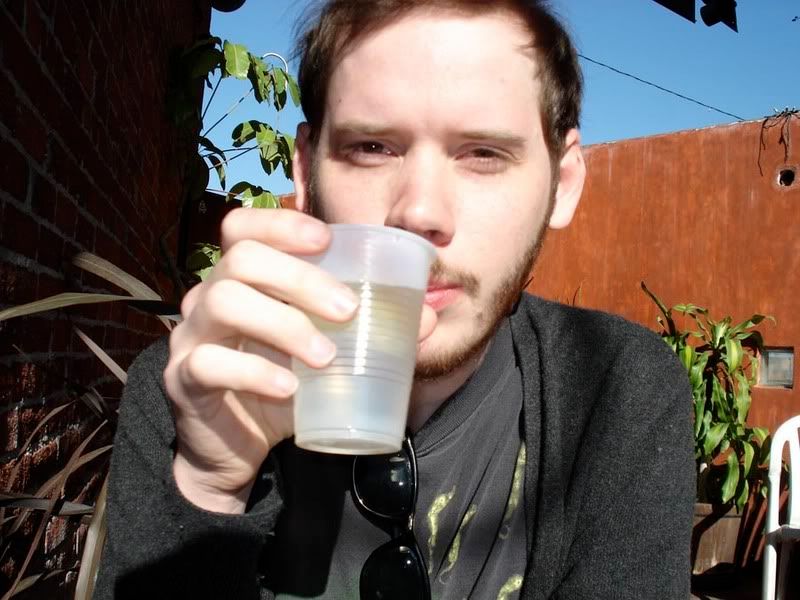 "Nihilism is best done by professionals." -Iggy Pop

"I don't think anything is necessary. It's just some things are impossible."

or Dash's favourite, as he drew into his skin: "Nothing is true, everything is permitted."

i will go home where i can work on a new painting to distract myself
funny they didn't say anything about THAT being a cure for love but it is one let me tell you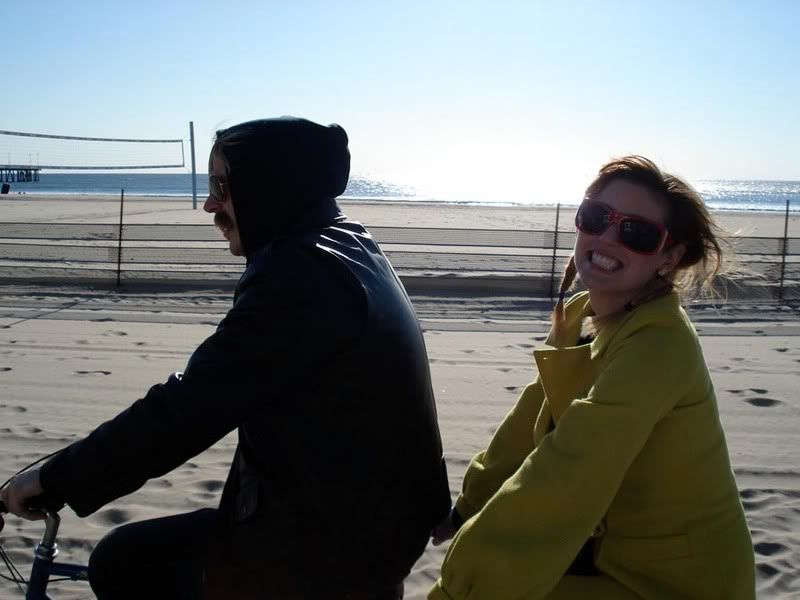 if you want me to do all the work for you and connect these intertwined things of thwarted love and just plain love and complete nihilistic horror, see below:
Was ever woman in this humor wooed?
Was ever woman in this humor won?
I'll have her, but I will not keep her long.
What, I that killed her husband and his father,
To take her in her heart's extremest hate,
With curses in her mouth, tears in her eyes,
The bleeding witness of my hatred by,
Having God, her conscience, and these bars against me,
And I no friends to back my suit at all
But the plain devil and dissembling looks?
And yet to win her, all the world to nothing!
(hopefully very long dramatic pause)
Ha!
Hath she forgot already that brave prince,
Edward, her lord, whom I some three months since
Stabbed in my angry mood at Tewkesbury?
A sweeter and a Lovellier gentleman,
Framed in the prodigality of nature,
Young, valiant, wise, and, no doubt, right royal,
The spacious world cannot again afford.
And will she yet abase her eyes on me,
That cropped the golden prime of this sweet prince
And made her widow to a woeful bed?
On me, whose all not equals Edward's moiety?
On me, that halts and am misshapen thus?
My dukedom to a beggarly denier,
I do mistake my person all this while!
Upon my life, she finds, although I cannot,
Myself to be a marv'lous proper man.
I'll be at charges for a looking glass
And entertain a score or two of tailors
To study fashions to adorn my body.
Since I am crept in favor with myself,
I will maintain it with some little cost.
But first I'll turn yon fellow in his grave
And then return lamenting to my love.
Shine out, fair sun, till I have bought a glass,
That I may see my shadow as I pass.