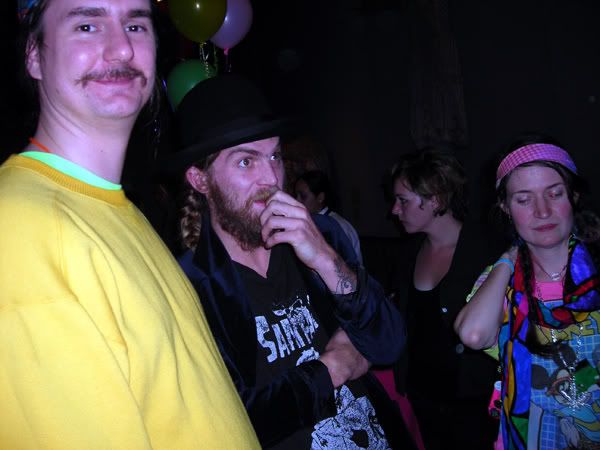 so much in the last few days. september! so much!~ and for most of the days i took no phots or had no batteries for phots
…..
last wednesday was my birthday. i am now 26. and trying desperately to mature into that age. so far, failing miserably. wednesday was low and gentle, me the bunn and many huge white vikings….

see how peaceful?
thursday was i forget oh! warhol fancy dinner. with nicelle. mugrabis and brants. enjoyed the head of the warhol foundation, josh, a great deal. ate fancy food. etc. oops i just spilled tea all over my cell phone hold on
ok its fine
um then a-ron opened his 205 chrystie club with a big, lawless mess. it was great

a-ron flanked by attractive females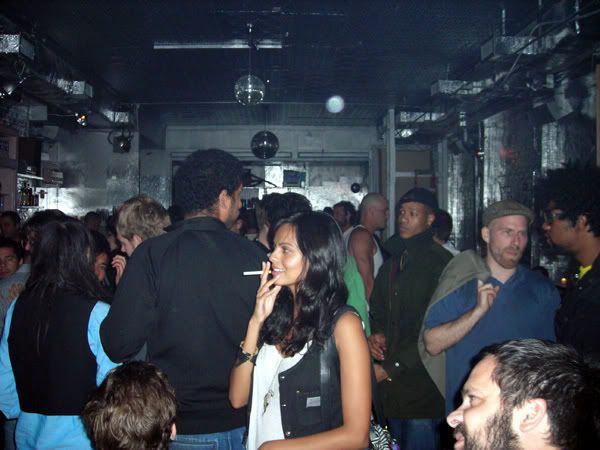 this is molly right? molly has about as many doppelgangers as dash…

fie ryan left his bower, and shaved his beard!

this guy! javier appearing for three days was great. i think properties were acquired here but i think im not allowed to tell…..

grabby hands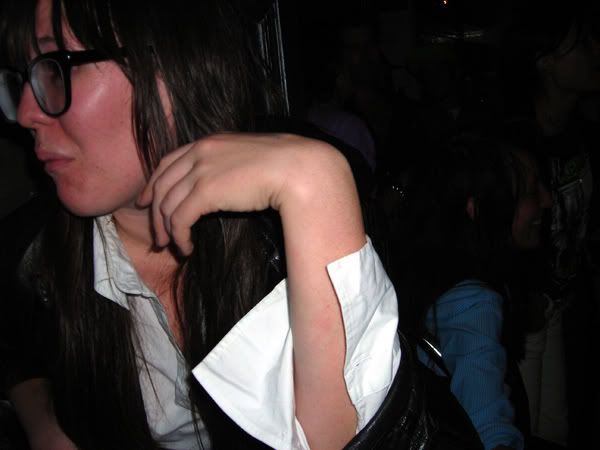 dont remember this being taken

a yao in the picture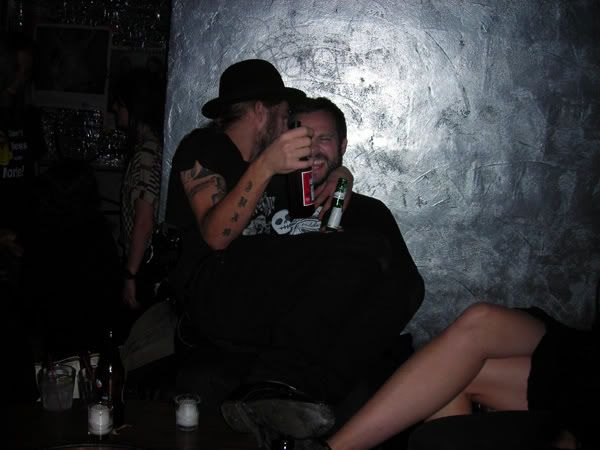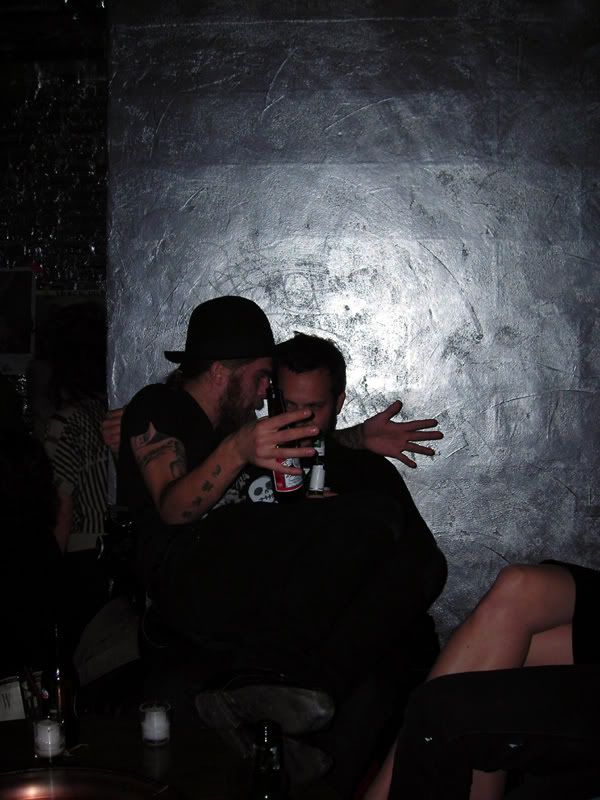 some of the best art shows get planned at night (oops was i supposed not to tell that either?)

after precious little sleep, dash and i drove the next morning to providence RI to see the historic Fort Thunder show at the RISD museum. a SHITload of other people did too, as you can see
mental note: do not stay out all night when you have to drive 9hours the next day with a needy needy infant. wait thats not quite fair, i was also a helpless monkey. we were both a pathetic pathetic team. but we did it! and dash had to shoot the Paper Rad who are never all three Rads in the same place at the same time except THIS DAY and wait so he is shooting them for the cover of this magazine and its epic. my favourite artist shooting my favourite artists for my favourite magazine?? soooo worth the brutal torture getting me, him, there, and back
but more on that later

the show was called WUNDERGROUND which initially bugged the shit outta me but maybe its not the worst show title ever? maybe?
one enormous gallery was filled with equally scaled up sculpture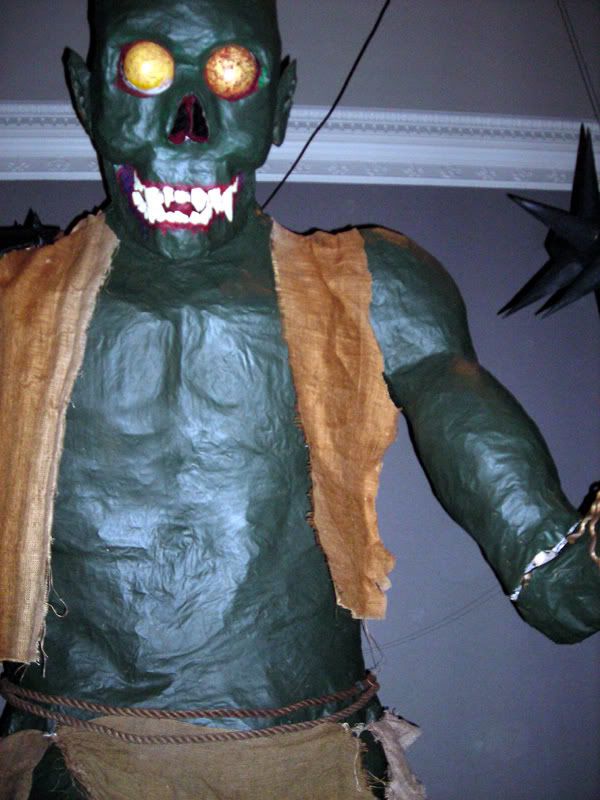 hoo hoo! check out this dude. a 20ft tall mat brinkman monster!

jimmy drains piece was sooooo radddd he took a old real northwest indian totem pole from the RISDpermanent and build this amazing stand thingie for it

and some sculpturelets

chippendale silkscreenhut. there were lots of sculptures you could walk into, stick your head in, etc but everyones breath smelled like red bull so i unfortunately declined to enter many. sorry!
this one was great tho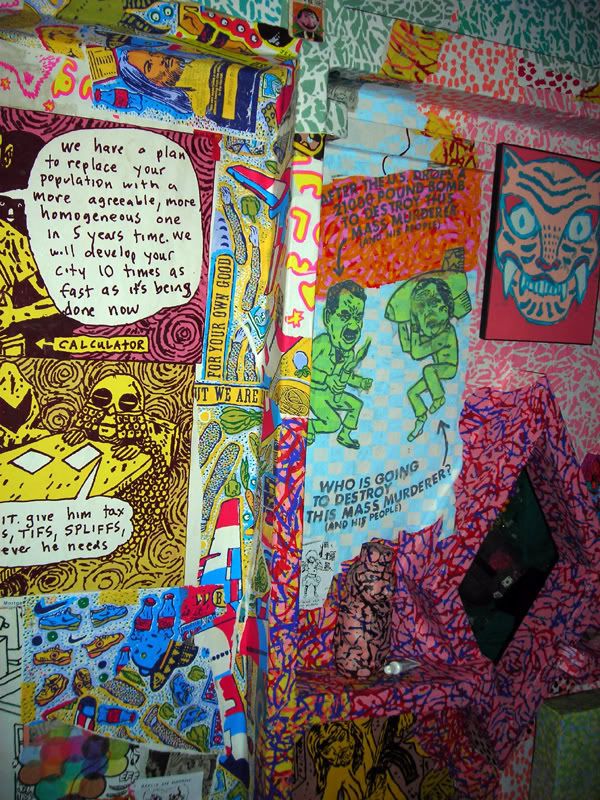 new brian c zines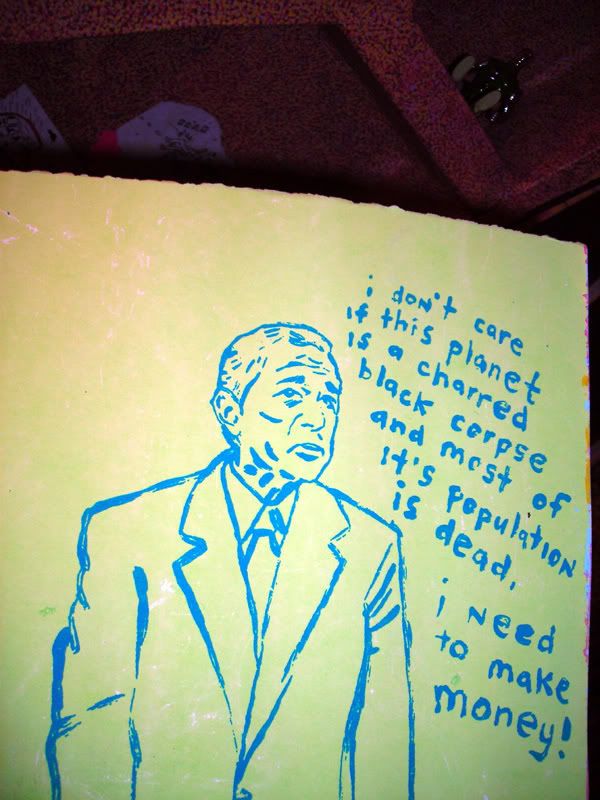 this was in one of them….. this is sorta when i get annoyed and turned off by the politics of this group or whatever, or maybe i should just say this guy, but i think its not just him- where it gets sorta dumb and heavyhanded kinda? i know im not supposed to say this, but its just i'm trying to find that line or turning point or whatever where i go from being really really psyched on the political stuff to being really turned off? its hard to pinpoint but like when i go from hellyeah! to didacticBOO!…

this one i cant help but like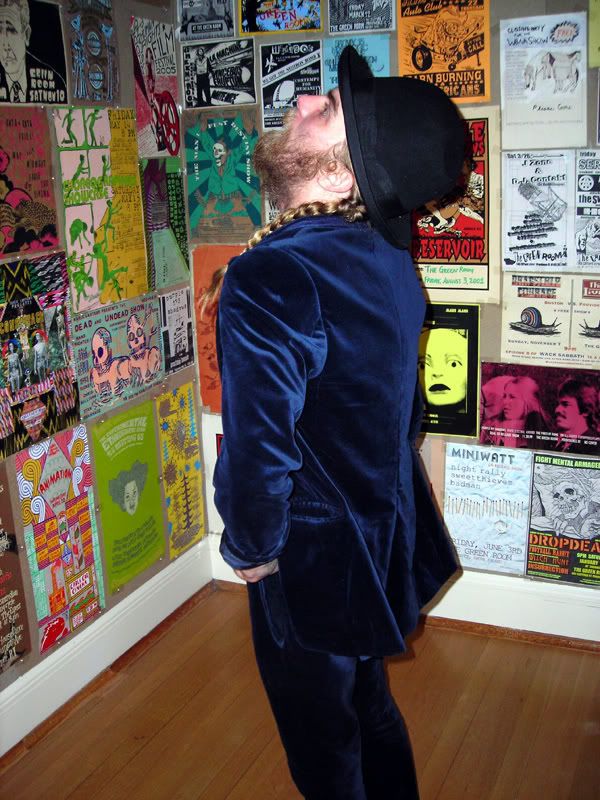 the other room was ALL SILKSCREEN ALL THE TIME a treasure trove of old rockshow posters n artthingies made by fort people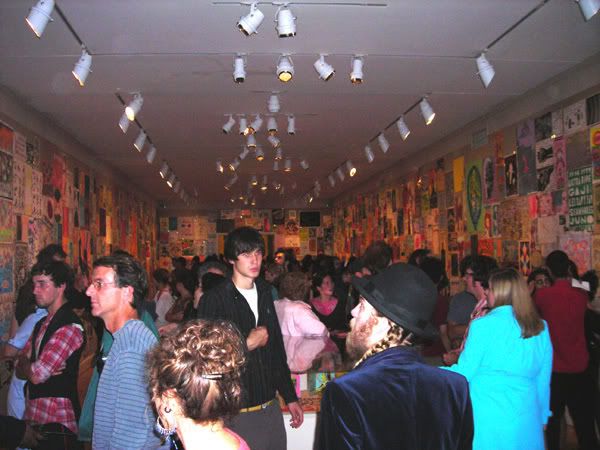 huge!

junghil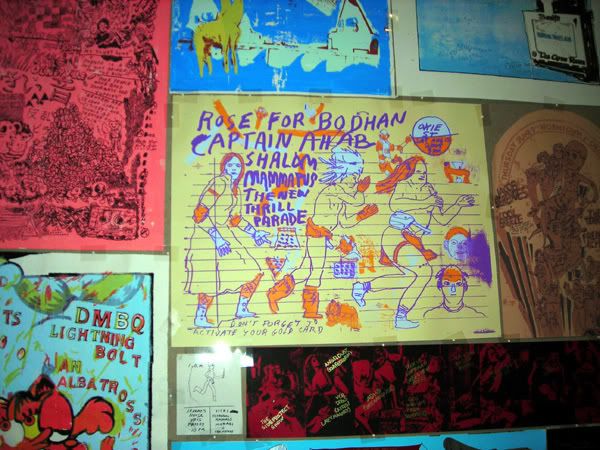 C.F.

i dont know who made this one maybe the mystery B?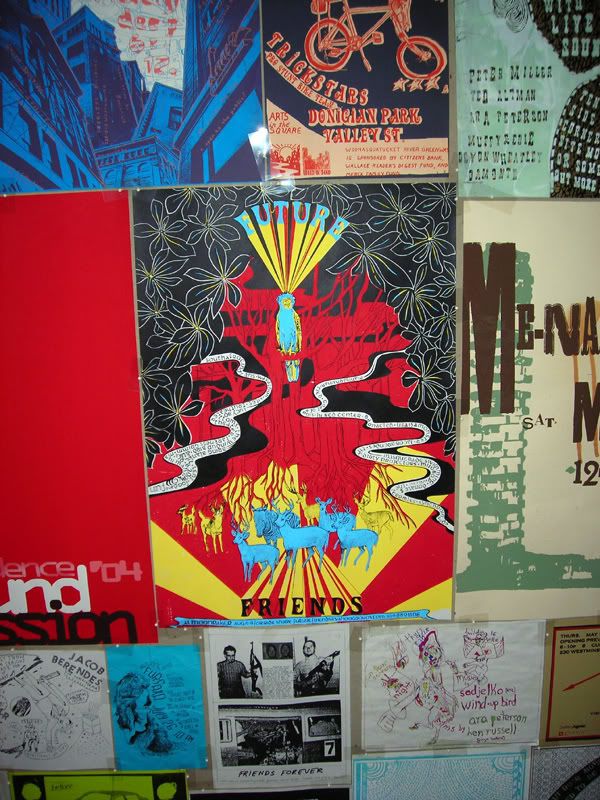 this looks like that dude Zara Thustra made it but that cant be right…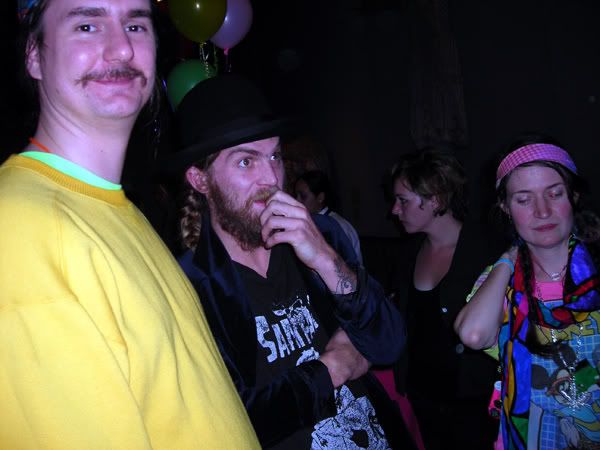 photo shoot time!
i wanted to repost this photo just cuz its so awesome how when you have photos of the loudest neon kids and hit "autolevels" their gear throws the program into the wildest fit of inaccuracy… awesome!

paperradtotempole

claustrophobic subaru shots

the next morning this came in the mail for my birthday!
isn't patrick the cutest little oversized baby when he sleeps??

the first the second thing we did was go gallerygoing
adam mcEwan has glow in the dark gum paintings as part of this show at nicole klagsbrun

this again but better phots.

whee!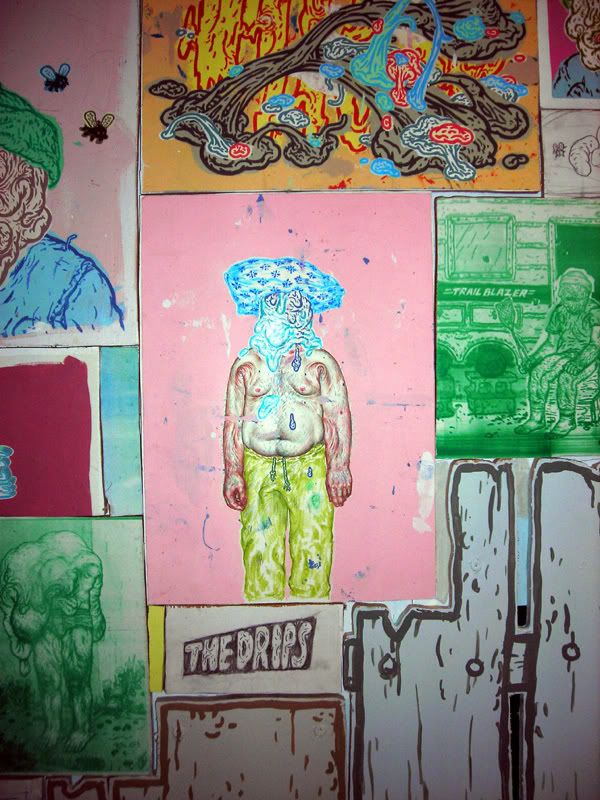 taylors weird wilted derelectpalette also is good at throwin off the autolevels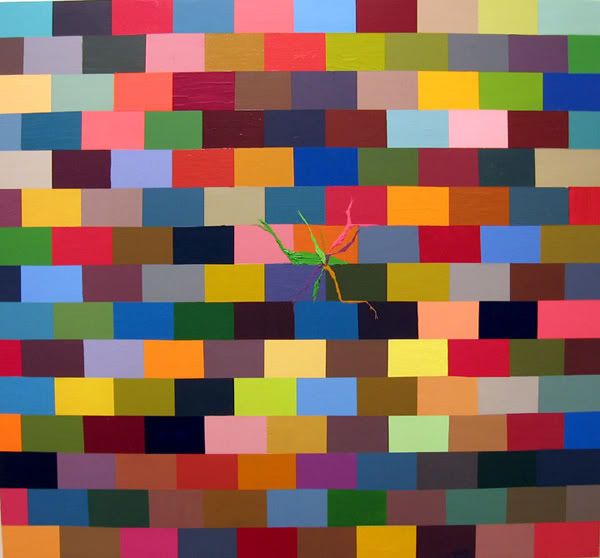 this show we did not go see cuz it was in CHICAGO all chicagoons go to kavi gupta! chirs johanson and christopher garrett!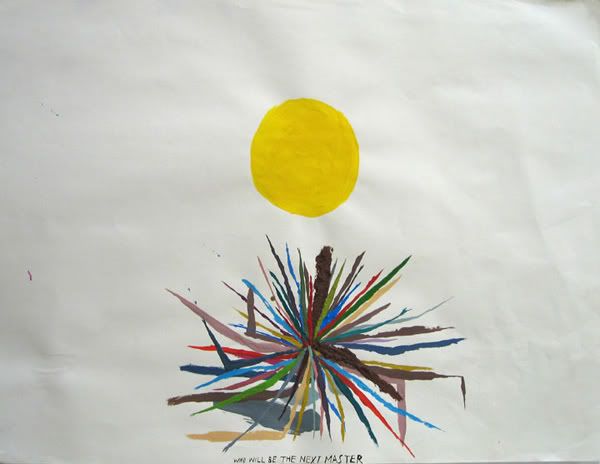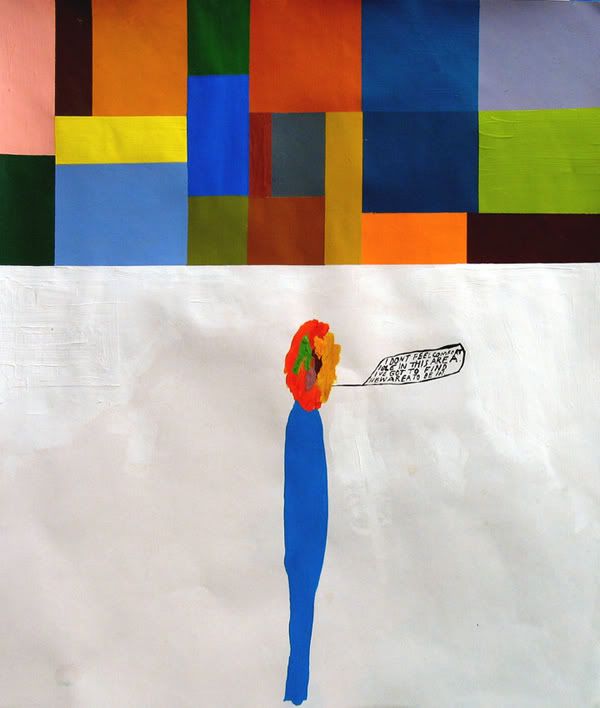 bananas

wtf???

instalshot

c garrett is SOOOOO WEIRD have i mentioned that before?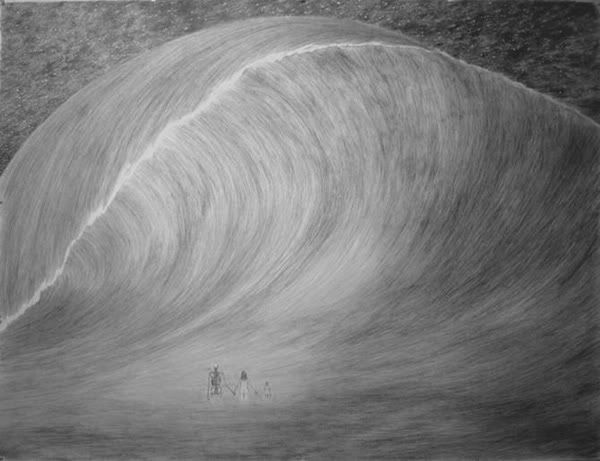 SOOO WEEEEIIIRDDDDDDDD
saturday was big birthday dinner at Frank with ShaunBrianKeeganTaubaPatrickYasmineHerboyfriendTerrenceGarrickAurelandNikki then more A-Ron club then more dash house
sunday was recovering movie couch day watching Lost Boys and Beauty and the Beast i wish i was kidding about this
monday was broke walking around then sushi then more A-Rons club and more dash's house (pattern developing??)
tuesday is patrick left this 5am which of course we just stayed up for, then i went to work and to aurel's studio with the Simchowitz and then trump tauers with tauba where i very adeptly dropped and broke my camera……..
sigh
and then here to meet iranian girl to sell Raquib Shaws.
which all of course still leaves the question: WHO WILL BE THE NEXT MASTER?